Well, hey there strangers!
It has been way, waaay too long.  I hope you all had a wonderful holiday and a happy happy New Year.  Can I just first say how this week is kicking my butt?  The post-Christmas blues are in full force and it is a struggle having the obligation of work back in my life.  Ya feel me?
Before I dive into my goals for this year, I feel like I have some explaining to do on why I have been absent from this little space *bows head in shame*
(apologizing for the lack of photos in advance- this key was to disconnect while away!)
My roommate and I held our Annual White Elephant party the Friday before Christmas week.  This is our 3rd year hosting it at our place and is something our group of friends looks forward to every year.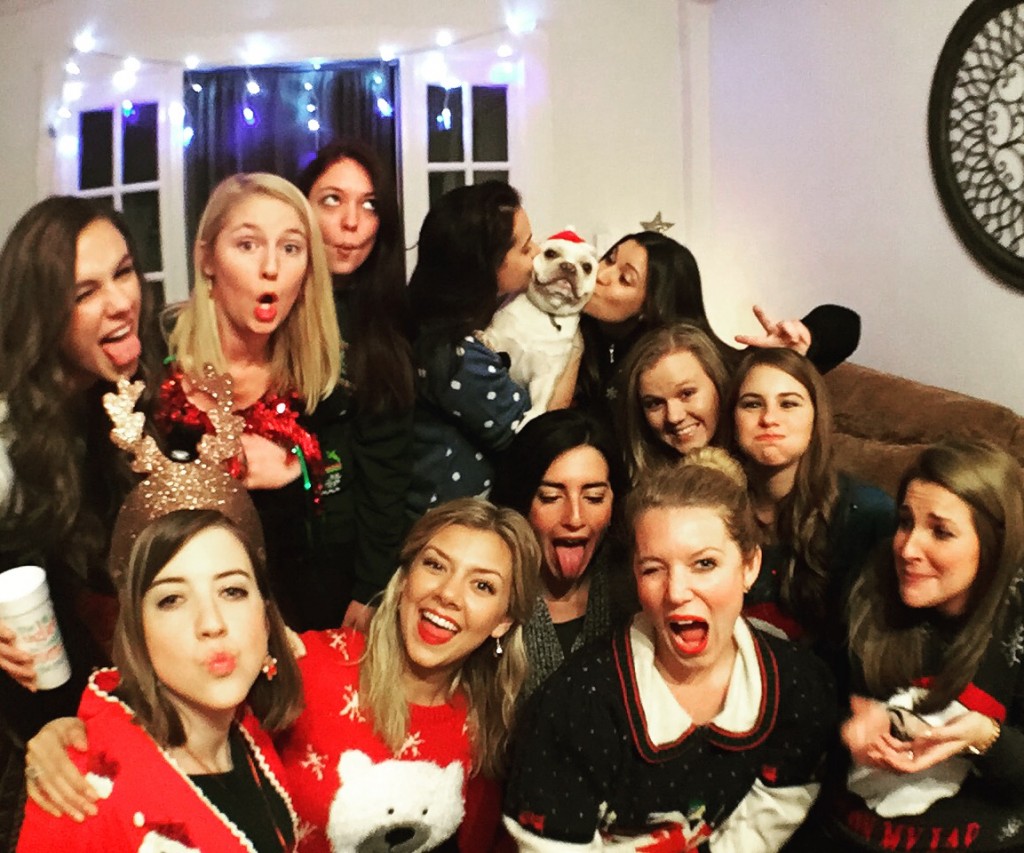 Are we or are we not a good looking bunch, eh?
This was the first year we held it on a Friday, so we wouldn't have to worry about work the next day and ending our celebrations early.  This was also the first year we had some stealing going on!  The past two years everyone played it safe and kept the gift they picked, but no one held back which made for an interesting exchange.
I had to work up through Christmas Eve, but luckily was able to take a half day to be able to jump on the road bright and early.  One of the many perks of opening the gym at 5:45am?  A half day dismissal is 9:45am-  can't complain!
When I arrived home, I was not surprised to see my mom's elaborate and beautiful Christmas decorations all throughout the house.  I need to be taking notes!  Christmas Eve is always celebrated at my family's house.  It is a low-key night where we eat, drink, and lounge around together.
Christmas morning started around 7am thanks to Winston clawing at his crate to get out.  Little man is just as excited about Christmas as the rest of us!  He also couldn't help but always want to play with Maggie and Cody: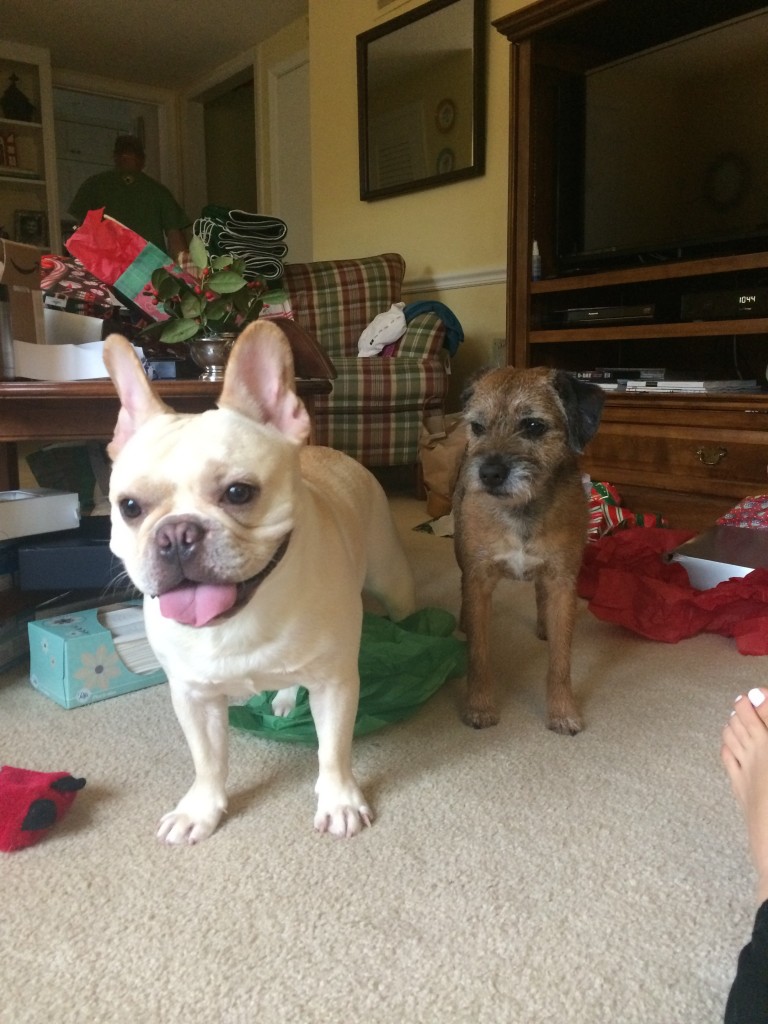 Winston thoroughly enjoyed allllll of the cardboard.  He honestly loves cardboard more than food and PB.  Strange, strange creature.
Christmas Day dinner was at my grandparents' house.  Check out this spread!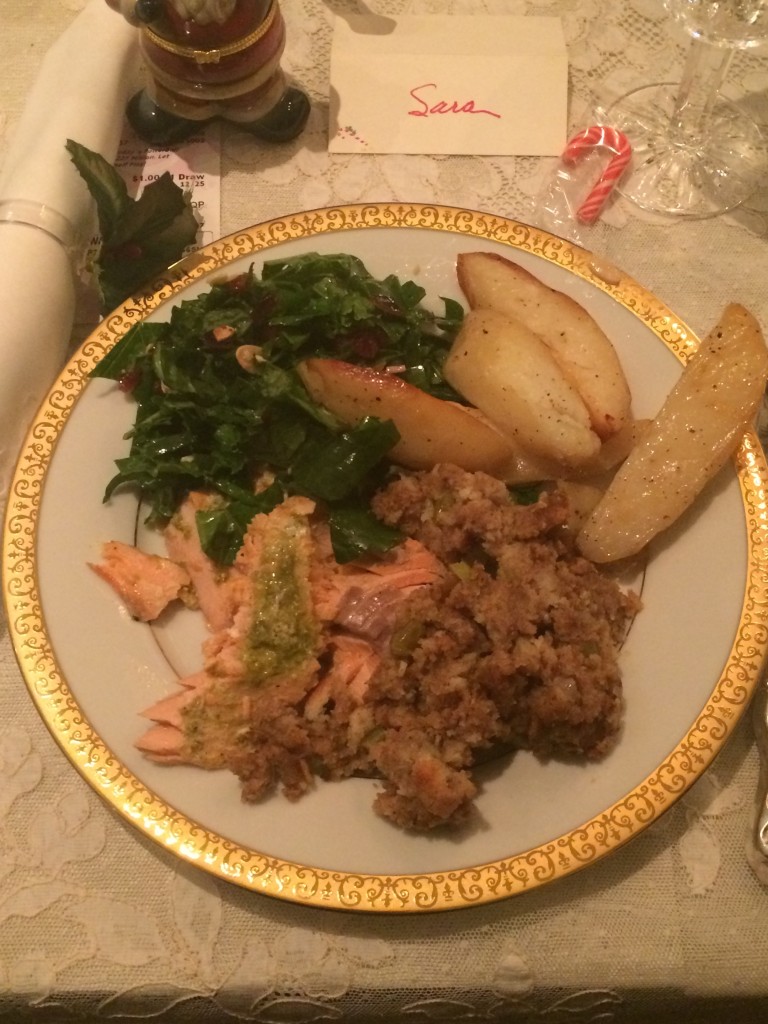 Pesto salmon + potatoes + kale salad + stuffing is all I ever want to eat.
The next day, my family, grandparents, and cousins went to a Caps game.  Gosh, I loooove Caps games.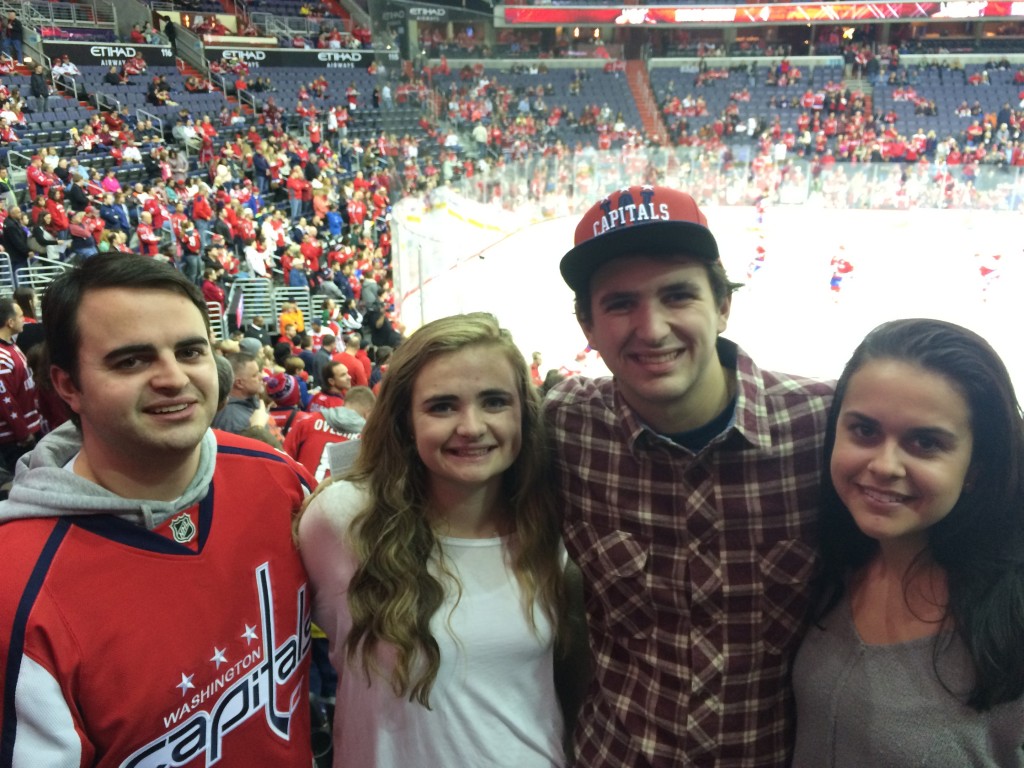 It was so good to see some of my cousins and other family members.  The rest of my time home literally looked just like this: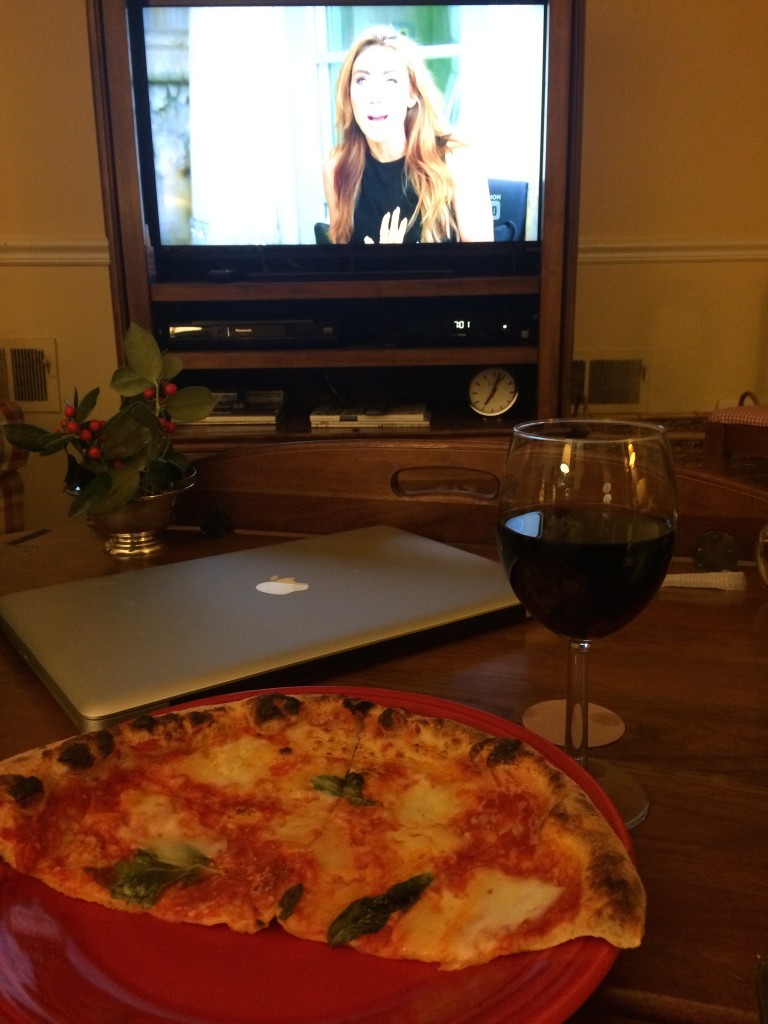 I felt like SUCH a bum, but it felt good to watch some trashy cable TV again!  I haven't cable for over 2 years and I've missed Real Housewives & Vanderpump Rules.  I rarely ever have time to sit down and binge watch TV for hours on end during the day (Netflix binging at night is a whole other ball game and is  totally acceptable), so it was nice to really feel like I was on a break.
For New Years Eve, a couple friends and I attended some party at the Omni in Uptown.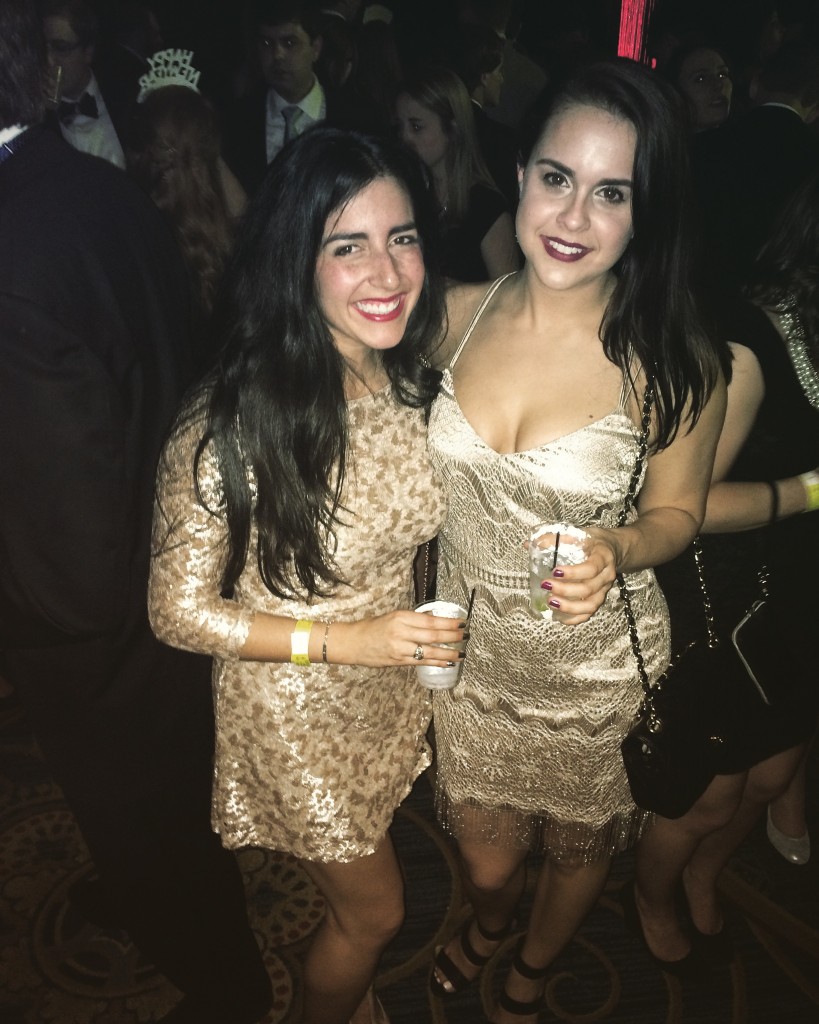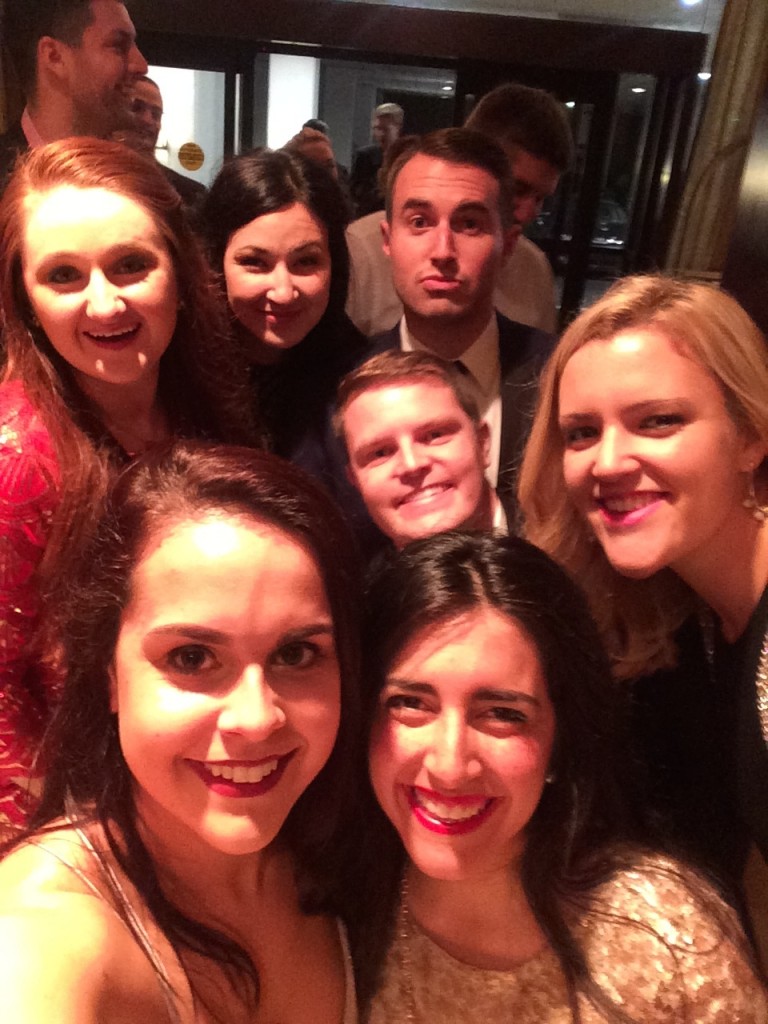 The scene brought me back to my college sorority formal days, which I can't decide is a good thing or a bad thing 😉 but it was so, so fun.  Being a planner and morning person, I really wasn't too sure about doing the whole rager thing for New Years because I KNEW the next day or 3 would be shot.  But I am glad I went.  Although, it's been like 5 days since and I am still trying to get back on track.  Sleep, I miss you!
Just like most of you, this time of year brings a lot of planning and goal setting which I LOVE to do throughout the year.  It's a fresh start, a clean slate, and seen as an opportunity for new beginnings.  I am not a huge resolution-er, but a huge goal setter.  Personally, if you want something, start striving for it NOW.  Why schedule a start time to make change?
To me, if you schedule to start making a change in the future, it just makes it THAT much easier to reschedule it.  And when you actually start working for that change that you have been half-putting off yet half-working towards, your results will be further away from you, causing discouragement.  Truly, there is no better time to start something than the present moment.
With that being said, most of the time when working towards a change, it takes time to see results.  This is where the importance of small goals comes into play.  Baby steps are key, people.
Here are some of my goals for the year:
Professional Goals:
-Obtain my Pilates Intermediate Level Certification– training is in 3 weeks!
-Be more involved in Group Exercise outside of my FT job– I really want to teach at more outside studios
–Take the state test for the NA certification– I have my eye set on February!
–Finish my Wellcoaches Health Coaching certification
Blogging Goals:
-Be more consistent with posting
-Schedule free time to work on photography and creating content and have content created more in advance
-Research food photography skills and take DSLR course
-Apply for Fitfluential
Health/Fitness Goals:
-Add more self-care in my health routine- getting a massage every so often, me time
-Prioritize sleep
-Run at least 1 half marathon
-Add more OTF into the mix
Other Goals:
-Send friends and family members handwritten birthday cards
-Read 1 book every 2 months
-Take a vacation and completely disconnect

Questions:  How was your holiday??  What are your goals for the year?  Do you make resolutions or no?