I'm sure by the title of this post you are thinking what the hell…??
I can assure you that injuries and baby showers occurred, but not simultaneously.
This week was one of those weeks where blogging didn't even cross my mind.  Even if it had, I wouldn't even have had a second to drum up a post.  I hated not having my usual posts up (I say usual loosely, as I already don't blog as consistently as I would like).  Today, I am linking up with Meghan for Week in Review!  Let's get to listing shit: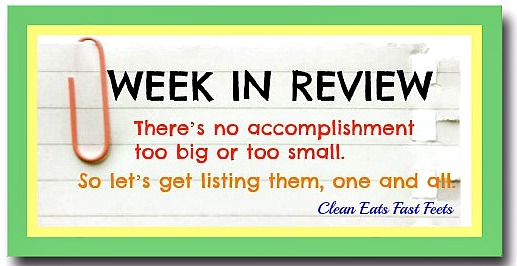 -Worked an over 40-hour week at work and taught 8 classes.
-Microbiology lab Monday night from 6-9pm.  DEATH.
–Post lab involved catching up on the Bachelor.  I need to talk about this for a second.  What the heck was up with Jojo and her ex?  Why is Caila still around?  It weirds me out people over the age of 9 referring to their dad as their "daddy."  Does that weird anyone else out??
-Had a lab test (and scored a 95!!).  Our lab tests open the morning after lab then we have about 2 days to complete it.  I spent any free time I had on Tuesday and Wednesday to study before taking it Wednesday night.
-Took my first class at Xtend Barre Tuesday morning.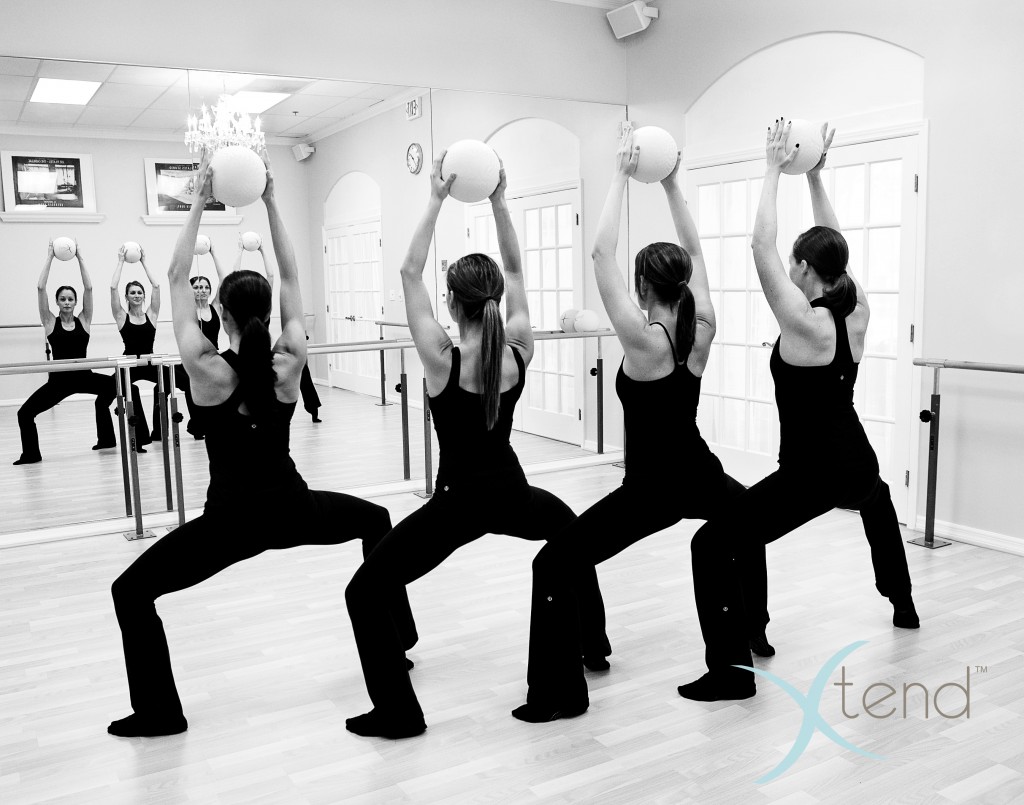 (source)
I really liked it!  I've tried a lot of barre studios and it reminded me more of The Bar Method rather than FlyBarre.  I prefer FlyBarre over more traditional-type barre studios, but I did enjoy Xtend.  I'm looking forward to going back!
-Took a recertification class for First Aid/CPR/AED Tuesday
-This was the week of errands:  multiple trips to multiple different dollar stores, Babies R US, grocery store, Duck Donuts to place an order for a baby shower I was throwing
-Had a meeting with my micro instructor to ask questions before our next test, which happens to be tonight!
-Had a follow-up appointment with my hand doctor and had this gem put on: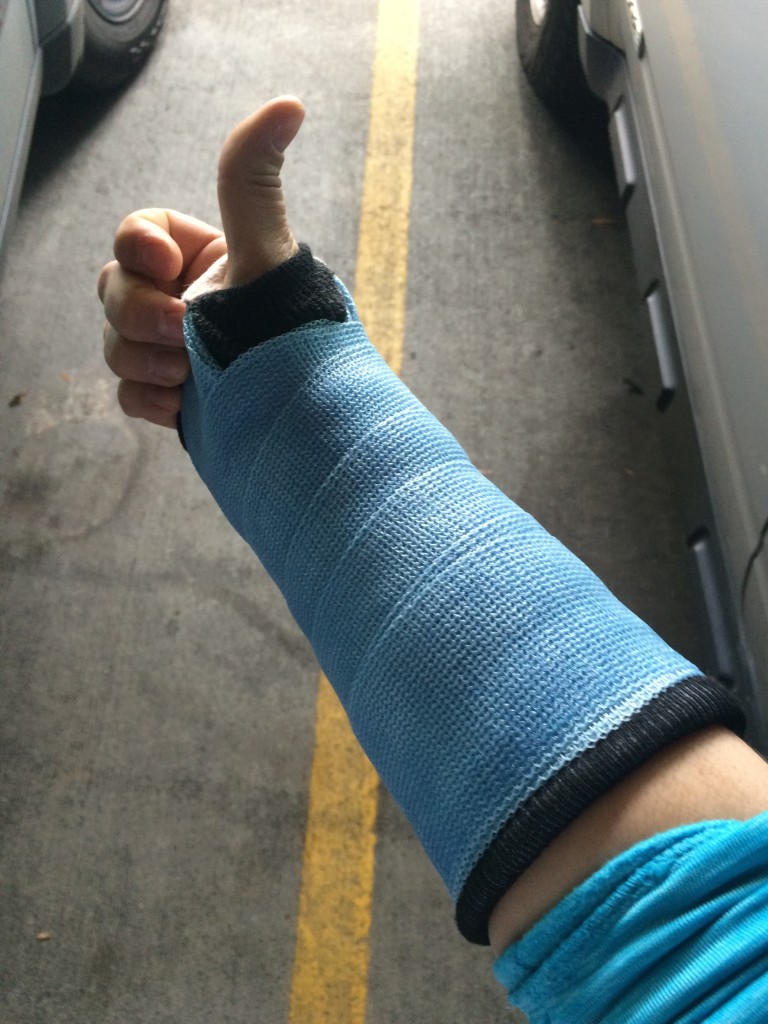 2 years ago, the doctor told me I had tendonitis in the ulnar side of my wrist.  He told me to lay off the pushups, planks, down dogs, etc and it eventually went away.  Fast-forward and it's now back.  2 months ago, it became inflamed again and the pain was way worse than before.  I was given a steroid shot and direction to refrain from any exercise involving my wrist and rest it as much as I could.  I followed my doctor's orders as best as I could, but since it seemed like almost  everything was hurting my wrist, I went back in Thursday to have them check it out.  I now have tendonitis in 3 tendons as opposed to 1 like before, so the doctor doesn't want me to move my wrist at all- hence the cast.  Even though the cast sucks, I hope the immobilization does the trick!
-Successfully showered 3 times without getting my cast wet- I deserve a cookie for this one.  Using one hand to tie a bag around your other hand is no joke!
-In the midst of the crazy week, a couple of my friends and I solidified our living situations for when our leases run up in May
-Hosted a surprise baby shower for my boss!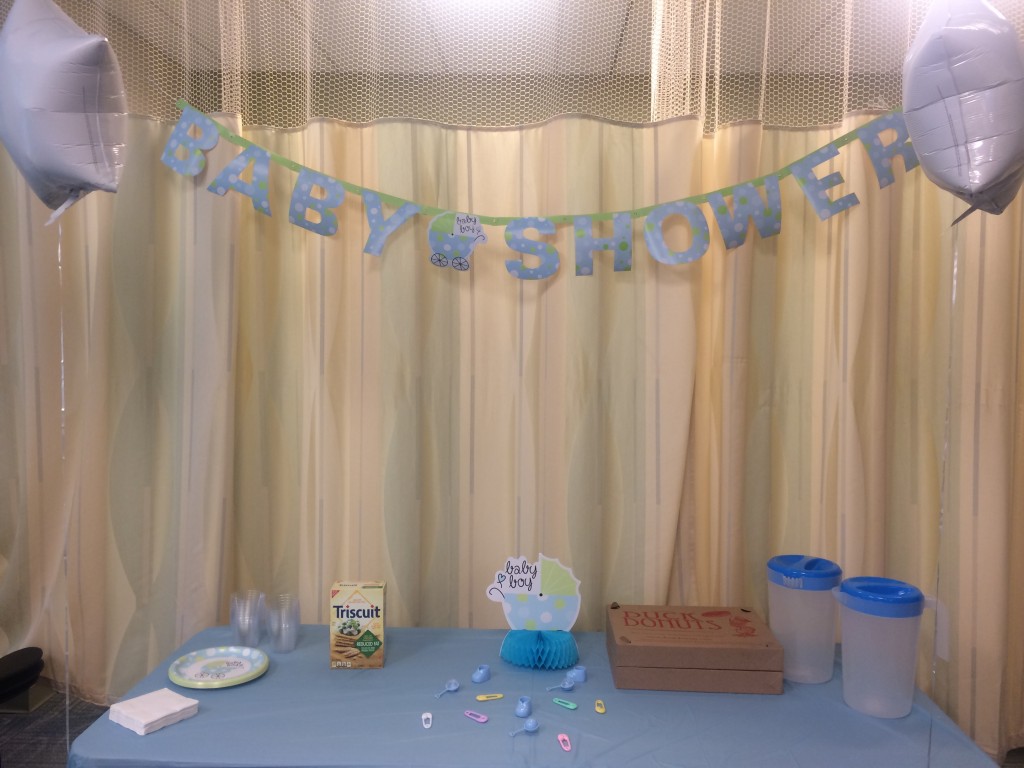 The day of the baby shower (Friday) was chaos.  Coming into work early to set up before my boss came into work, then running more errands to get stuff for the shower, then sneaking the stuff into work and then getting her to the surprise was quite the spectacle.
I was able to have a fake meeting put on her calendar to surprise her, which was such a funny secret to keep.  When she would make comments about not knowing what the meeting was about, I would try so hard not to geek out and laugh.  She had no idea this was coming so when she saw so many of our fellow staff and members shout surprise, it made me so happy!
I got the idea to make a diaper cake from a friend, and I was happy with how it turned out: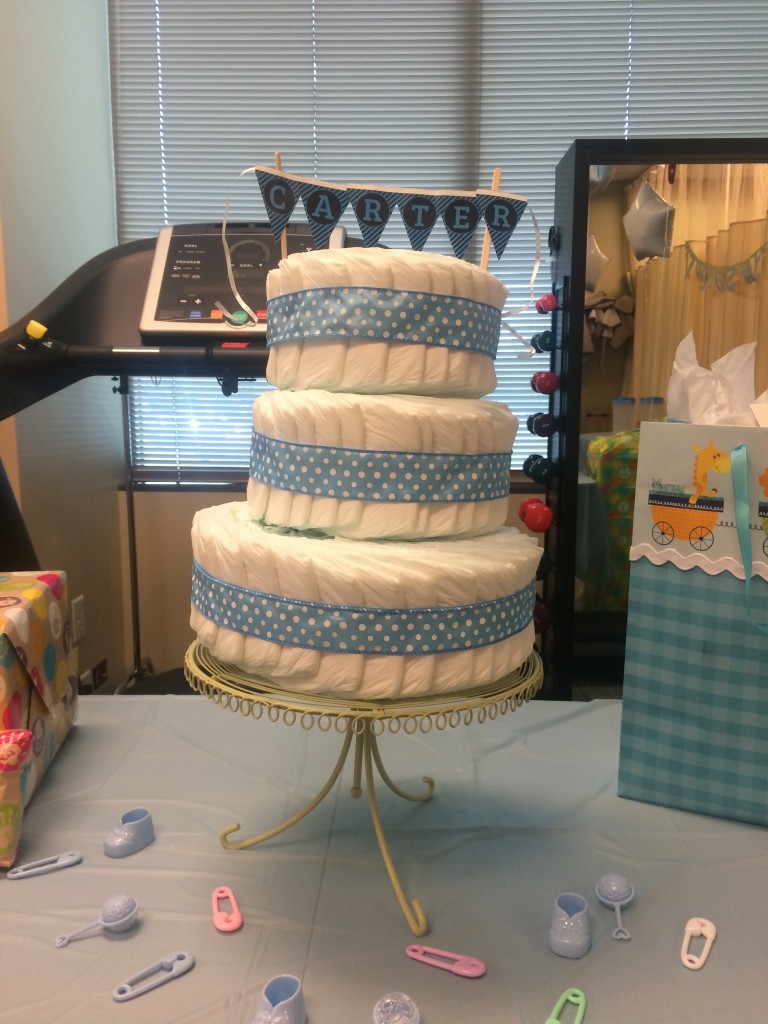 Another great part of the shower was giving her the big group gift.  Several people wanted to go in on one of the more expensive gifts on her registry.  Luckily, so many people donated enough money that I was able to pick out her a nice high chair.  Her joyous reaction was well worth the stress of planning it!
-Due to a gas burner being left on, our whole apartment was evacuated Saturday afternoon.  I'm so thankful that I was home just in time before the fumes became horrible and was able to let Winston out.  That's one way to turn your weekend upside down!
Questions-
-How was your week??
-How do you stay sane during a crazy week?
-Have you tried Xtend Barre?  What's your favorite workout studio?
-Ever hosted a surprise party?  Ever had someone throw you a surprise party?