Good morning!  How ya doin'?!  This week has been a doozy which has prevented me from posting in over a week!  No bueno.
This is my favorite time of year so I am trying to start all Christmas-related activities early because it flies by so quickly.  I've got almost all of my Christmas shopping done (half of them are wrapped!), I've planned out the goodies I'll be making clients and coworkers next week, and I've got my Christmas playlist on repeat.  I'd say I have my iiiish together this year!  Go me.
Today, I am sharing with you my gift guide containing a variety of wonderful gifts for HER!  Whether it's for your roommate, best friend, mom, or for a white elephant gift, I am certain one of these items will brighten her day.  (Side note- more than half of these gifts I've already bought for friends, so I didn't just pull these out randomly.)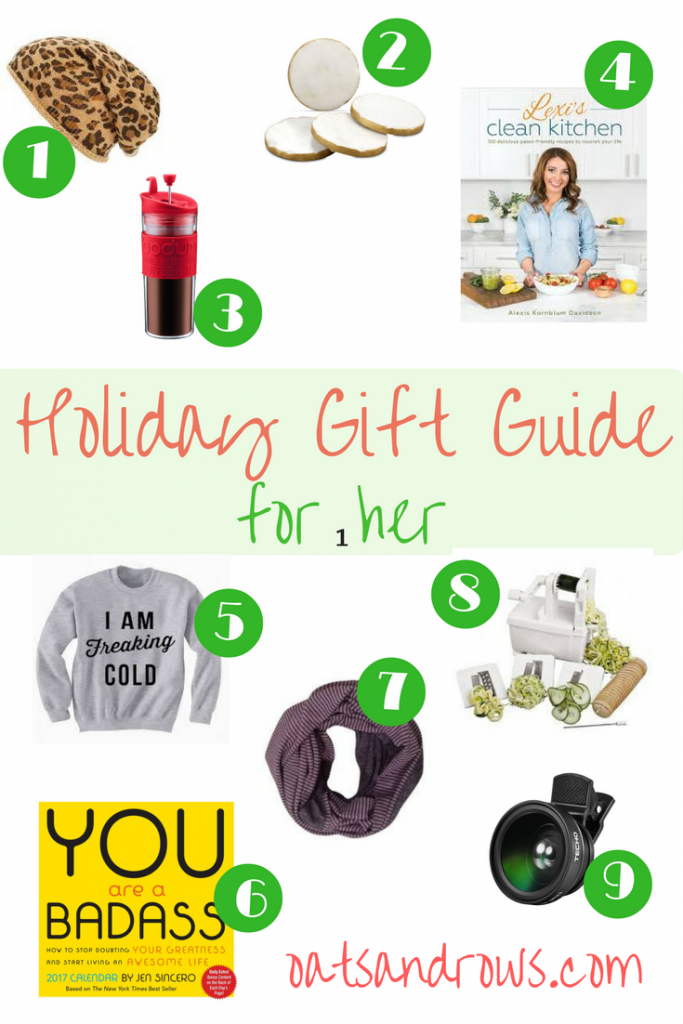 #1 – Nordstrom BP. Leopard Print Slouchy Beanie ($13)
#2 – Thirtystone 4-Pc. White Marble Round Coasters ($22.99)
#3 – Bodum Insulated Travel French Press Coffee & Tea Mug ($9.51)
#4 – Lexi's Clean Kitchen Cookbook ($20.31)
#5 – I Am Freaking Cold Sweatshirt ($24.95)
#6 – You Are a Badass 2017 Desk Calendar ($10.39)
#7 – Lululemon Vinyasa Scarf ($48.00)
#8 – Paderno Spiralizer ($23.95)
#9 – Techo Camera Lense for iPhone ($19.99)
Note: There are no affiliate links in this post nor are any of these sponsored items.  These are items I've personally found to be great gifts.