Christmas is exactly two weeks away and I am FREAKING OUT.  There is so much to get done between now and the 20th (when I trek back to Maryland) including projects at work, mingling with friends before the holidays, baking up a storm, and purchasing the rest of my gifts for friends and family.
Today, I've compiled my 2017 Gift Guide for the health and fitness lover.  All of these products (except the vest…it's on my wish list!) are ones I own, use regularly, and LOVE so I can assure you that your friend, parent, sibling, coworker, whomever will love any of these.  If you have any questions about these products, leave a comment on this post!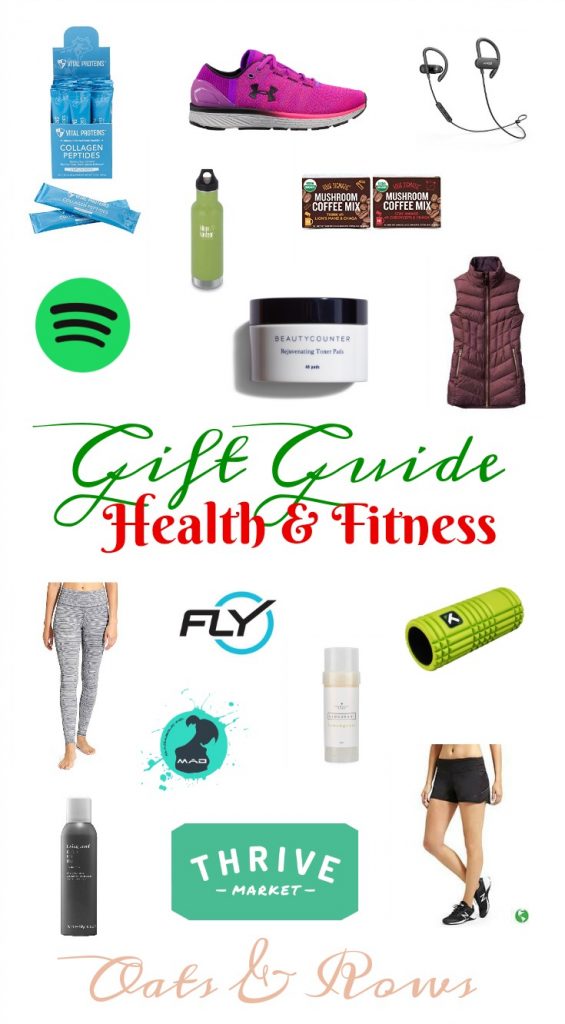 Vital Proteins Collagen Peptides (affiliate link) – Collagen was super trendy in 2017.  Collagen is known to improve hair and nail strength, improve skin complexion, and help with joints and digestive issues.  I use Vital Proteins collagen in my coffee in the morning or in a smoothie.  I've also seen a few food bloggers using it in baked goods!  I notice a big difference in my hail and nails when I take it regularly.  My nails grow so quickly!
Four Sigmatic Mushroom Coffee (affiliate link) – Another trend that boomed in 2017 – mushroom coffee/adaptogenic coffee.  While there are aren't straight up mushrooms in the coffee, these coffees have mushroom extracts in them.  Instead of buying a pricy jar of adaptogens, I drink these instead.  I feel more awake without feeling jittery thanks to cordyceps and chaga.
Klean Kanteen Insulated Water Bottle – I received one of these water bottles at Expo East and have been using it nonstop since.  I fill it up in the morning with water and ice, and there is still ice in it in the evening.  They are sturdy, can hold hot and cold liquids, come in a ton of different colors.  I have the matte yellow one, but I love this matte green one.
Spotify – I really don't know what I would do without my Spotify membership.  It is SO easy to find new music, save songs, and make playlists.  This is KEY for me, since I am making playlists for my classes constantly.  My brother and I gifted my parents a Spotify membership and wireless speakers two years ago and they loved it!
Under Armour Charged Bandit 3 Sneakers – Under Armour is my go-to brand for workout shoes.  While these are running shoes, I wear them to train or teach a class.  Under Armour has definitely upped their shoe game, offering more styles and colors.  I love them!
Beautycounter Rejuvenating Toner Pads (affiliate link) – I love using these toner pads after working out or teaching to clean my face from any sweat or dirt.  The fact that they are wipes makes it easy to keep in your gym bag and use them on the go.  These wipes are not only for women – anyone who works out/get sweaty would enjoy them.
Athleta Responsible Vest – This is the only product on this list I don't have/haven't tried out, but Athleta is such a trustworthy brand so I have no doubt it wouldn't make someone on your list happy.  It comes in maroon and black, it's long, and just looks so cute and comfy!
Anker Wireless Headphones – I bought these headphones a couple months ago and have been obsessed.  I also have no idea why it took me so long to get wireless headphones.  It's amazing!  These are comfortable while wearing, don't fall out when you run, and can hold the charge.  They have 837 reviews and get a 4 out of 5 star rating on Amazon.
Athleta Chatarunga Tight – Athleta's Chatarunga tights are my all-time favorite leggings.  They aren't sheering, don't rid up in the wrong places, and are actually comfortable to be in.  I have a pair in Navy and I wear them all the time!
MADabolic Gift Card – As you may know, MADabolic is my favorite gym.  Although I don't go there at the moment (gotta keep my wrist and thumb healthy!) I'd probably jump up and down with joy if I got a gift card to this place.  MADabolic isn't only in Charlotte – you can find it in Virginia, other areas of North Carolina, Texas, South Carolina, and Canada.
Flywheel or Flybarre Gift Card – You can't go wrong with a Flywheel/Flybarre gift card.  It's a great workout and it is located all over the US (and world) including New Jersey, New York, Georgia, Florida, DC, California, and more.
Thrive Market Membership – Thrive Market is an online grocer that sells healthy food for a discounted price.  The discount is AMAZING, so this would be a great gift for any foodie or health nut you know.
Primally Pure Deodorant – this is the only deodorant I'll ever use!  It's all natural, smells amazing, and gets the job done.  Even after the sweatiest workout, my pits are still smelling fresh.  I highly recommend trying it if you are looking to try an all natural deodorant!
Living Proof Dry Shampoo – Dry Shampoo is a necessity – just a couple spritzes and you no longer have sweaty/greasy hair.
Trigger Point Foam Roller – Another necessity for a fitness fanatic: a foam roller.  We have one of these at work and I prefer it over all of our other foam rollers.  This one is also on the shorter side so it's easy to store at home.
Athleta Ready Set Go Short – once again, Athleta ranks #1 in my book in the shorts department.  I have several colors of these shorts and they are the only athletic shorts I'll buy.  I've tried lululemon, Nike, UA, etc and these beat them all.  They are a great length (NO booty shorts), don't rid up in the wrong places, and just like all Athleta clothing, you wear the size you actually are!  I hate trying on lululemon and having to go up 3 sizes to feel somewhat comfortable.
Your turn-
What's on your wish list? 
What would you recommend as a gift for a fitness fanatic or health foodie?
Do you take any supplements?
[Disclosure: some of the links contain affiliate links.  I may earn a small commission if you make a purchase through these links.  Affiliate programs help keep this blog running and pay my bills, so THANK YOU for supporting me and brands I love.]