One of my all time favorite things to do in this world is to go to Barnes and Noble and browse the shelves.  There is just something about finding a new book (er..or 3) that just makes me feel happy, inspired, and in the mood to read more.  It's been hard ever since making my way out into the real world to make time to read, but it has been my goal recently.  I really do love to read and am really trying to make time for it and cut back on the Netflix (Netflix, I still love you).  If any of my high school or college English teachers were to read this, they'd probably laugh because to them that'd be the joke of the century.  Let's just say- I never read many of the books I was supposed to haha.
A couple weekends ago, my friend, Jen, and I went to Barnes and Noble to browse and find some new reads.  We both like different kinds of books- I am more of a fiction/top sellers/thriller type of gal, and she enjoys more of the non-fiction/memoirs/travel/history books.  Even though we gravitate towards different books, it is still fun to roam B&N and I usually come out with 1 or 2 books in my hand I didn't anticipate purchasing.
My Summer Reading List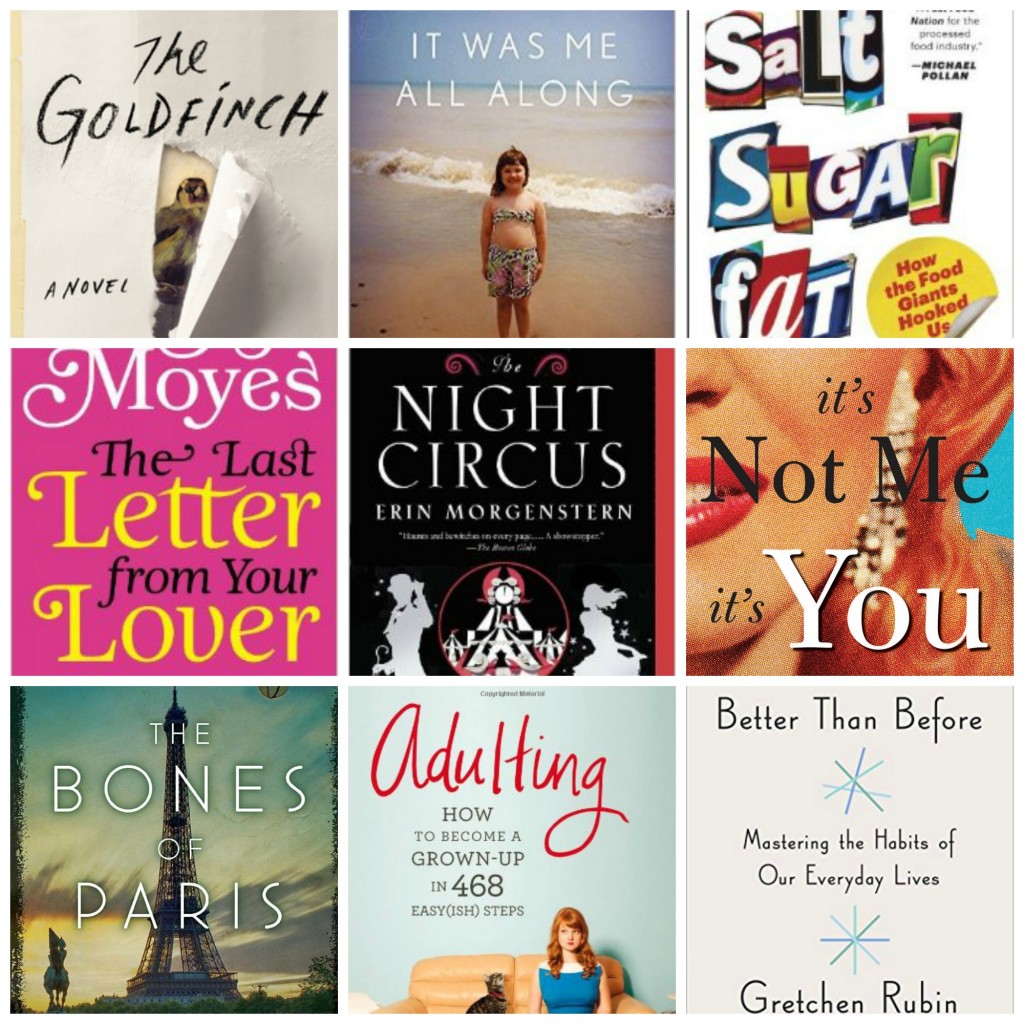 The Goldfinch by Donna Tartt – everyone that I know that has read it has loved this 
It Was Me All Along by Andie Mitchell (currently half way through and am loving it!)
Salt Sugar Fat by Michael Moss – this seemed so interesting especially since working in the health and fitness industry
The Last Letter From Your Lover by Jojo Moyes
The Night Circus by Erin Morgenstern
It's Not Me It's You by Mhairi McFarlane – this sounded so funny and entertaining!
The Bones of Paris by Laurie R. King – a couple of my friends recommended this
Adulting: How to Become An Adult in 468 Steps by Kelly Williams Brown – finally, a manual to help me with life
Better Than Before by Gretchen Rubin
Questions:  What books are on your summer reading list?  Have you read any on my list?  Any other recommendations?