Have you ever tried on leggings and LOVED them, but it "didn't fit to your size" according to some sales clerk, the brand, or a friend?
Have you ever received comments from a relative or spouse about how you look, at first seem out of a place of "concern" or love, but in the end, really end up crushing you?
Have you ever been highly praised or had extreme envy expressed towards your body making you feel beyond uncomfortable and like an inanimate object?  Have you ever been told "you need to eat a cheeseburger" or something to that effect?
Today, I am bringing up a topic that I am extremely passionate about: body shaming.
It is something that occurs every single day whether it's in the media or in normal day-to-day interactions.  It can happen to anyone, but it typically affects women since this society has an unrealistic standard for how a woman should look.  A person can be shamed about really anything about his or her body, whether it's their weight, height, hair color, style – you name it.  Body shaming comments can be thought to be delivered in a positive or negative manner, both leading into making the recipient of the comments feel embarrassed and ashamed.  Not only do the comments make the person feel ashamed or embarrassed, but are detrimental to their overall happiness and mental wellness.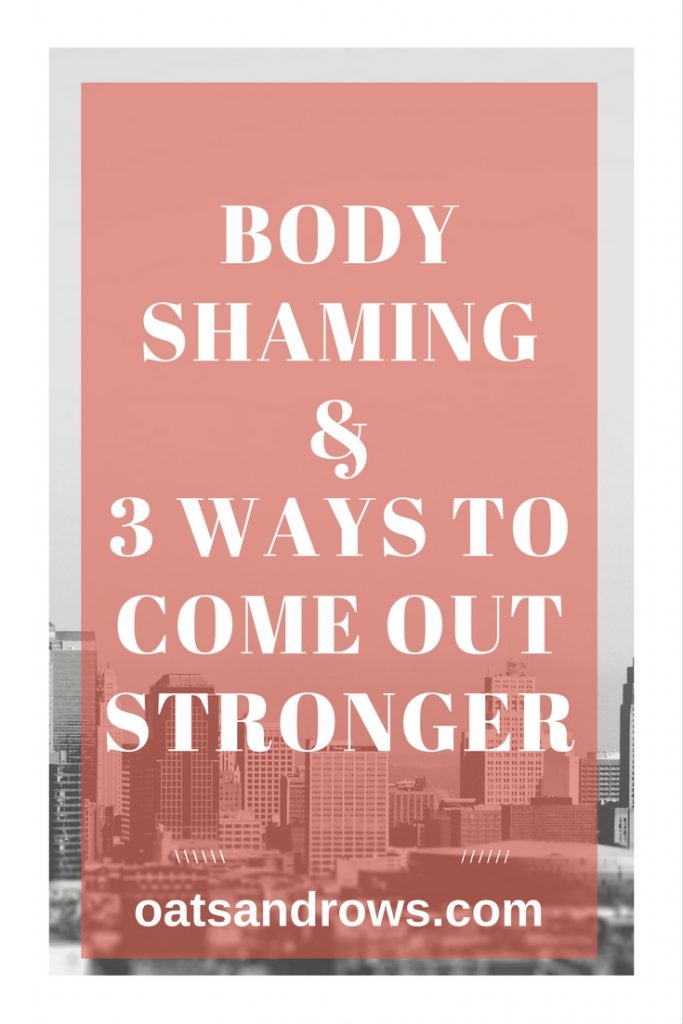 As a fitness professional, I work with clients daily to help them form healthier habits in terms of fitness, nutrition, and happiness.  It is common to hear clients shame themselves, such as speaking unkindly about their body or a certain area of their body.  This breaks my heart as a trainer, and it is a huge part of my job to help them not only focus on how they look, but how they feel.
Self-shaming saddens me, but someone shaming another person's body boils my blood.  It angers me to the core.  Here are some comments I've heard in passing directed at others:
"Woah, that girl should NOT be wearing shorts that short."
"She'd look so much better with less makeup."
"She'd look so much better with more makeup."
"I don't know her last name because in my head she goes by 'Fat Karen' ."
"OMG look at that lady running!"
Blood. is. boiling.
Even though I work in fitness, don't think I haven't been body-shamed a time or two:
"Has it been hard for you to lose weight after college?  Don't you workout every day?"
"If we were to get married tomorrow, you would not look how I would want you to."
"You're eating again?!"
"You bought that skirt?  You have a butt like mine and I do NOT look good in those skirts."
"You are a size 4?………..*confused*"
"If I am a size 4, then you must be a 6 or an 8."
"You are in a wedding in a couple weeks.  Think about all of the pictures you are going to have to be in."
Sadly, I could keep listing comments I've heard.  And it sucks.  But what really kills me, is hearing others body shame other people, whether they do or do not know them.  People need to worry about themselves.  Unless you are a medical professional, you have no business to be making ANY comment towards any person's appearance.  It is not your place.
I wish I could snap my fingers and end body shaming altogether, but I can't.  But, what I can do is try to teach women how to get past the comments and come out stronger.
1) Body shaming stems from one's own insecurities.
You may have heard this before, but it is true.  Negative comments towards someone is a direct reflection of the internal negativity coming from the person dishing the comments.  When someone is being rude or nasty, be the bigger and better person and know they may be struggling with their own demons.
2) What do those comments matter, anyway?
If someone doesn't agree with your style, who cares?  If you want to dye your hair blue, well damn it, DO IT.  It's not the hair on their head.  If someone doesn't like how your body looks, that is their problem.  Again, this ties back into #1 and the commenter's own insecurities.
3) Focus on your successes and practice positive self-talk.
This may be easier said than done, but when feeling defeated, count your blessings.  Highlight your successes.  Surround yourself with those who love you and bring you up.  Read motivational quotes or talk with a good friend.  Tell yourself how great you are, BECAUSE YOU ARE.
You only have one body, so love it.  Love yourself inside and out.  Do not let someone else determine your happiness. You are amazing.
Your turn-
Any thoughts to the anti-body shaming movement?
Fitness professionals- how do you help your clients work through self-shaming?