Hi friends.  I am so excited to share this gift guide with you because it features all things made in the Queen City!  There are so many talented entrepreneurs and creatives in this city, so they totally deserved their own gift guide to highlight their products.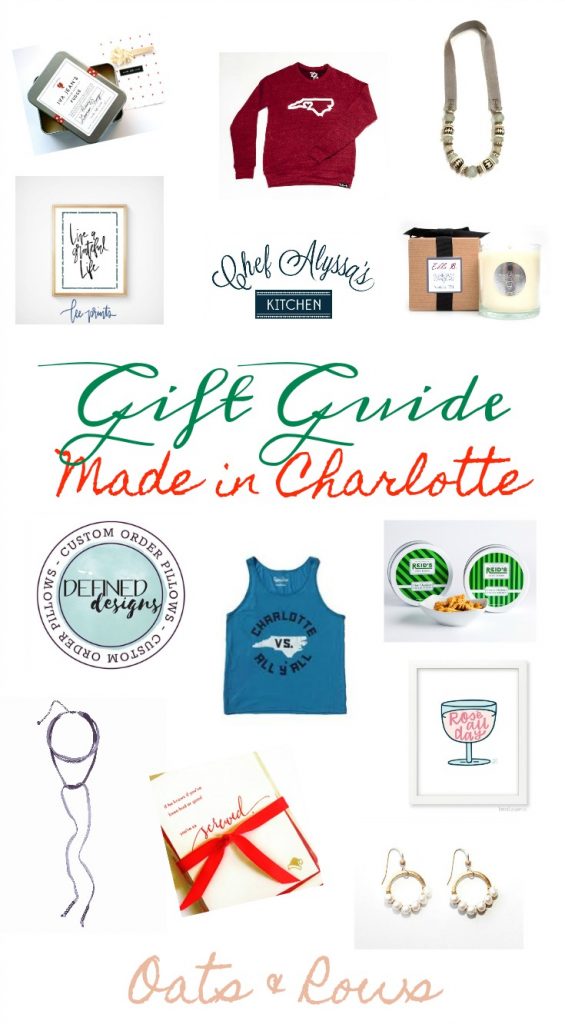 Iva Jean's Fudge – this fudge is incredible.  They make so many yummy flavors including Raspberry Cabernet Chocolate Chip, Salted Pecan Pumpkin, Rocky Road, S'mores, Apple Pie, and more!  Last Christmas, I got my dad some of their maple walnut fudge since that is his favorite flavor combination.  In addition to the fudge being delicious, it also comes in an adorable tin that makes it such a cute gift.
You can find Iva Jean's Fudge at The Loyalist Market, Reid's, The Mint Museum, Common Market, & Paperskyscraper.  See more locations here. 
Prints by Lees Prints Co – Alethia makes such unique and adorable prints and cards covering every theme you can think of: baby shower invites, holiday cards, birthday cards, baby shower invites, and more.  She also creates wedding invitations!  Although I am a HUGE card lover, her prints are what sucked me into her shop.  I'd love to make a gallery wall with her prints.
Charlotte Sweatshirt by 704 Shop – I am obsessed with this sweatshirt.  I love simple designs like this one, but love the sense of CLT pride it brings.  This would be a great gift for any Charlotte resident!
Chef Alyssa's Kitchen – Chef Alyssa runs the most popular (IMO) cooking class business in Charlotte.  She hosts a wide variety of cooking classes and private events.  Giving the gift of a cooking class surely would make and Charlotte cook you know a happy camper!  Even if you are not a CLT resident, a gift card to a local cooking school would be an awesome gift!
Twine & Twig Necklace – T&T is a pretty well-known jewelry company based out of the city.  They create such incredible, unique pieces that really are just unlike anything I've seen out there.  Their pieces with antlers are pretty popular, though they are not my thing.  They are known for their chunky necklaces like the one linked here.
Ella B Candles – you really can't go wrong with gifting a good candle.  I've always adored these soy, handmade candles, especially the line of candles created after different Charlotte neighborhoods.  Each neighborhood had a different scent, so it would be fun to gift fellow charlotte friends a candle representing where they lived.  They have a ton of other candles (not just charlotte ones).
Defined Designs Pillow Shop – I went to college with Emma, the shop owner, so I can 100% vouch for how talented she is.  She's an incredible interior designer, blogger, and now pillow maker!  I love the materials and patterns she uses for her pillows (uh, this African mudcloth in black and white is SO CUTE).  She also makes stockings using the same fabric of the pillows which I just love.
Lucky for you guys, Emma is offering 10% off your order when using the code OATSROWS10.
Ellison James Bohemian Choker – this brand is known for their fringe necklaces and chokers.  They come in an assortment of colors and look so cute on!  In Charlotte, you see so many girls where the Panthers-colored one on game days.  I love this grey choker and apache fringe necklace in black and the landslide fringe earrings.
Glory Days Apparel Shirt – GDA is one of the most popular and recognized apparel brands in the city.  The shirts are original and you see so many people wearing them throughout Charlotte.  This 'Charlotte vs All Y'all' shirt is great for any CLT resident on your list.
Christmas Cards by Kristen Henderson – Greeting cards are one of my most favorite things to give someone.  Kristen Henderson makes some of my most favorite cards on the planet – they are witty, creative, and include her amazing calligraphy.  She also makes some cute Charlotte themed ones too.
Reid's Fine Foods Stacker – this assortment of nuts, cheese straws, and other bites is a great gift to give your boss, coworker, teacher, or party host.  Reid's offers a variety of sizes of stacks to fit different budgets.
Hennel Paper Co Prints – how cute are these prints!?  I love the Rose All Day print, notepads, and greeting cards (duh).  Her prints have such positive messages on them, I'd love to include more of these around my home.
Erin McDermott Waverly Earrings – honestly, anything from Erin McDermott would be a great gift for your friend, mother, aunt, roommate, etc.  Her jewelry is casual yet elegant and delicate yet practical.  I have a couple pairs of her earrings and necklaces and I always receive compliments when I wear her jewelry.
And there you have it – my roundup of the best Charlotte gifts!  Even if you don't live in Charlotte, hopefully this will give you some ideas of things to check out in your own city.  I always love to support small, local businesses <3
Your turn – 
How much more holiday shopping do you have left?
What's one gift that you are excited to GIVE?
What are your plans for the holidays?