One week 'til Christmas…ahhh!  Thankfully, I've gotten all of my shopping done – it's just two days of work, a whole lot of packing and cleaning, and a girls night in between me and my trip to Maryland!
Need a gift or stocking stuffer?  I've got you covered!  If you missed them, check out my other gift guides from last week:
Health & Fitness Gift Guide
Charlotte Gift Guide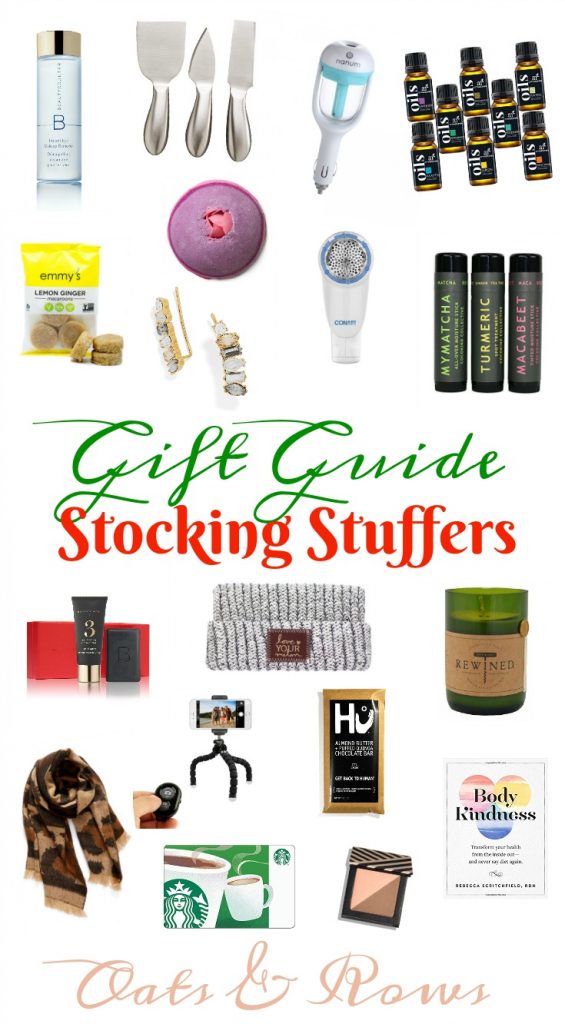 Eye Makeup Remover – this stuff is the best!
Emmy's Organic Macaroons – the lemon ginger is my favorite!  It's a healthy treat with the right amount of sweetness
Cheese Knife Set – everyone's gotta have a cheese board and cheese knives!  These ones from Crate & Barrel are perfect
Lush Bath Bombs – I love this one and this one
Baublebar Ear Crawlers – I have these ones and I always receive so many compliments.  These are cute too!
Car Diffuser – how have I never heard of this until recently?  I need one of these STAT
Essential Oils – I recently got these ones from Art Naturals and they're great
Fuzz Remover – pills on sweaters are the WORST, and this tool gets rid of them
Cocokind Collective – a set of their turmeric spot treatment stick, maca beet tinted moisture stick, and the matcha all-over stick. These are super popular/trendy now
Daily Detox Charcoal Set – Charcoal makes your skin feel so clean and soft (the charcoal bar that is included is one of my all-time favorite products)
Leopard Scarf – it's $12.98!!
Love Your Melon Beanie – all of their beanies are great for men and women.  The best part is 50% of the profits go to help children battling cancer.
Hu Kitchen Chocolate – BEST CHOCOLATE ON EARTH.  I love the cashew butter + vanilla bean dark chocolate, almond butter + puffed quinoa dark chocolate, and hazelnut butter dark chocolate.
Starbucks Gift Card – because you can't have too much coffee..
Beautycounter Eye Shadow Duo – I've been eyeing the shell/malt duo
Rewined Candles – these candles made out of wine bottles are made in Charleston!  They smell fabulous and would make a great gift
Body Kindness by Rebecca Scritchfield – I am reading this now and love it
Happy shopping!
Note: some of the links contain affiliate links.  I may earn a small commission from a purchase made through the link.  These help keep this blog running and the bills paid.  Thank you so much for supporting me and this space!