Happy Tuesday, friends!  I hope you had a great start to the week.  This week has been pretty low key so far, which is totally fine with me!
I am here to share with you my experience with Stitch Fix ! (affiliate link)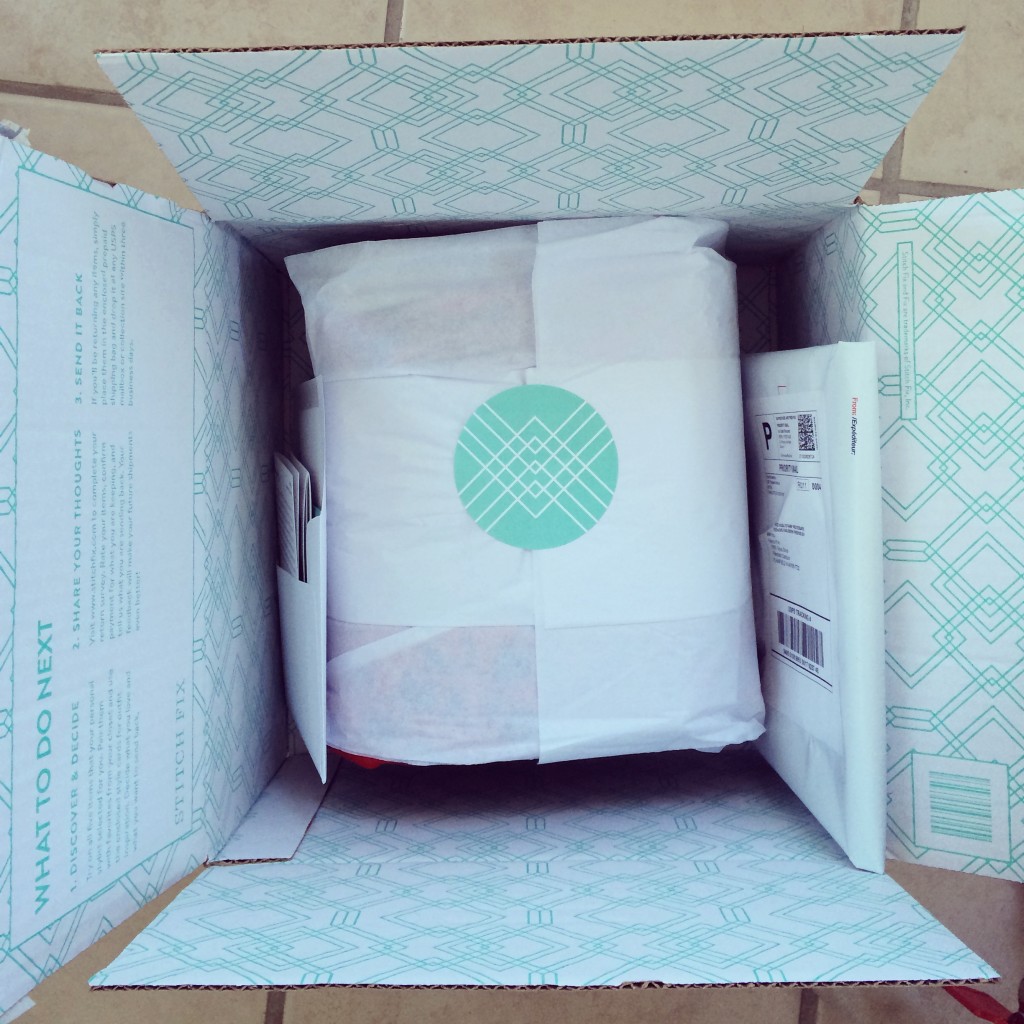 //happiness in a box//
If you have not heard of Stitch Fix, it is an online styling service.  You pay a $20 styling fee, which can then be applied to purchasing any item(s) from your fix.  Once you create an account, you fill out a detailed questionnaire asking you to provide your sizes for all types of clothing, the desired price for each type of clothing, and your style.  Once you fill it out, you can select when you would like to receive your fix.  You can either schedule just one fix or sign up for automatic fixes.  Once you receive your fix, you have the pleasure of trying on these items selected just for you in the privacy of your own home without all the hassles of busy malls and dressing rooms.  Also, if you purchase all 5 items, you receive 25% your entire order – BONUS!
Here's what I loved MOST about my experience:
They reference your Pinterest board.  If you are anything like me, your Pinterest board is your DREAM closet.  If I had all the money in the world, I'd purchase everything on my Style board.  I believe that my style board truly shows what my style is, and I LOVE how my Stitch Fix stylist used that to select some of the items I received.
A note from my stylist was included in my fix.  I LOVED reading a note from my stylist, Meagan.  It was so personable and I loved how she explained why each piece she picked would be perfect for me.  It was such a nice touch!
The surprise element.  I loved filling out every single detail about my style preference, but I really enjoyed not knowing what I was going to get.
It was similar to shopping with a friend.  Sadly, I have not gone shopping with a friend in what feels like forever.  It was nice to have someone picking out things that you may like because I definitely need someone else's opinion when shopping.
The styling cards.  For each item in your fix, there was a card that shows different ways you can style each piece.
I apologize for the lack of quality pictures.  Me being the biggest procrastinator I am, I realized at the last minute that I needed to send back the items I didn't want as soon as possible.  Without further ado, here are the 5 items selected for me!
-Henry Birds on Branch Infinity Scarf by Octavia in Orange:  KEEPER
I love infinity scarves, but definitely do not own as many as I would like- maybe that's a good thing?  I love red and thought this would be a cute piece to pair with a sweater or jacket.
-Whitnee Button Neck Striped Shift Dress by Loveappella: NOT KEEPING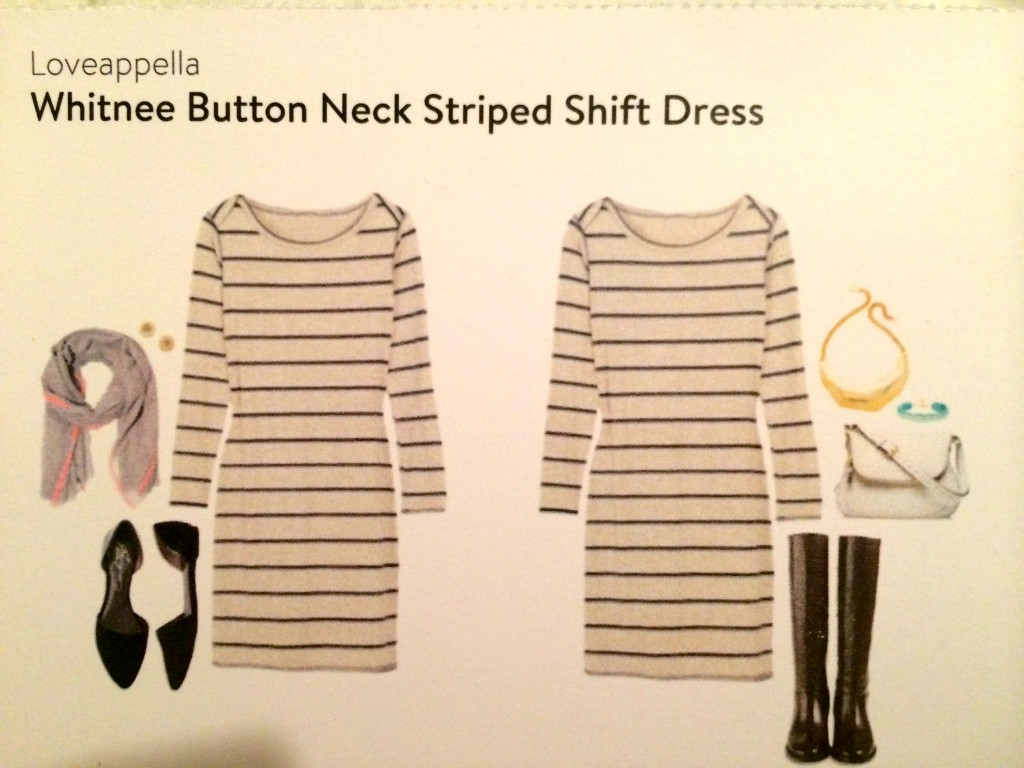 This cotton dress was a beige color with navy stripes with buttoning at the shoulders.  I really liked the dress and I knew I'd wear it with my brown Frye boots, but the retail price was $64.00 and I thought I could find something very similar at the Gap outlet for half the price.
-Milan Lace Print Back Pleat Top by 41Hawthorn in Burgundy: NOT KEEPING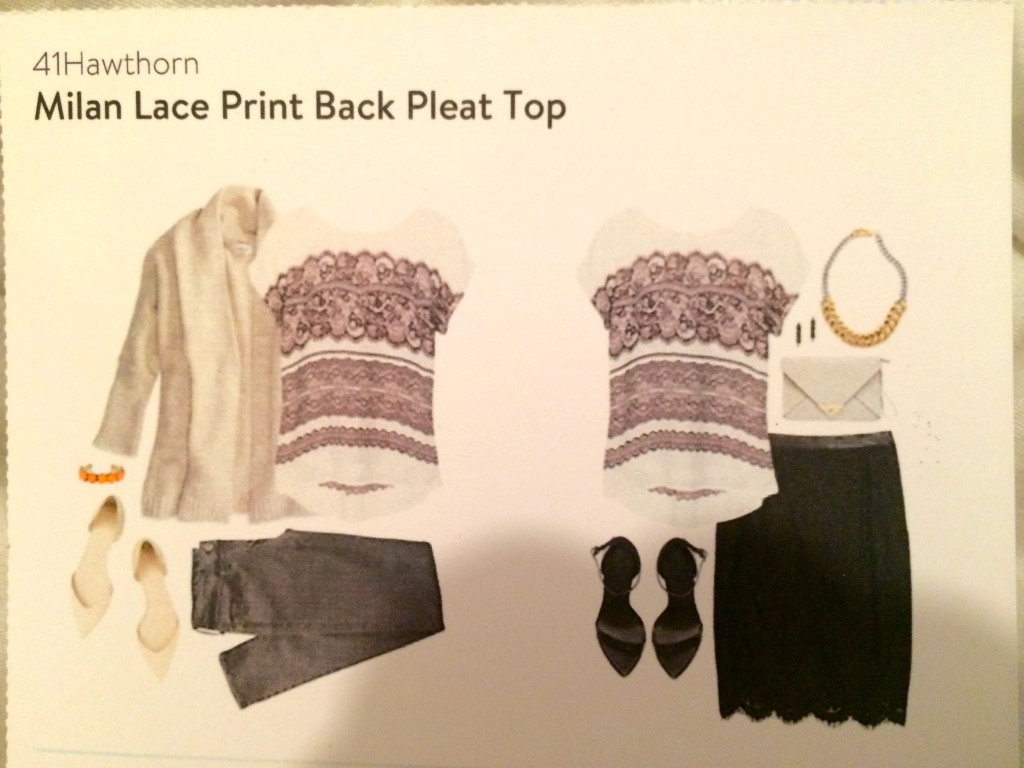 This shirt is just not my style at all.  I also figured that even if I did like it, I could find it at Forever21 for $12, as opposed to $58…
-Gracelin Asymmetrical Zip Jacket by Mystree: (Sadly) NOT KEEPING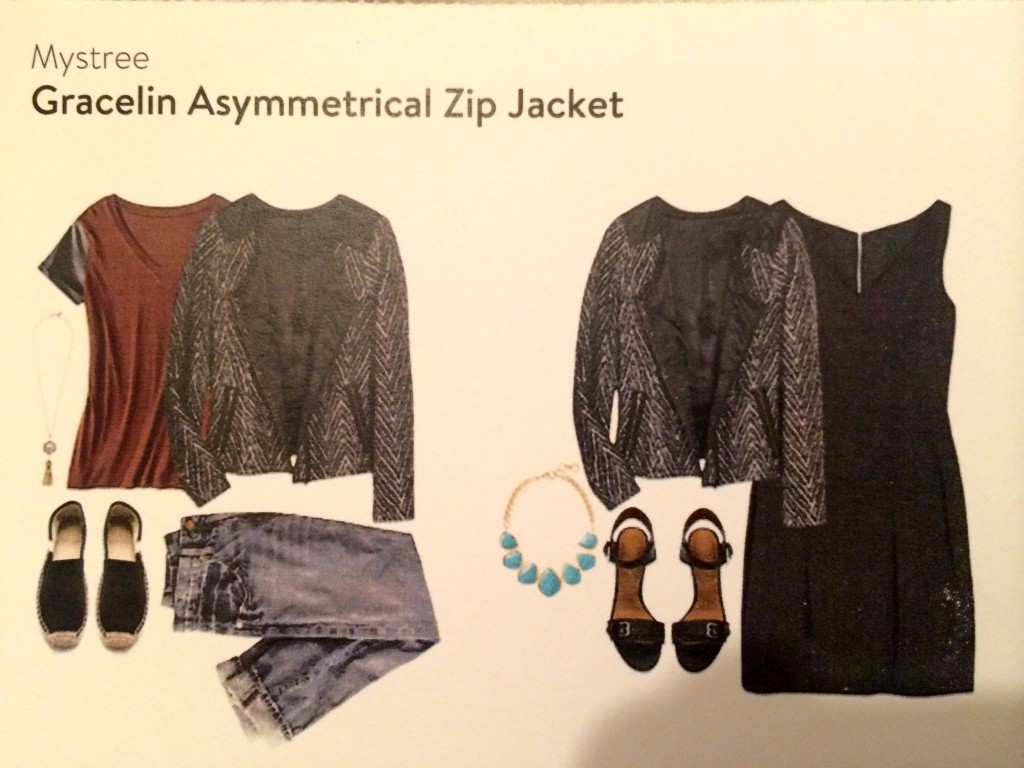 I loved, loved, LOVED this jacket but unfortunately, there was a knick in the sleeve.  Hopefully there is a way I can still purchase it.  MUST. HAVE. IT.
-Danny 5-Pocket Knit Pant by Kut From the Kloth: KEEPER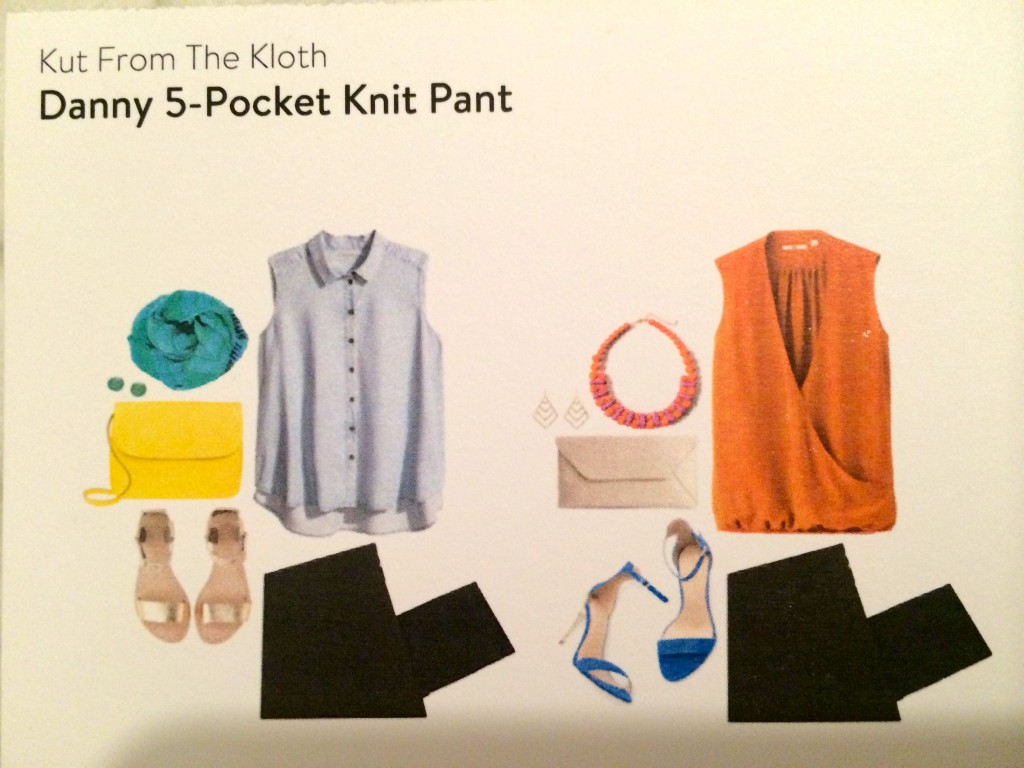 The picture does not do them any justice, but they are just your basic black skinny pant.  They are made from a stretchy material, but fit nicely and do not slouch.  I needed a new pair of black skinny pants desperately, so I was super pumped to find these in my fix.  I cannot wait to style these with heels or flats!
If you are interested in trying out Stitch Fix, click here (affiliate link) to schedule your first fix!  I highly recommend using this awesome service!!
[Disclosure:  This is not a sponsored post.  All opinions are my own.  This post contains an affiliate link; I greatly appreciate the support!]