Over the past year, I've made it a huge priority to take better care of myself, in ways other than exercise and eating well.  Specifically, I've been going to the doctor more (even getting second and third opinions) and finding skincare products and practices that work best for me.
I'd say I am a beauty/skincare junkie that loves to browse Sephora, Ulta, and other brands online.  I heavily relied on drugstores for face wash and makeup removers.  Nothing really ever won me over and made me loyal to a product or brand.  However, I've never really had "bad" or acne-prone skin. I'd break out around the time of my period and I always had little bumps all around my scalp due to sweating during the day.  These bumps bothered me because I am interacting closely with people all day and don't wear makeup that often to work in hopes to prevent the bumps from getting worse.
In terms of skincare, I've spent a good amount of the year:
Finding products that are SAFE
Finding products that will allow my skin to age gracefully
Finding companies that don't have anything to hide and provide transparency (aka minimal ingredients, and actually providing the ingredients)
Revamping my skincare routine
Here are the three biggest changes I've made that have done wonders for my skin:
Giving my skin some attention in the morning
I am kind of embarrassed to say this, but until this year, I've NEVER done anything to my skin in the morning.  Washed, moisturized, rinsed, splash of water…nothing.  I always knew that it was probably important to do, but it's just something I never thought about.
Now, depending on how much time I have in the morning, I always give my skin some attention.  If I have an early morning, I'll splash some water on my face and give a couple sprays of either this spray or this rosewater spray.  If I am really lacking time, I'll use 2 of the Beautycounter Rejuvenating toner pads.
If I have more time, I'll use either the Primally Pure Cleansing Oil or wash my face with Beautycounter's nourishing cleanser.
Speaking of washing my face…
Investing in a Clarisonic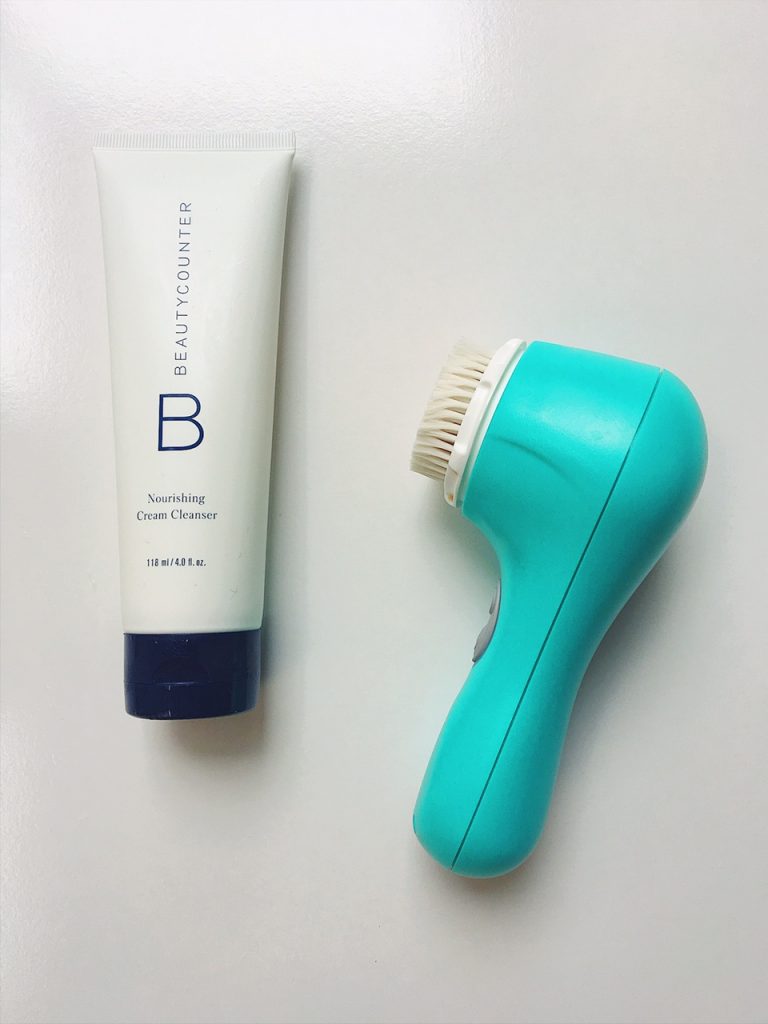 I've heard of Clarisonics and have had friends that use them, but I never really considered it until after meeting with Teri at Carolina Facial Plastics in South Park.  I met with her a couple months ago for a consultation after hearing how great she is from Brittany  . She highly recommended it and was able to buy one on Amazon on Prime Day (it was muuuuch cheaper that way).
Since using it for a couple of months, I've noticed a huge difference in how clean my skin feels after using it.  I can tell that I was not getting deep enough before when just using my hands or a wash cloth.  I use the Clarisonic every night along with either the Nourishing Cleanser or Nourishing Exfoliator, depending on how much I've sweat that day.
Using natural and safe products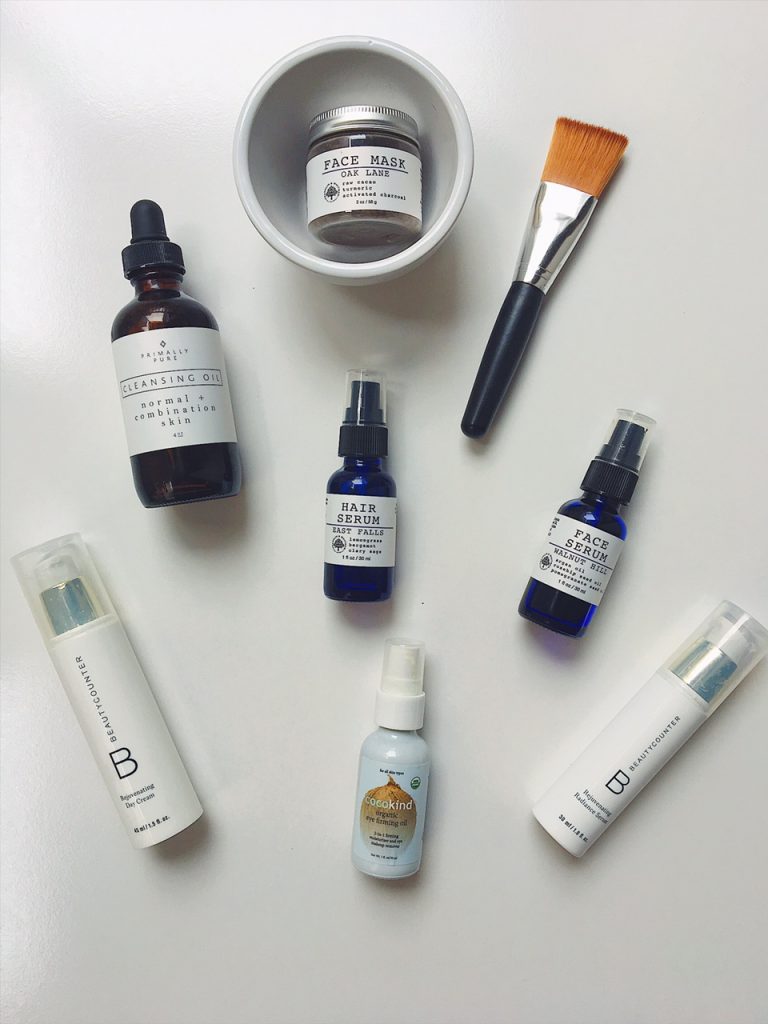 This year, I ditched almost all major skincare products, except body wash.  I switched from drugstore products to safer products from smaller business and businesses that are working towards more transparency for consumers (YAAAAS beautycounter!).  In addition to Beautycounter, I also use Franklin & Whitman, Primally Pure, and cocokind.  All of the products above are ones I use on a daily basis, and aside from them doing wonders for my skin, they actually come with an ingredient list (!!!).  The ingredient lists are minimal and ingredients I can pronounce.  I used to think "natural" or safer products wouldn't work, but these are ones I've been blown away by.  Here are links to the products above if you are interested in checking them out:
Frank & Whit Oak Lane Face Mask – I do this once a week
Primally Pure Cleansing Oil (for normal + combination skin) – I alternate this with face wash. LOVE this cleansing oil
Frank & Whit East Falls Hair Serum – I use 1 pump in damp hair after showering (brushing it through is KEY or else your hair will be oily)
Frank & Whit Walnut Hill Face Serum – I will put this on after doing the face mask, steam, and exfoliator
Beautycounter Rejuvenating Day Cream – my everyday cream
Cocokind Organic Eye Firming Oil – I use this when my eyes are feeling super dry, especially in the winter
Beautycounter Rejuvenating Radiance Serum – I use this twice a day to help with fine lines and dark spots
Beautycounter Rejuvenating Night Cream  – I use this at night and it feels so refreshing to have on before bed
To check out more of the products I love, click here to check out my shop page.
Your turn-
What are some beauty/skin products you love?
What are some ways you take care of your skin?
What's one product you can't live without?
Note: Some of the links included above are affiliate links.  While I may make money off of the purchase made through the links, these are products I stand by 100%.  Your support means the world to me and helps keep this blog up and running.  THANK YOU <3.