One of my favorite things to do as a trainer and group fitness instructor is to come up with new ways to work a muscle group or change up an existing movement.  For people, especially those new to strength training, it can get easy to get stuck in a routine of the strength exercises over and over again with no progression.  However, change is KEY to positive progression of your overall strength.  Here are some of the main ways to change up your strength routine to lead to stronger muscular development and strength.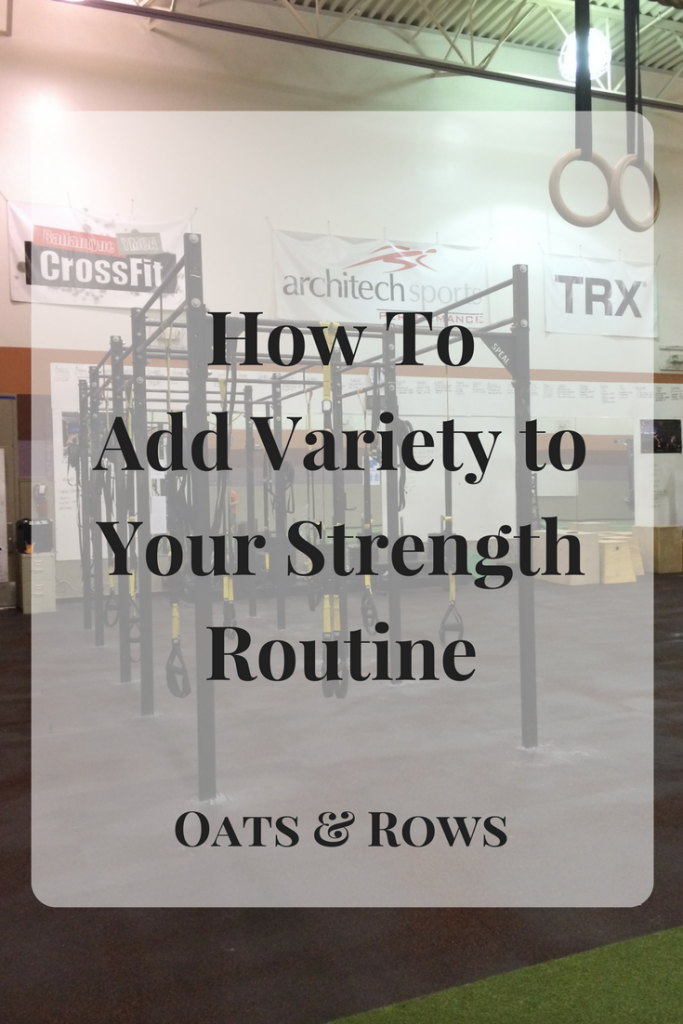 Increase or Decrease Load
Increasing the load (weight) is generally the first thing people gravitate towards when changing their strength training routine.  Granted, increasing weight to build muscle mass is one of the most common goals I see when working with clients.  In the early stages of progression, if the goal is muscle mass, as the weight increases the repetitions will decrease.
Change Repetitions
As said above, repetitions typically decrease when increasing the load.  On the other handle, muscular endurance can be achieved by increasing the repetitions per set while using a lighter load.  Muscular endurance training is what you'll find in a barre class.
Tempo
Tempo and speed (paired with grip changes) are personally my favorite ways to change up strength exercises.  This is often seen in group fitness classes, which is probably why I like it so much! LES MILLS Body Pump classes incorporate tempo/speed changes throughout their whole class.   Tempo/speed of a movement really focus on both isotonic contractions (shortening and lengthening of the muscle) as well as isometric contractions (muscle is contracting but not changing length – think of a wall sit).
In the personal training world, you may have heard of "slow negative" which means slow release of the movement back to the starting position.  In group fitness, you will hear the instructor cue the movement to be slower or faster to make the movement coincide with the beat of the music.
Slowing down a strength exercise will be difficult as your body fights gravity with the load you are using.
Grip
Changing up your grip for upper body exercises or foot stance for lower body exercises will enhance that particular movement.  Grip or stance change will target the muscle fibers a little differently for the same movement and will cause more of the muscle fibers to contract, rebuild, and increase strength.
For example, for a basic bicep curl, palms can be facing upwards (standard) or together (narrow grip).  Also, wide curls are personal favorite of mine, in which your shoulder externally rotate to open up the chest and complete a standard or narrow curl while keeping your triceps pressed against the sides of your body.
Compound Movements
Changing up your strength routine can be done by killing two birds with one stone.  Pressed for time or interested in focusing on functional movements?  Try combining multiple strength exercises at once to increase blood flow then in turn increasing heart rate and caloric burn.  Some of my favorite compound exercises are:
Squat – Bicep Curl – Shoulder Press
Deadlift – Bentover Row – Tricep Extension
Squat – Tricep Press – Overhead Tricep Extension
Sumo Squat – Upright Row – Calf Raise
Depending on your goal of muscle mass/build, endurance, or both, will dictate your training method and plan.  Each trainer has their own skill set, opinions, and creativity to bring to your training.  Interested in learning more?  I have a few spots left in my New Year Kickstart online Boot Camp starting on Monday, January 23rd!  Comment on this post if you'd like more information!