Looking for a playlist that will set the tone for a great workout?  Looking for a sculpting workout with a song matched for each movement?  This core sculpting workout is perfect for the gym or at home!
I am going to start this post off with a pretty bold statement.
I felt I was my strongest self after doing barre and Pilates workouts.
After doing barre and Pilates consistently, my planks were longer, my shoulders and back had more definition, and my running improved.  Thanks to barre, my legs and hips were so much stronger, my shoulder pain from an injury back in high school subsided, and I fell in love with Pilates all over again.  I am a huge advocate for incorporating barre and Pilates workouts into client's training plans, no matter what the end goal is.  Everyone, beginners to athletes, can benefit from these workouts.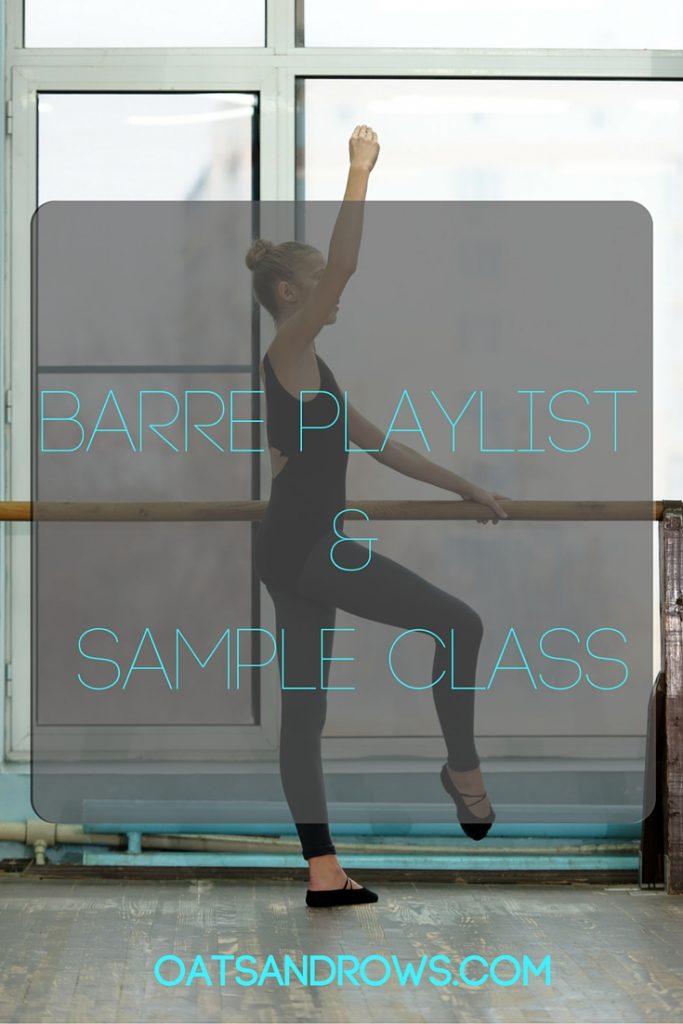 I'm saving a post all about barre and Pilates and the difference between the two for a later date, but for now I am sharing one of my recent 3-Fusion classes with the playlist!  Whether you are looking to do this workout at home or you are an instructor looking for some inspiration, this workout with the accompanying music is a perfect butt-kicking workout.

1. This One's For You– warm up with curl ups, the Hundred, the roll up
2. Easy Love– Progress from a lunge to a pulse lunge, with the option to keep the front heel lifted.  Then, progress to a lunge-to-leg extension.  Stay with the beat or pick up the tempo during the chorus.
3. Trendsetter– At the barre, place a small Pilates ball between inner things and keep feet parallel.  Tuck the hips under by engaging the abdominals and tilting the pelvis up.  Keep a steady squeeze on the ball while lifting the heels up off the floor and slowly lower down and up to the beat.  Once the music gets a little faster, play around with the tempo.
4. This Is What You Came For– Leg lifts (keep low back on mat!)
5. Lay It All On Me– Side plank variations: singles, 2 counts down/2 counts up, pulse hips up, weave top arm underneath
6. Mind– Hip Bridge variations- singles, 2 counts down/2 counts up, toes lifted, heels lifted, bridge pulses, place Pilates ball between knees and squeeze throughout
7. Turn Up the Music– Place small Pilates ball behind low back.  Lift up through the chest and keep back straight as you pulse back and forward for a crunch. Hold halfway for an isometric hold and then progress into Russian Twists.
8. Work Remix– Right leg lift on side- Laying on left side and bringing the leg out in front in line with the hip.  Progress into little leg pulses, circles forward, and circles backwards.
9. Stay– Left leg lift on side- see above
10. Kill Them With Kindness– slow bicycle crunches, bicycle crunches to tempo, Pilates' Single Leg Stretch
11. Lights– supermans and Pilates' Swan 1 Neck roll
12. One Dance– Shoulders: modified lateral raise with shoulder rotation, lateral raises, elevated arm curls, shoulder press pulses
13. Touch the Sky- arm extensions with palms forward, palms narrow, and palms backwards
14. Burn– cat/cows, Mermaid stretch
15. Close– Stretching
Please let me know if you try this workout.  Be sure to pin this image and follow me on Spotify! (@snovajosky)
Questions:
-Barre, Pilates, or both?  Neither?
-What's your favorite song(s) to workout to?
-What is your favorite core exercise?