I'm aliiiiive!  I've finally settled (eh, kind of) back in Charlotte after being away, but I'm hoping this week will be a bit more smooth.
Last weekend, I attended the 2015 DCAC Fitness Convention in Reston, VA.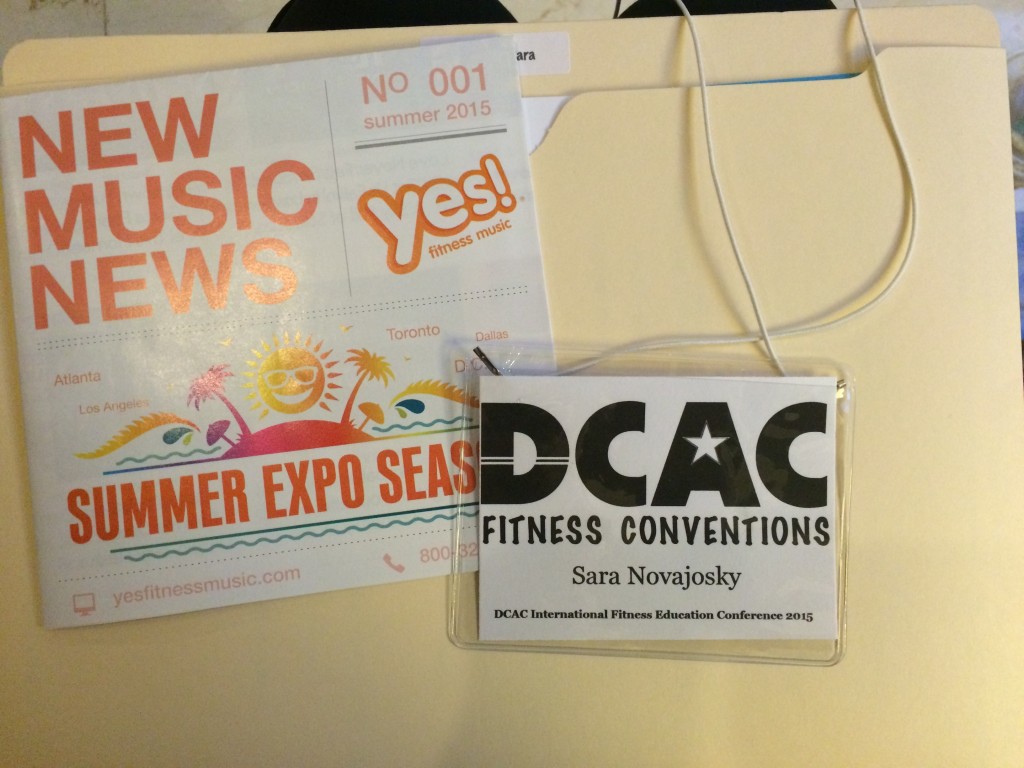 DCAC is a conference geared towards educating new fitness professionals and advancing current fitness professionals in the field and has been going strong for 24 years.  Over the course of the weekend, attendees are able to obtain a variety of certifications, attend workshops and lectures, network with other personal trainers and group fitness instructors, and gather hands-on experience on the latest trends in the fitness industry.  I signed up for the convention a couple months ago (my company paid for it…woohooo!), so I had been anxiously awaiting this weekend for quit some time.
The main reason I decided to go this year is because my general group exercise certification and my Pilates certification expire at the end of this year, so I needed to get my continuing educations credits in order to renew them.  As much as I like Pilates, I did not want to take a whole weekend of Pilates workshops, so I was happy I was able to squeeze in a few bootcamps and other workshops.  The company I work for is based out of the DC area (and I used to work up there) and so over the past few years, I've only heard such great things about the convention that it just seemed like this was the perfect year for me to go.
Aside from all of the great workshops and presenters, the convention is extremely organized.  Prior to the conference, I had emailed DCAC about my schedule and they emailed me back right away and helped me without any hesitation.  The convention is held at the Hyatt Regency in Reston Town Center, and it is a beautiful and clean hotel located right around a ton of shops and restaurants.  The parking in the town center is FREE, which was super nice and helpful considering I had to pay tolls to and from the convention each day to get home.  I didn't stay at the hotel since home is so close, but I am pretty certain that if you were attending the convention, you received a discounted rate for your weekend stay. 
Anyways, for my first day, here is what my schedule looked like:
1)  BOSU On The Minute with Shannon Fable – 7:00-9:00am
2) Savvier Fitness Tabata Bootcamp The Workout with Mindy Mylrea – 9:30-11:00am
3) Kettlebell Concepts: Kettlebell Core Academy with Angie Miller – 11:30-1:00pm
Lunch 1:00-2:00pm
4) SPINPOWER: Power Plus with Marci Williams – 2:00-4:00pm
5) Peak Pilates Flex and Flow Mat with Kathryn Coyle – 4:30-6:00pm
BOSU On The Minute with Shannon Fable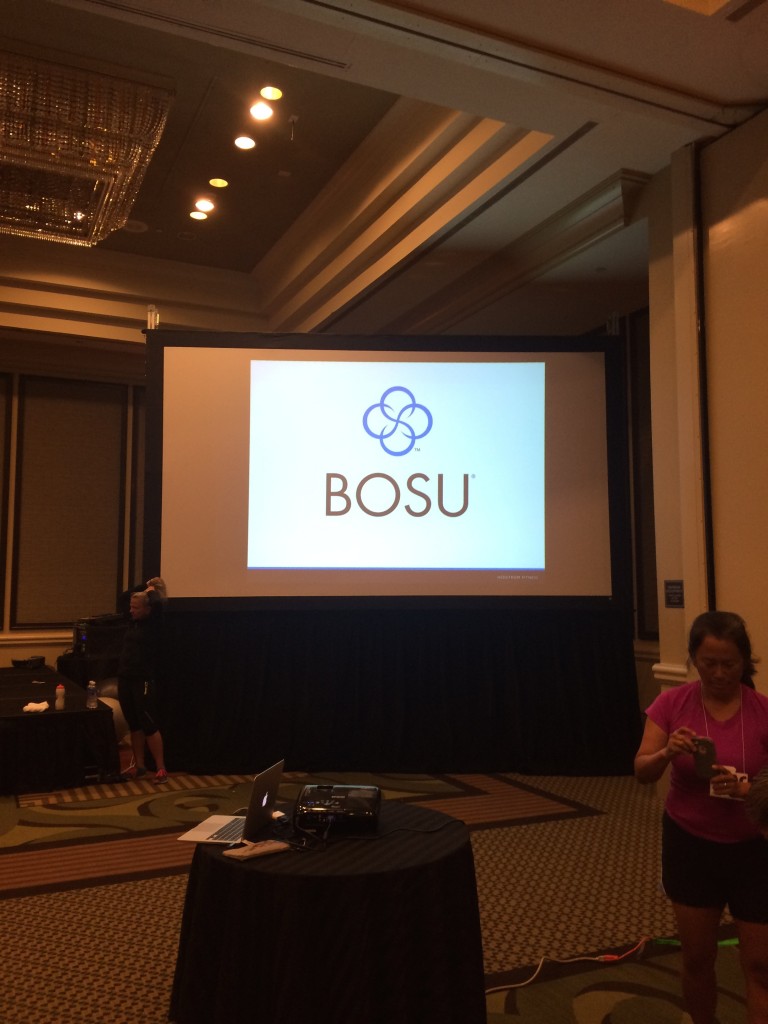 (sorry..worst lighting)
BOSU On The Minute is a high intensity workout utilizing a BOSU Ball and a BOSU Ballast Ball to complete full-body functional movements all while trying to beat the timer.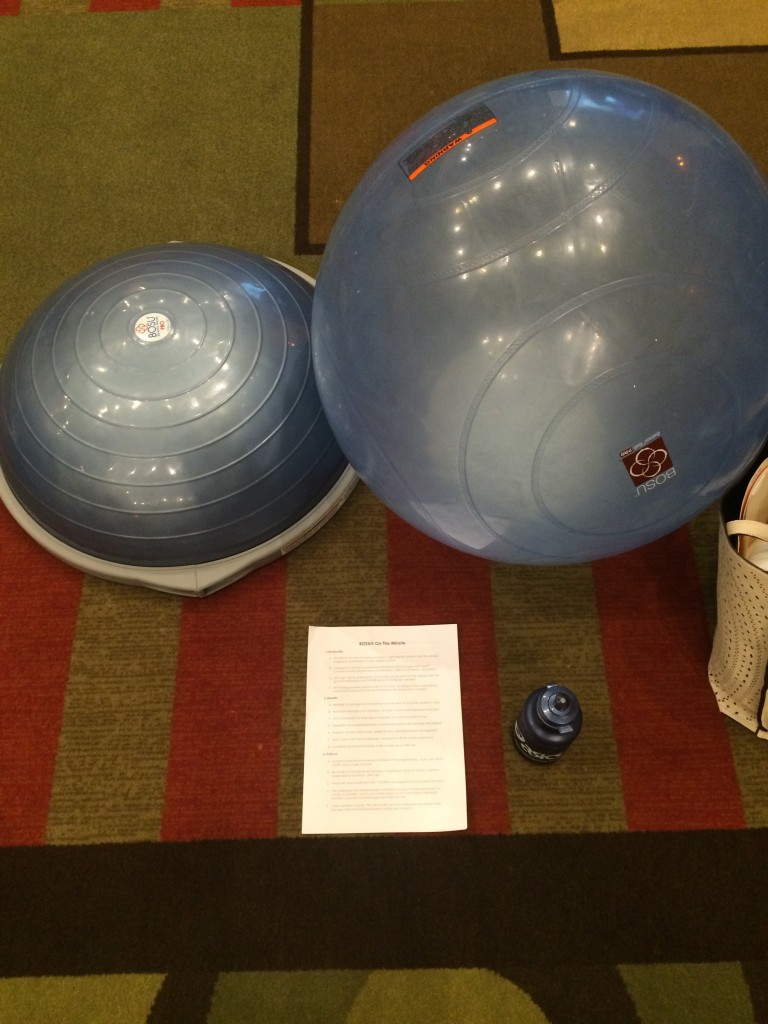 Each block, you are given a series of exercises to complete as fast as you can in 1 minute.  If you finish the exercises before the 1 minute is up, that is how much rest time you have until the next minute.  So if the exercises take you 40 seconds to complete, you have 20 seconds of rest.  If the exercises take you 55 seconds, you have 5 seconds of rest until the next round.  Sounds brutal, right?
It was.
Shannon provided us with different ways to change it up, such as exercise modifications, partner workouts, and modifications made to the timer.  Shannon's energy was contagious and it was the perfect way to kick of the first day of workshops!
Savvier Fitness Tabata Bootcamp with Mindy Mylrea
This was one of my favorite workshops from the weekend.  Tabata/HIIT is huge right now, and I use the tabata "protocol" of 8 rounds of 20 seconds on/10 seconds rest, so I was excited to see what new things I could take away from this.  Mindy Mylrea was a HYSTERICAL presenter (I think everyone was laughing almost the whole time) and kicked our butts with her own Tabata workout.  You can read more about her here.  The Tabata Bootcamp brand has their own CDs that have the countdown already programmed within the music which is super helpful.  To anyone who has the opportunity to take one of Mindy's workshops, you must do it!
Kettlebell Concepts: Kettlebell Core Academy with Angie Miller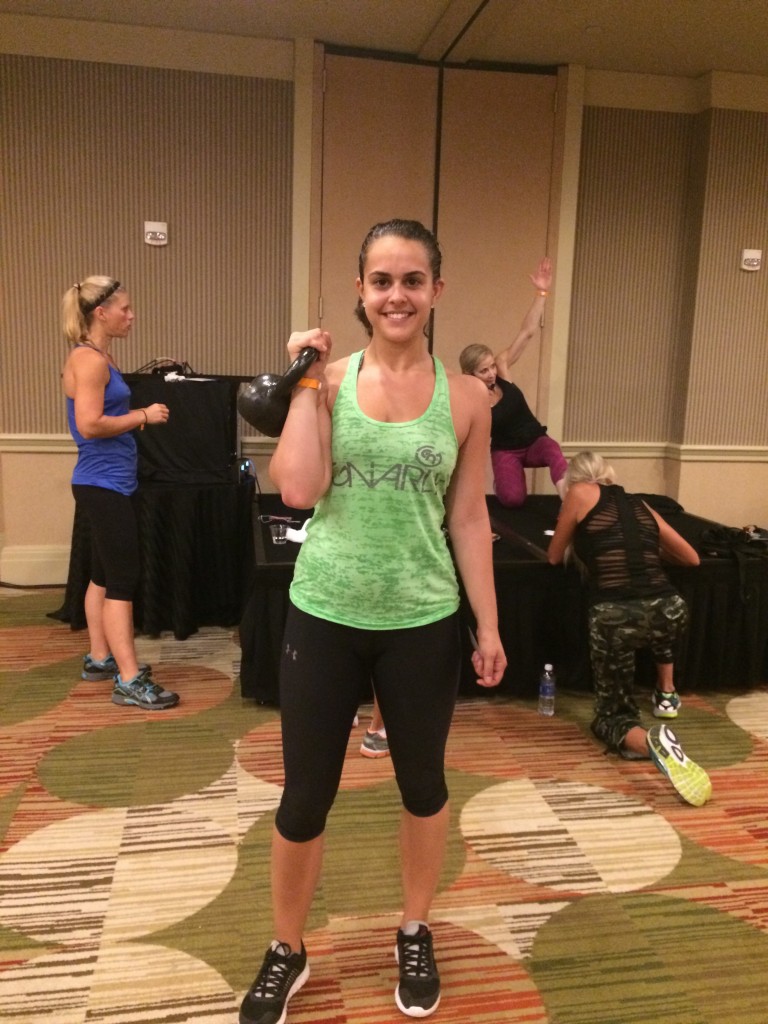 I was reeeeally excited to take this workshop.  While I use KBs in my boot camp classes, this KB workshop was taught to the beat of the music, which has never occurred to me to do.  The workout consisted of a ton of lunges and cleans, so by the end of it, my muscles were super shaky.  
SPINPOWER: Power Plus with Marci Williams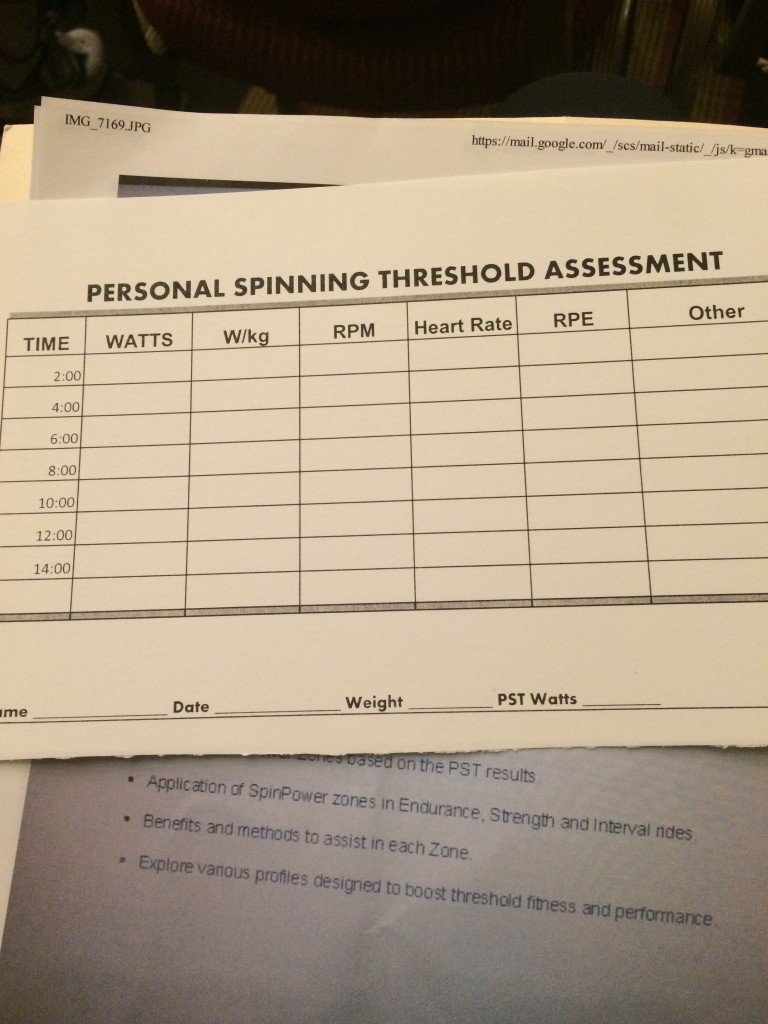 This workshop was kind of all over the place for me.  I don't know if it was because it was right after lunch and I was nursing a food baby the whole time or WHAT, but I couldn't really follow.  The workshop was based off the SPINPOWER bikes, incorporating heart rate training with finding your personal spinning threshold.  
Peak Pilates Flex and Flow Mat with Kathryn Coyle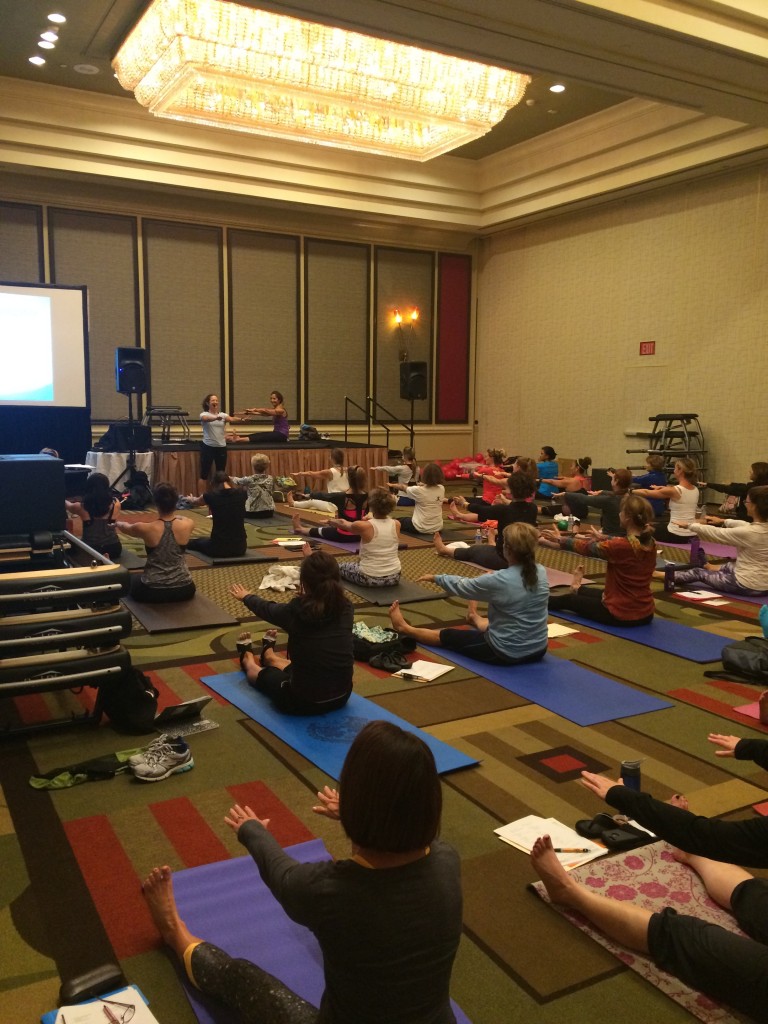 This Pilates workshop was really cool in the sense that we took 3 exercises and went through the sequences in a pyramid form.  For each sequence, we started at a number and counted down until 1 repetition on each sides.  It was tough!  With having my basic Pilates certification, sometimes I come to a halt when it comes to making my classes creative and new.  I cannot wait to use what I learned to make my classes more interesting!
At the end of the day, beer was in order!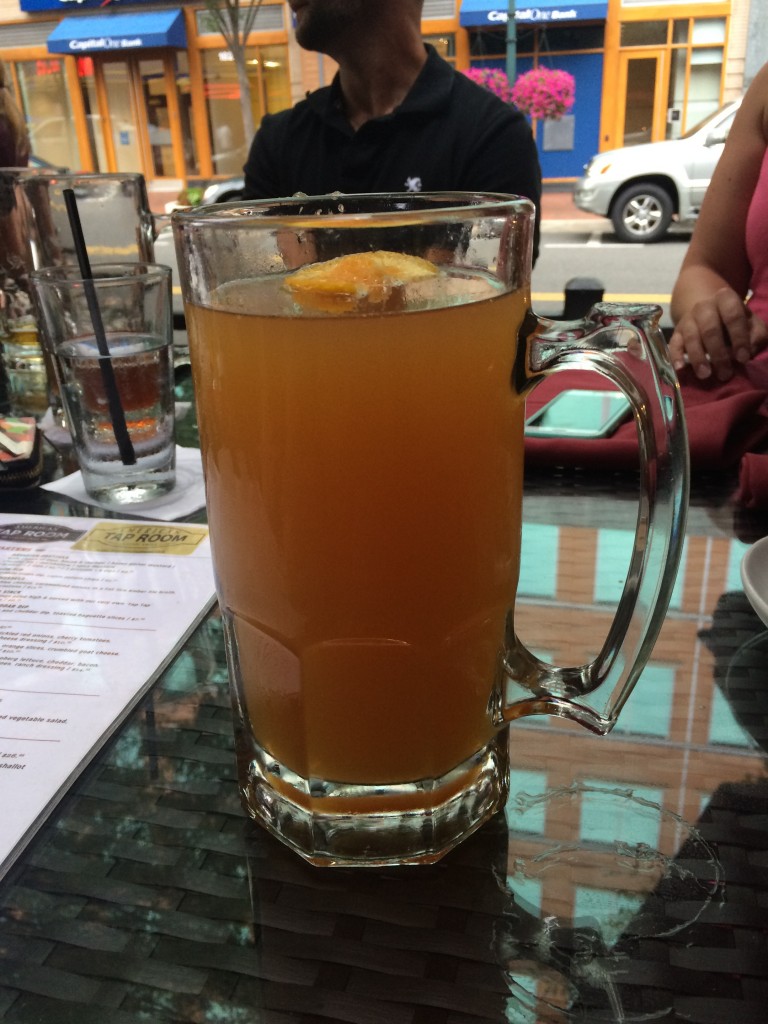 A bunch of us met up for drinks.  It was so so good to spend time with some familiar faces 🙂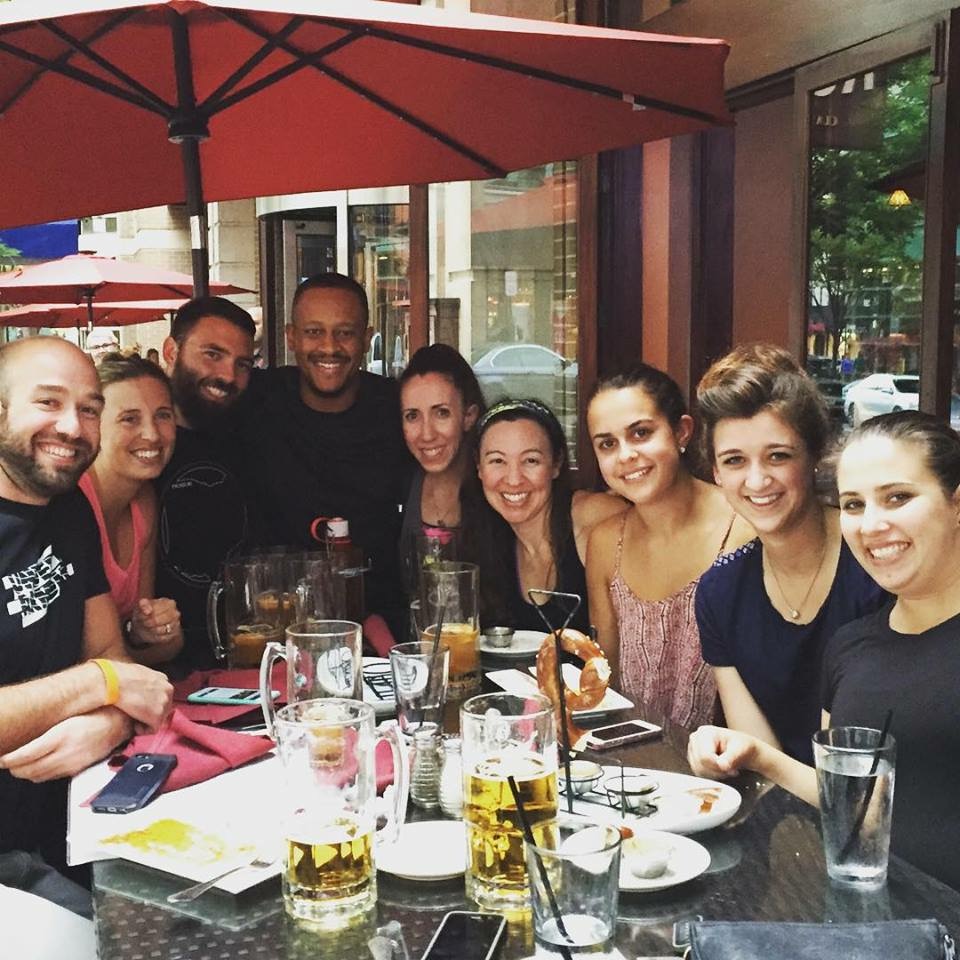 Stay tuned for recaps of Days 2 & 3!  Have a great Monday!
Questions:  Have you ever attended a group exercise conference?  Do you prefer kettlebells, Pilates, Spin, or Boot Camp?  Do you use a BOSU?  Do you like beer?  If so, what kinds? 🙂