Happy Tuesday, everyone!  It's been a busy one so far over here.  I taught at 6am and 7:30am then went to an eyebrow appointment, the bank, and got a juice on the way home: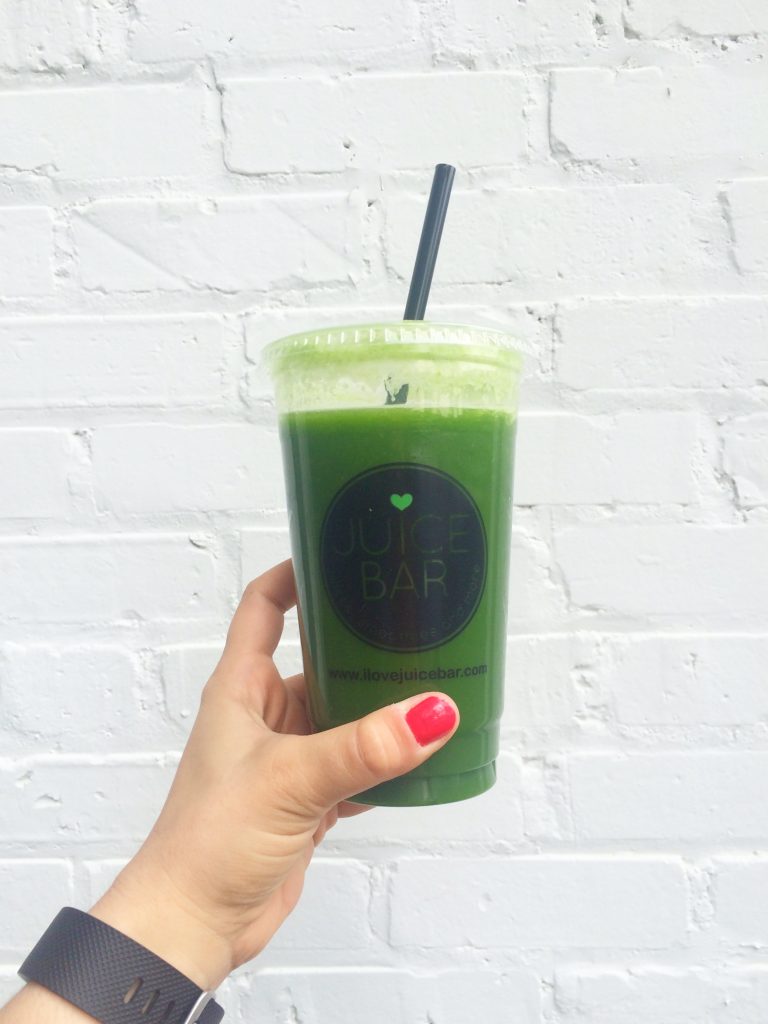 As an instructor who has been teaching for almost 4 years (side note: HOW?!), I've come to develop tricks that help me teach and prepare for class more efficiently.  One of the things I learned pretty early on, and this may seem obvious to most of you, is to prepare in advance.  ESPECIALLY for classes that require specific music and choreography.  Now granted, at my full-time job, I have a pretty good grasp on the participants' schedules, what class they will be in each week, what we did in the last class they attended, etc, so it is easier for me to go into class with only a general idea of what to do and a familiar playlist.
I recently started teaching a barre/Pilates class at Pure Body in South End twice a week.  Even though I have 4 years of experience behind me, a new studio and new clientele make me feel like a total newb to this whole teaching thing.  I sweat and stress over the preparation process because of the unfamiliarity of everything.
Not only do I prepare each class to make sure I don't look like an idiot in front of the participants (not guaranteed though 😉 ), but I also keep all of my classes to reference to for when I am planning the next week.  Also, barre is something that I can get totally get carried away with and totally murder everyone's glutes without realizing it, so the plan keeps me organized and the class flowing.
Here is my thought process when creating a playlist and a barre class, but this can easily work with other class formats!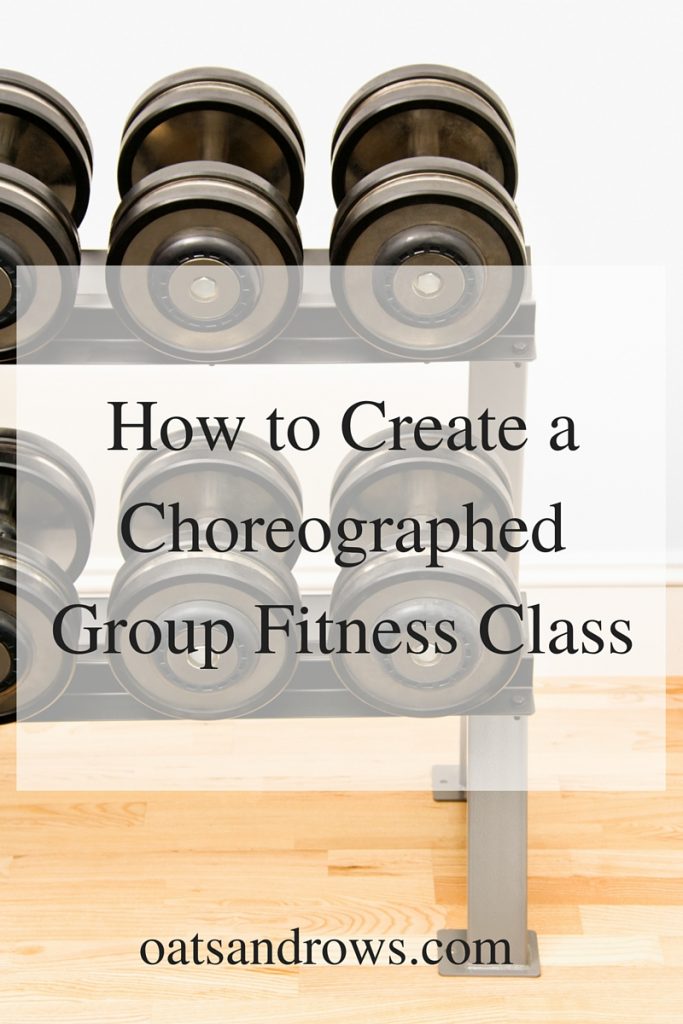 -Step 1: Write out the exercises you want to do first
When I am thinking about what to do in a class, there's a 99% chance that I am in the mood to do a particular movement.  For example, last night when I planned this morning's barre class, I knew I wanted to do a variation of the Pilates side kick series to music, so that was the first thing I wrote down.  I immediately write down the exercises I want to do in no particular order.
-Step 2: Fill in the gaps
After I've gotten the exercise I am in the mood to do or I am just feeling, I then fill in the gaps with other exercises to make it a balanced class.
-Step 3: Find songs that fit each movement or group of movements.
I've talked to several instructors (and I think almost all instructors do this) and they say that when they hear a song, they can envision exercises that work best with the vibe and the beat of the song.  There are certain songs I hear and I have certain and specific moves to go with that song.  For example, I think that will.I.am's song "Bang Bang" from the Great Gatsby soundtrack is a PERFECT song to do a Body Pump-style squat sequence to.  I literally cannot hear that song and not want to a Body Pump squat track to that.  This is where instructor creativity (and ability to hear the beat) comes into play!
I usually browse Spotify and listen to the beat of new/old songs as I read the exercises that I have written.
-Step 4: Place a song with each movement(s)
Since it helps me keep the class flowing and allows me to not freak out if I've spent too much time doing an exercise or not enough, I usually assign 1-2 songs per sequence/exercise combo/muscle group.
I write this on the same piece of paper I've written the exercises (in no particular order)
-Step 5: Put everything in order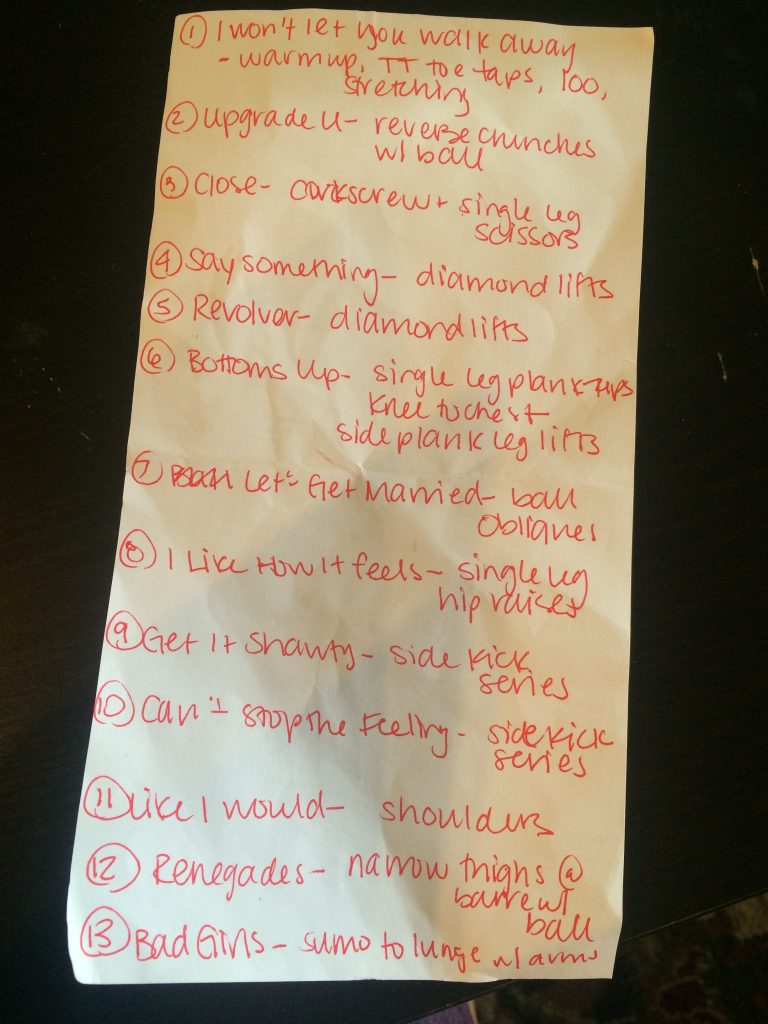 This is where I get a new piece of paper and I re-write the whole thing, starting with the warmup and song title, and continue to do this for the whole class.  I like to refer to my plan in class, especially if it's a 45-minute or 1 hour class.
-Step 6: Finalize playlist
I usually make my playlist as I am doing Step 3, but I organize it at the very end.
This step by step process is super helpful for me and a great way to familiarize myself with the music, especially new songs, and make sure I am creating a balanced and challenging class.  Even though preparation this in depth isn't always necessary, it definitely helps you feel confident while teaching.
Questions-
Instructors:  Do you have a process for creating classes?  How is yours similar and/or different?  Do you prep more for some classes over others?
Non-instructors:  Can you tell when an instructor doesn't prepare? Do you mind when an instructor refers to his/her plan in class?  Just curious!
How is your day going?!