Gooooood morning! We are halfway through the week!  I know, I'm acting like this week has been brutal, but I had Monday off so it really should only feel like Tuesday.  But nah, I am going to run with the opportunity to congratulate myself on making it this far 😉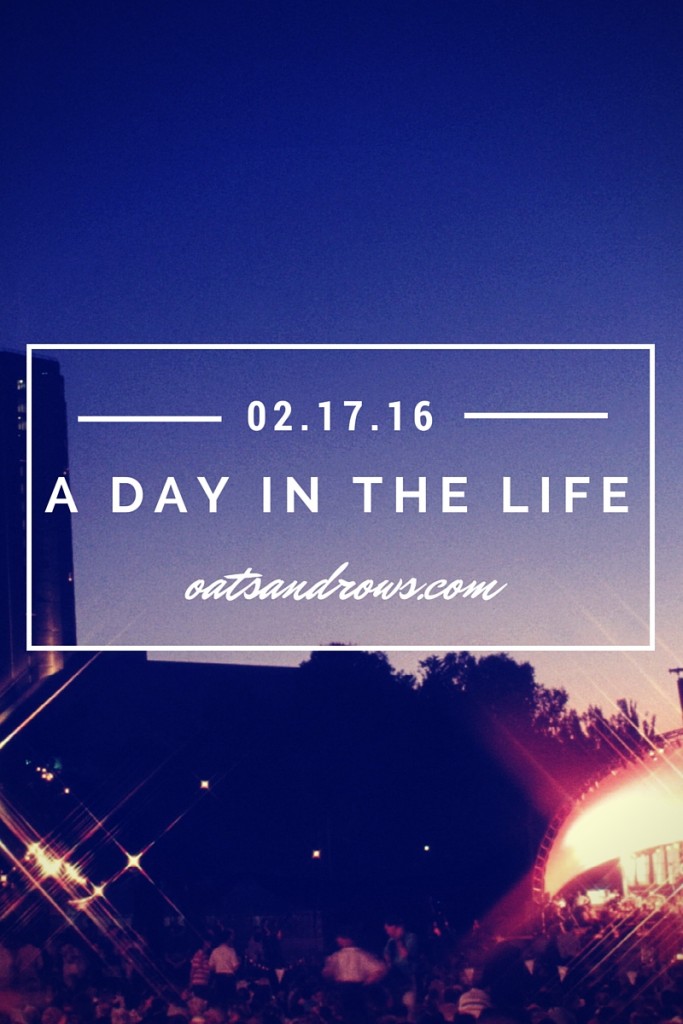 5:30am– Alarm goes off.  The thought of canceling my 6am spot in class crosses my mind.  Absolutely not, I tell myself.  I give myself another minute or 2 with my eyes shut and then slowly start to wake up by scrolling through emails and Instagram.
5:38am– Hop out of bed, change, brush teeth.
5:45am– Throw on hoodie, raincoat, and Uggs and shuffle my way over to FlyBarre.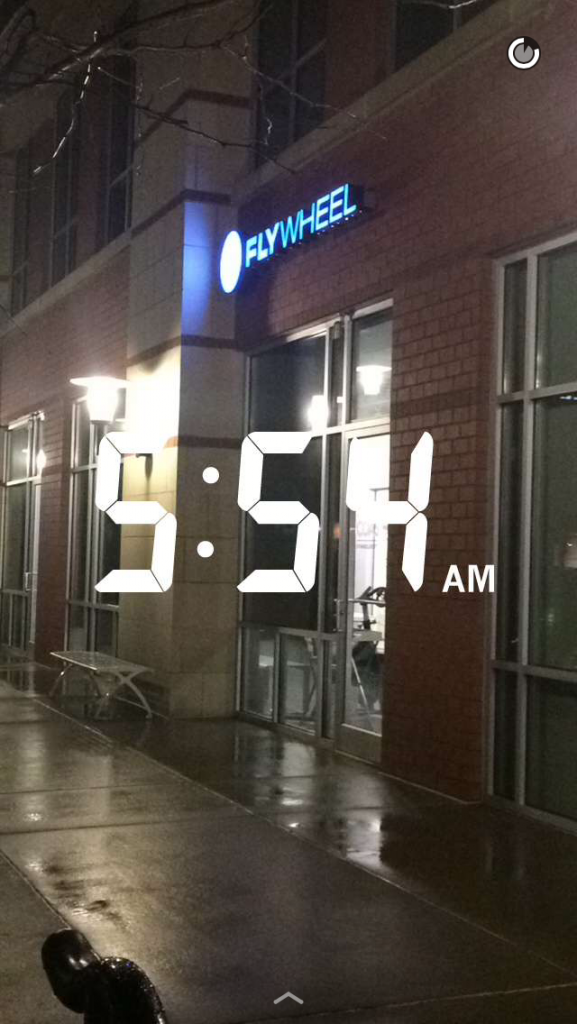 6:00am– FlyBarre
6:45am– Class is just starting the cool down, but I jump out of class so I have enough time to get home.
6:57am– Arrive home and feed Winston.  I am so thankful to have a dog that prefers to sleep and isn't a dog that wakes up starving and whining.  He leisurely eats while I munch on an orange, half of a Perfect Bar, and finish preparing my class.
7:10am– Take Winston for a short walk then come back and make a quick cup of coffee to take with me to teach.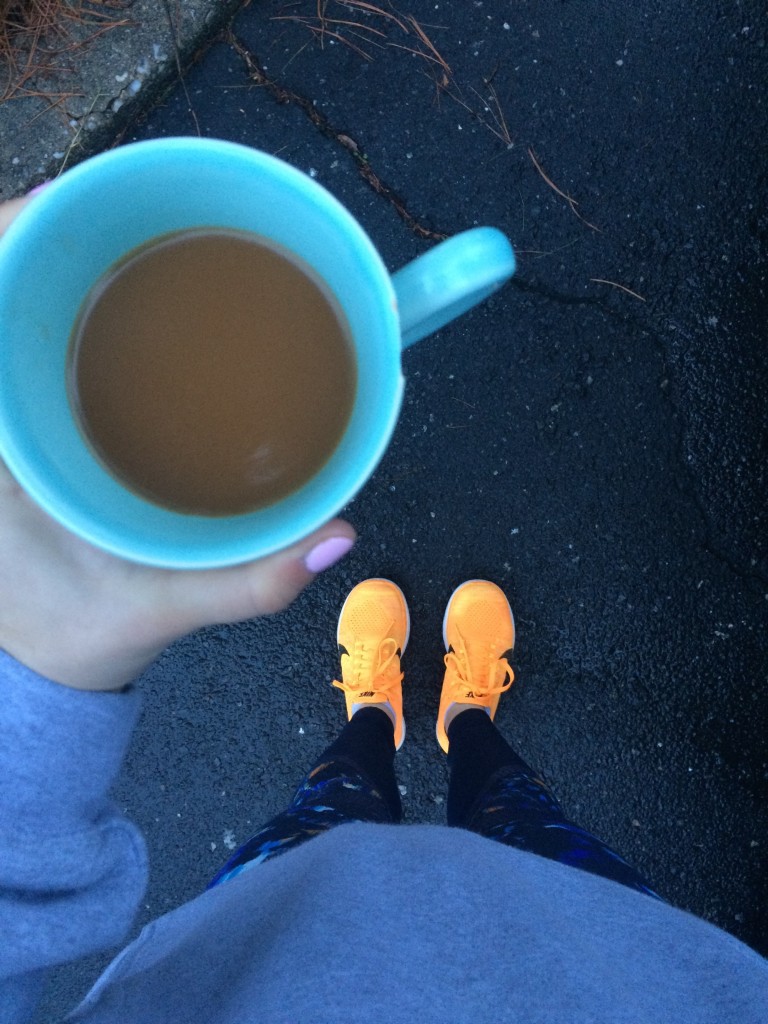 It's always a risk traveling while using a cup with no lid, but if it means coffee, then it's a risk I am willing to take!
7:29am– Arrive at the church to teach my usual Cardio Strength class.
8:30am– Class ends and find out that my friend/old coworker, Karen, is here to visit!  She used to be the instructor of the church class, but when she moved to Atlanta she passed it on to me.  It was great to catch up with her and I know that all of the participants missed her.  We stay and chat for a while.
9:15am– Arrive back home and take Winston out for a longer walk.
9:40am–  We come back and I am starving, so I make a cheesy egg scramble with hot sauce while I fire up the computer.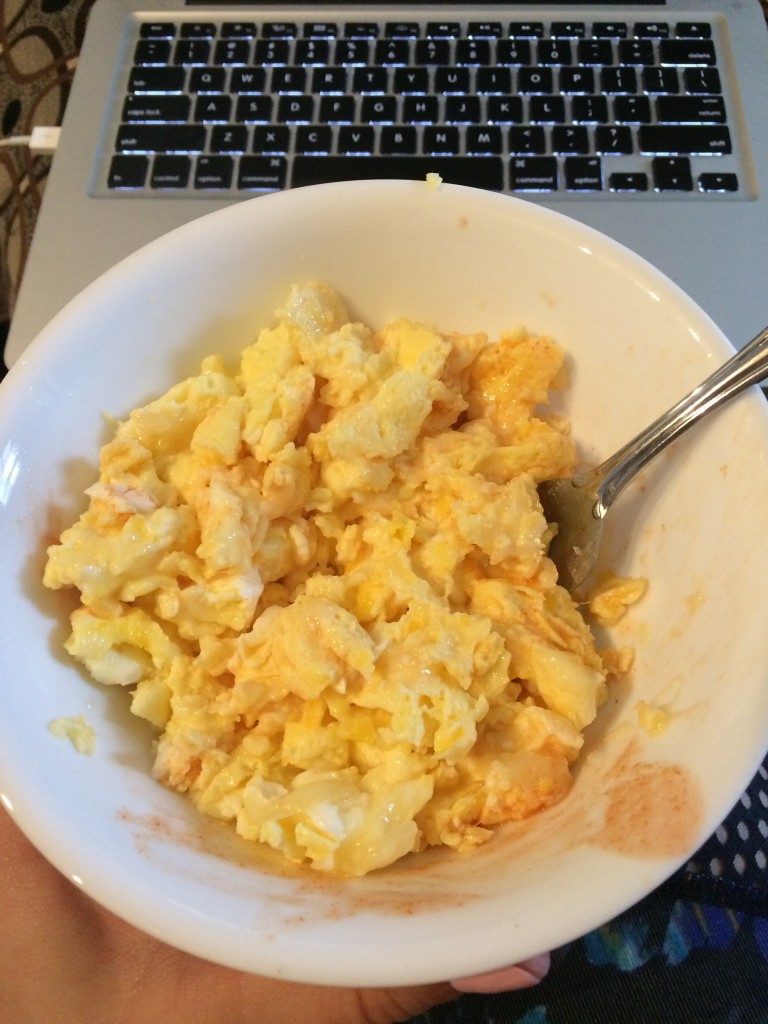 10:00-11:20am– I spend this time going back and forth between responding to emails, working on some Microbiology homework, starting this blog post, reading other blogs, getting my lunch packed, unloading the dishwasher, cleaning, etc.
11:35am– Get dressed and ready for work.
12:12pm– Arrive to work suuuuper late.  WOOPS!
I'll spare you the time breakdown of everything that happened at work, but I led a meeting with my weight loss challenge group participants.  Then my former coworker, Karen, visited us at her old stomping grounds!  We had a lot of fun jumping around: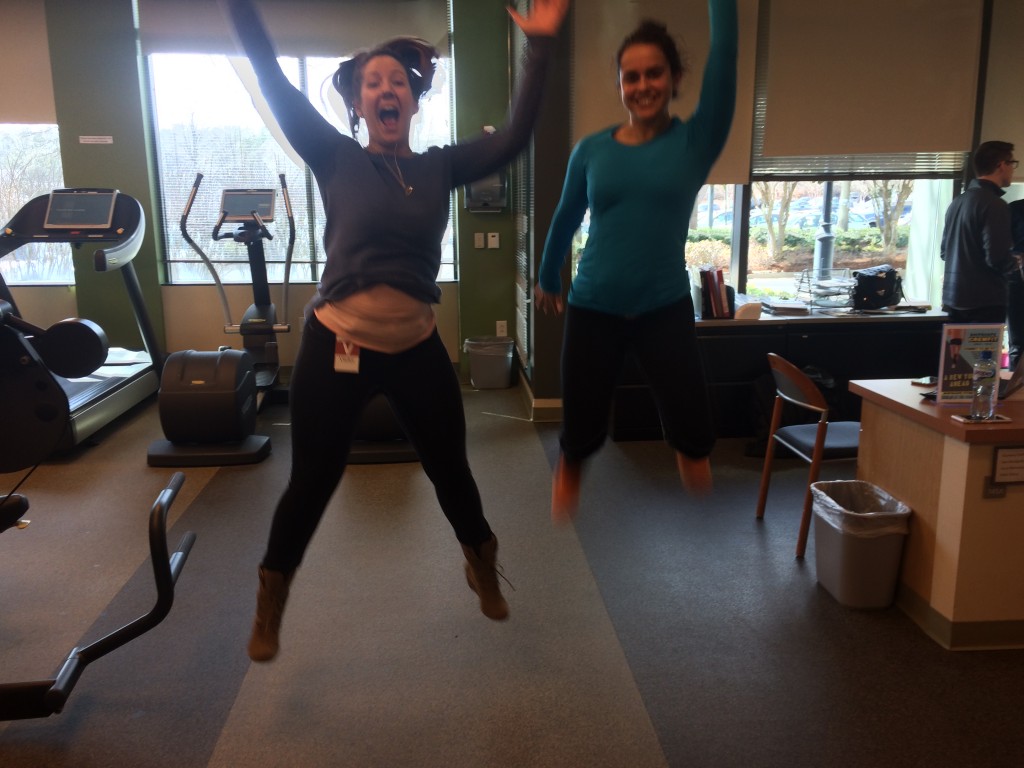 A lot of the day was spent doing prep work for the weight loss challenge and hanging with members with Karen.  I also taught a Pilates Sculpt class in the evening, which went well!
Also got a few steps in!  I am in two step challenges so I gotta walk when I can.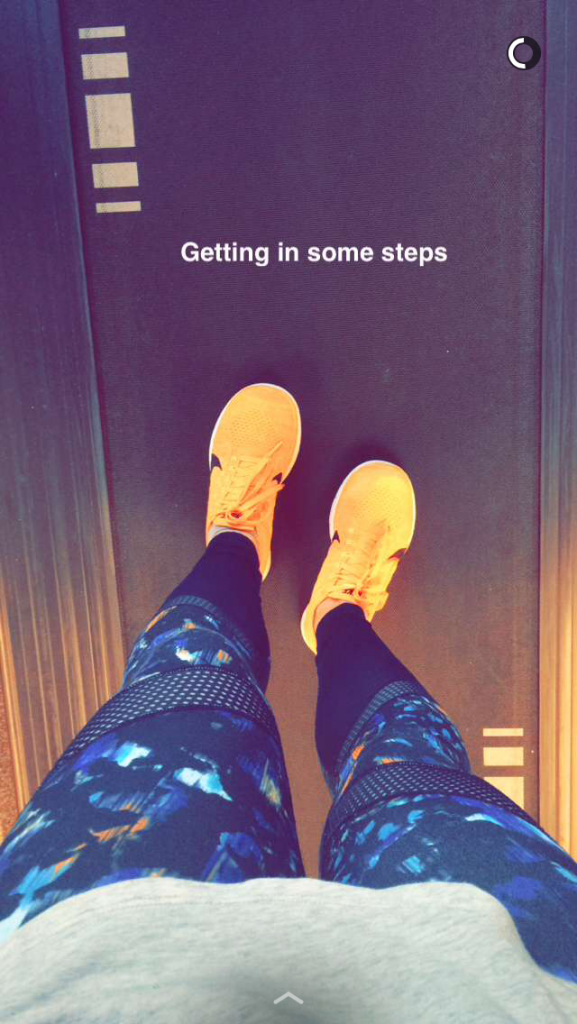 8:00pm– Peace out of work!
8:20pm– Get home, turn on the oven, go through some mail, and walk Winston.
My friend Elisabeth sent me the most adorable handmade Galentine's Day card and it totally made my day!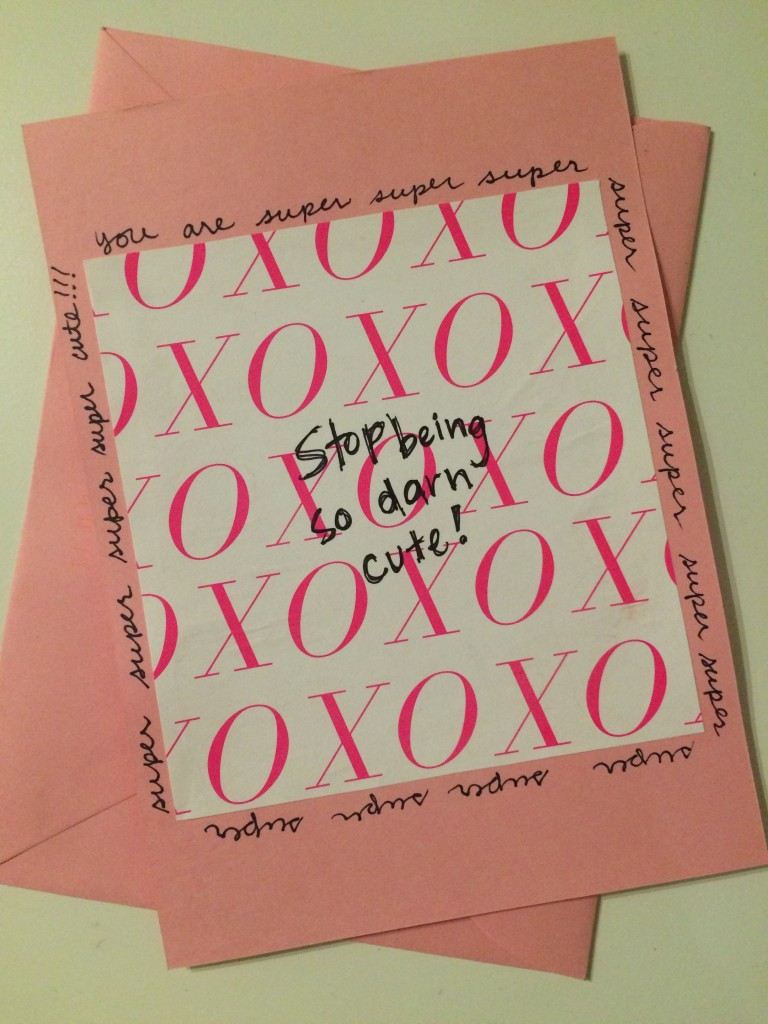 8:40pm– Throw dinner in the oven.  This Trader Joe's quinoa pilaf thing is an epic fail.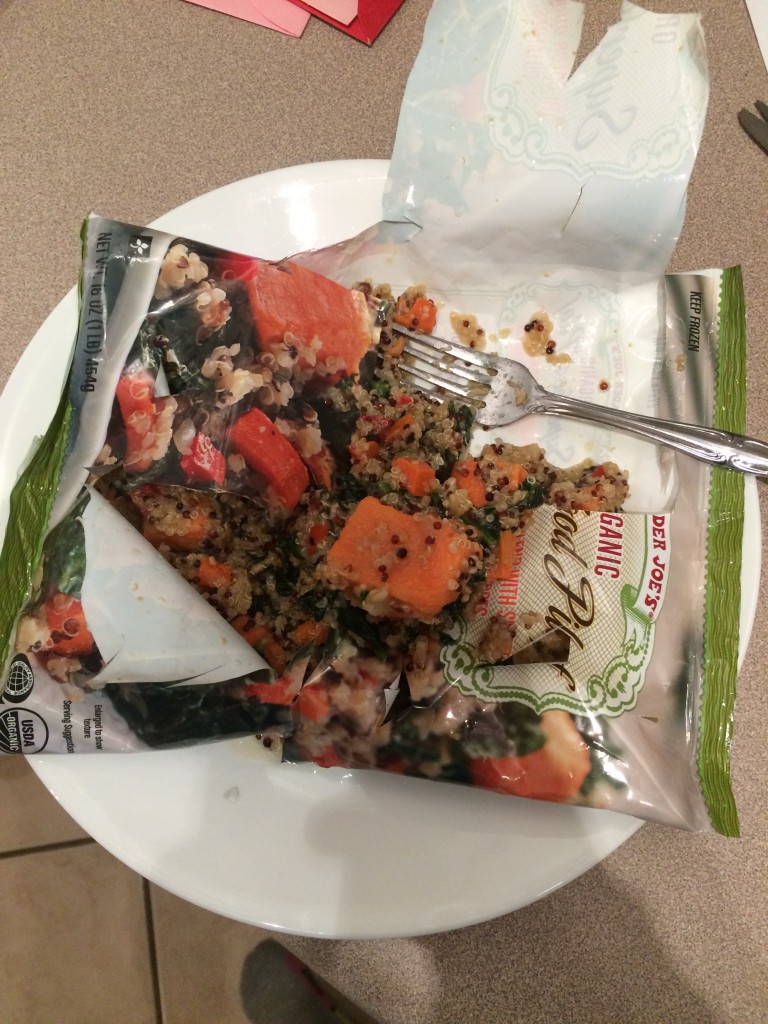 I really would have given this sort of thing more patience but when I follow the directions and it is still frozen, as the basic b* in me would say, I just can't.  I ended up tossing it, which I felt bad about, but when it's this late, I just don't have time.
I picked up some macadamia coconut mahi mahi filets the other day so I had those in the oven.  I found them in the small freezer section by the fresh fish counter at Whole Foods.  I will definitely be buying these again; they were amazing!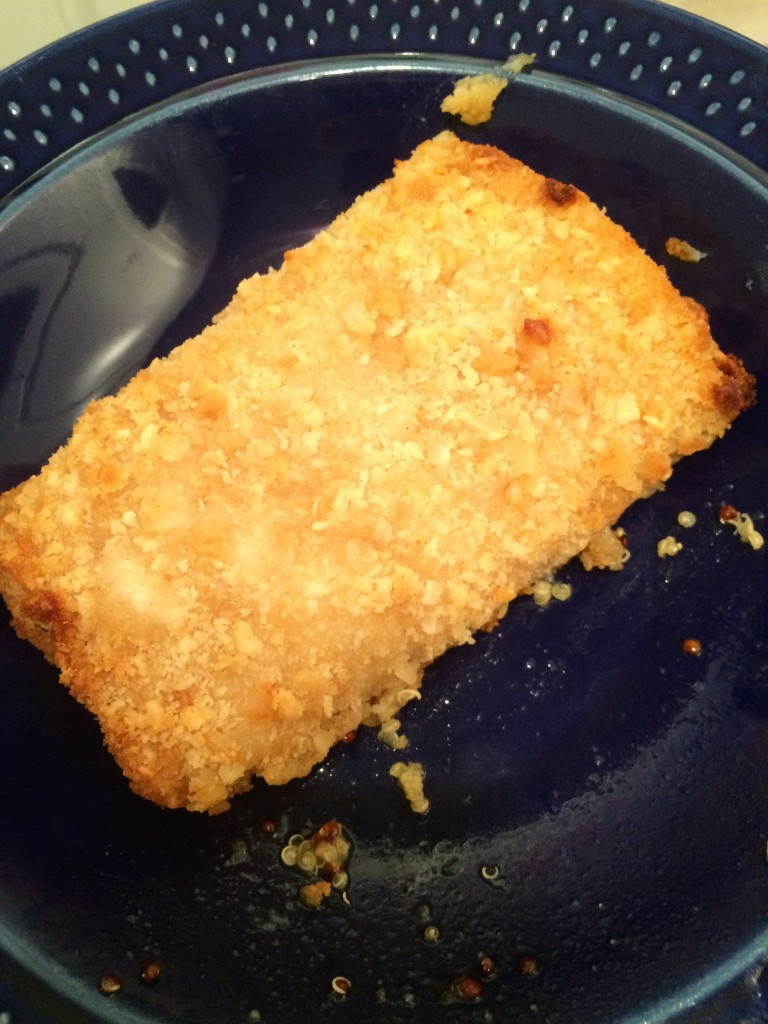 9:30pm– Eat, turn on Netflix, and chat with the roomie about her wedding planning.
11:00pm– Lights out and ready to do it all over again!
Questions-
What was the best part of your day?
Any dinner fails recently?
Early morning or afternoon workouts?