When I first heard of the new Dilworth restaurant, Kid Cashew, my honest initial reaction was "What the heck is that place?!"  I really just couldn't get passed the bizarre name and since not knowing anyone who had tried the new place, I just didn't have any intentions on checking it out any time soon.  I mean, doesn't the name sound like a bad rapper name?
Low and behold, my friend Katy had gone twice and raved about it.  Her positive experience followed by the observation of it being jam-packed every night after driving by it after work had me curious, so Katy and I went so I could scope it out.  I am always down to try new places, once I get over the name of the place of course 😉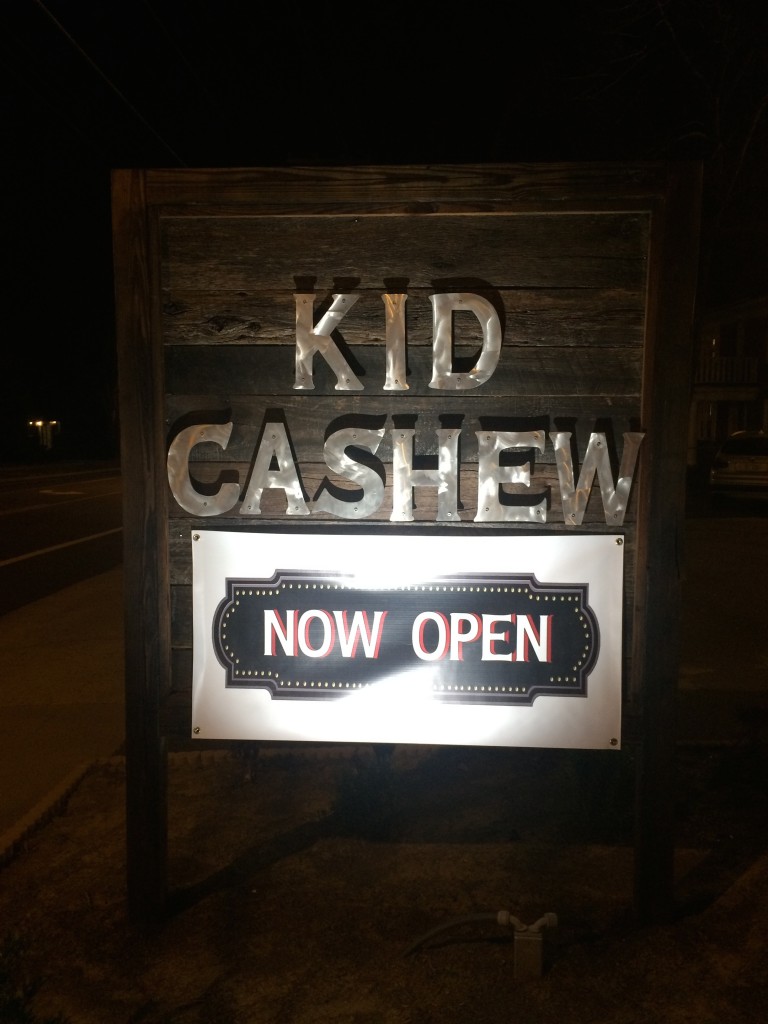 Location
Kid Cashew is located in the heart of Dilworth on East Boulevard.  It's right across the street from The Mayo Bird/Summit Room and next to Bad Daddy's.  If you are from Charlotte, Kid Cashew is in the building that has been 100 other restaurants.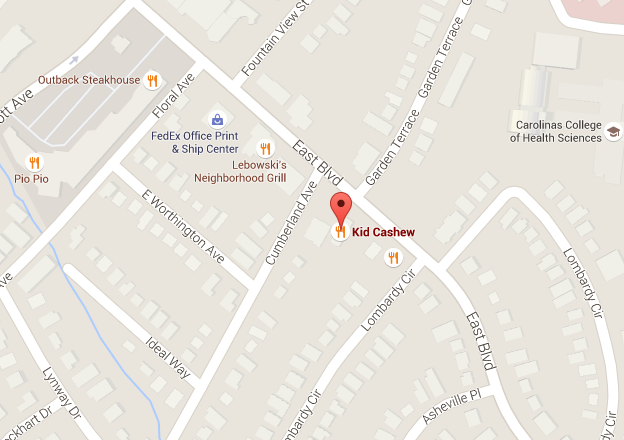 Their parking lot didn't seem as big as the amount of people the restaurant can accommodate, but we had no trouble parking for a later dinner.
Atmosphere
The layout consists of an open kitchen and a ton of seating, so the atmosphere is pretty loud.  I felt like I could barely hear Katy when we were chatting.  There's high top-table seating, booths, and regular tables, so there is a variety for whichever you prefer.  Kid Cashew is Mediterranean-tapas meets farm-to-table and the vibe of the decor is just that.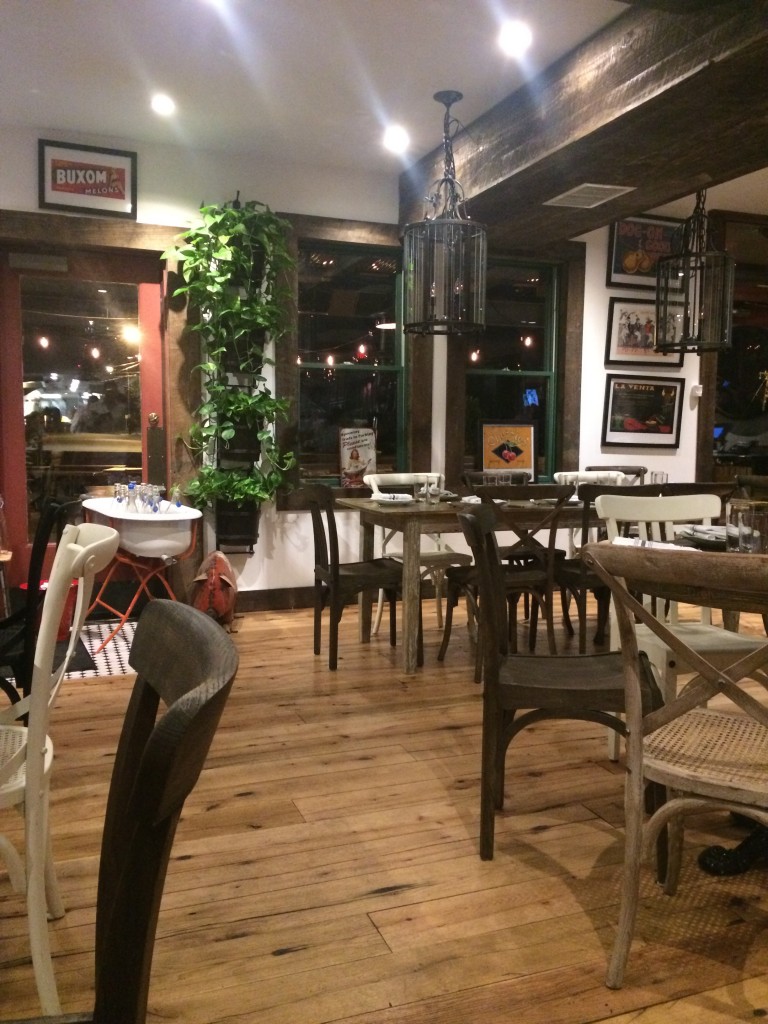 The Menu
Kid Cashew has quite the impressive cocktail list and variety of dishes to order.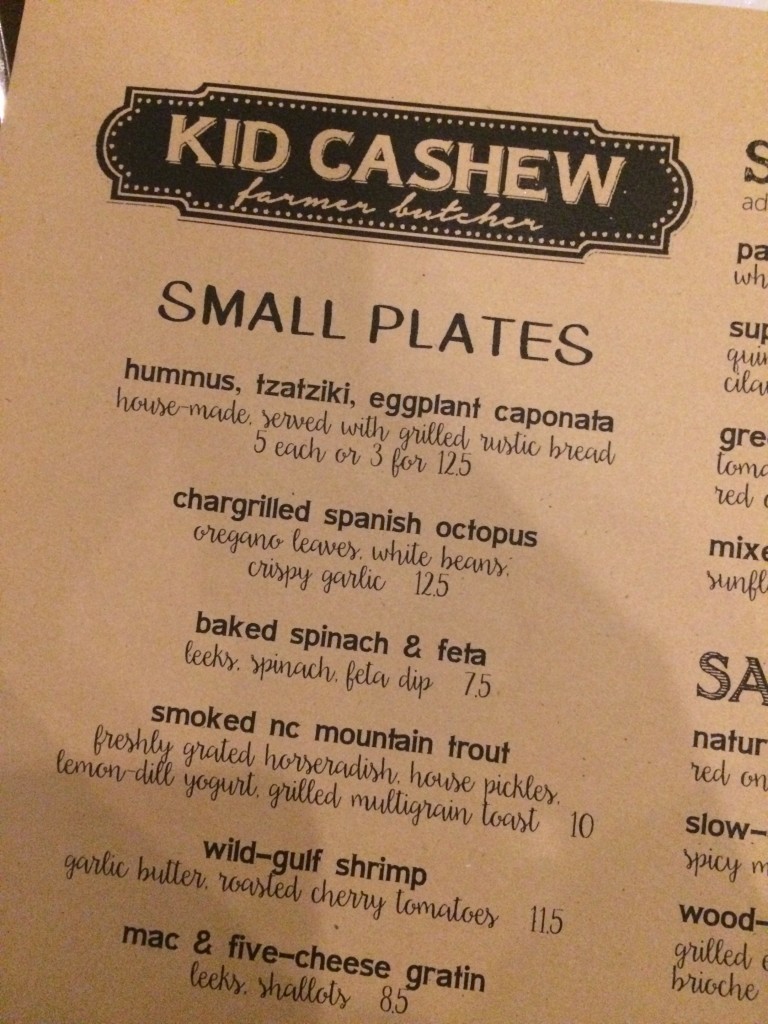 They also have sandwiches and more entree-type dishes, like chicken, lamb, and beef.  Their menu is still not posted online, errrgh.
What We Ordered
Basil Cucumber Cocktail: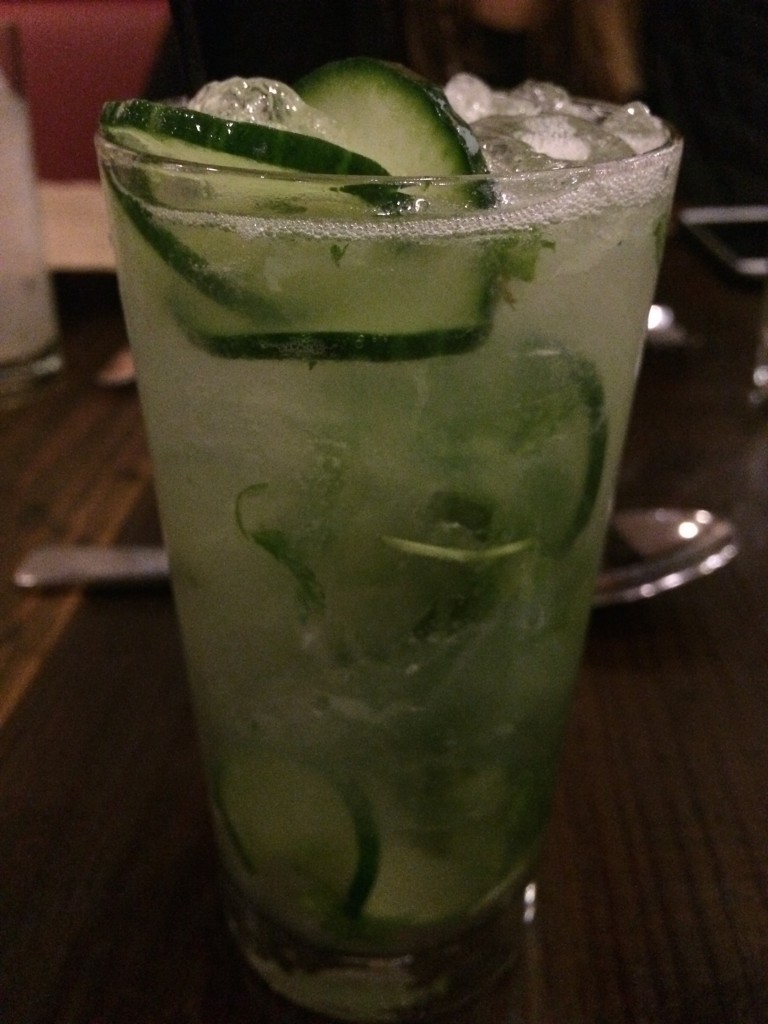 Verdict:  So refreshing!  To be honest, I can't remember exactly what was in this drink, but it had gin, cucumbers, and basil, and it was not sweet, which was perfect.
Mac & Five-Cheese Gratin: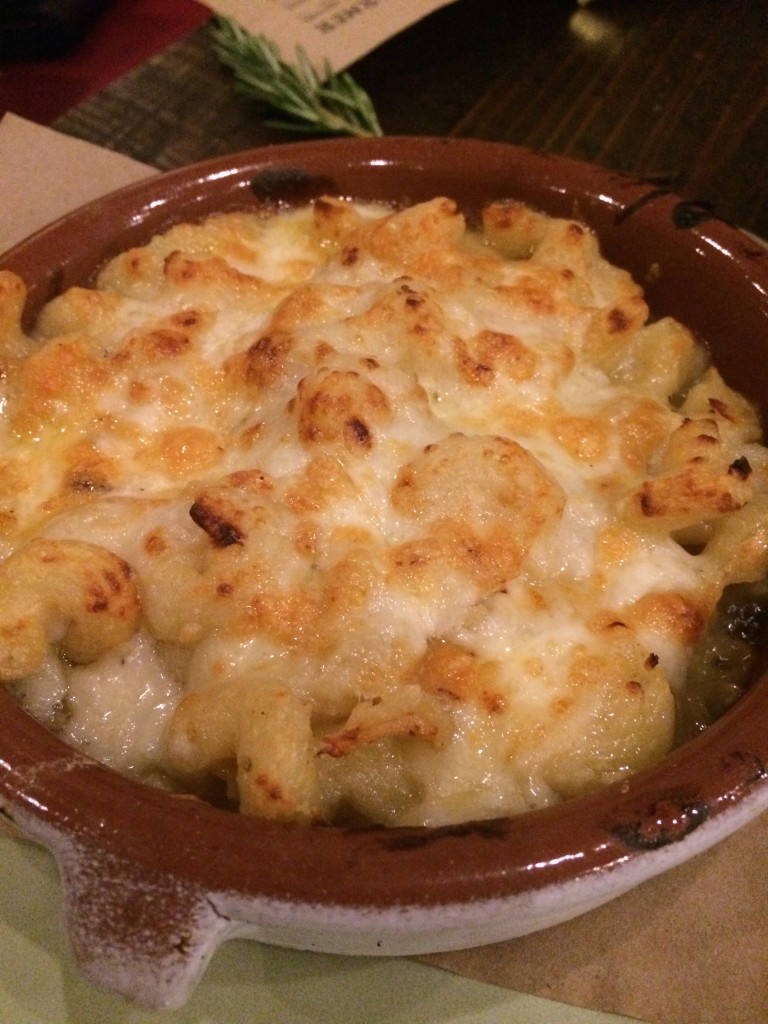 Verdict:  Un.Real.  I would definitely go back just for this mac & cheese.  The portion size of this was perfect for 2 mac and cheese lovers to have a generous amount.
Wild Gulf Shrimp:
I did not get a picture of these, but they were delicious!  The shrimp were huge, definitely the biggest shrimp I've gotten at a restaurant in a while.
Verdict:  SO good, but might not get again.  The dish is 11.50 for only 3 shrimp?  That's too much for me.

Brussel Sprouts: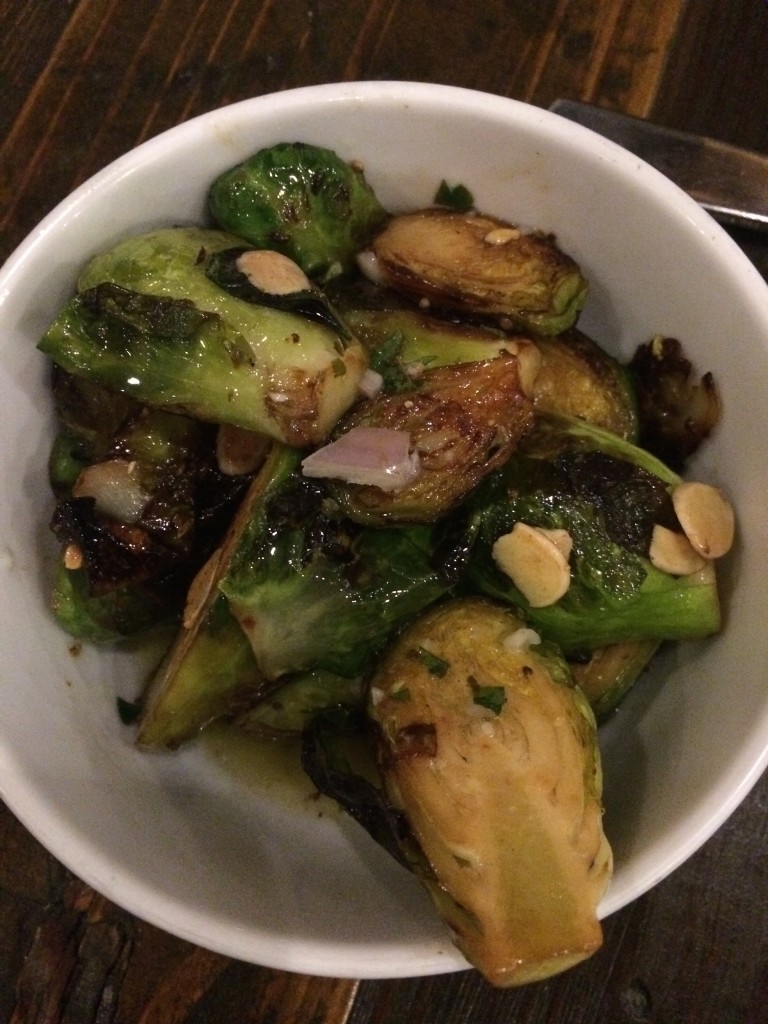 Verdict:  These were cooked to perfection.  These were the kind of brussel sprouts you try and make at home, but they never turn out as good.  If I were to go again, I would definitely order these.
Pros-
Awesome cocktails
Upbeat atmosphere
Delicious food, various dishes
Large outdoor patio!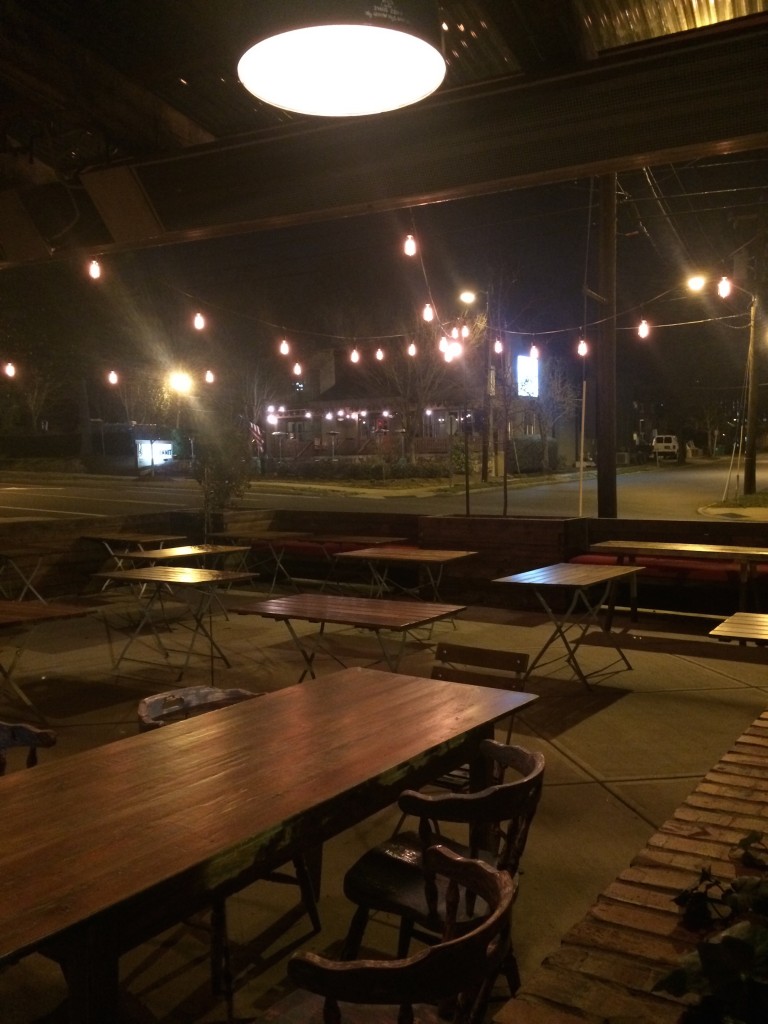 Cons:
Although the atmosphere is upbeat, it can get super loud
Pricy- is it just me, or does $11.50 for 3 shrimp seem extreme?
For more information, check out the Charlotte Agenda's review from opening weekend not too long ago.
Overall, I would definitely go again, but maybe steer clear of the tapas route and just order for myself. They have a chicken sandwich I want to try and I wouldn't hate having another cucumber cocktail or two. 😉
Questions-
-Charlotte residents: have you been to Kid Cashew?
-Are you a fan of tapas restaurants?
-Favorite drink to order out to eat?