Let me apologize in advance for the complete lack of flow in this lengthy post.  My brain won't rest and my thoughts are all over the place (in a good way btw) and that chaos is being channeled here.
This past weekend kicked off a pretty busy next few days and I am practically giddy.  As I sit here and write to y'all, I can't stop the thoughts swirling in my head of everything I have to do and everything I am looking forward to this week!
This weekend was one for the books.  To start off, long story short, I was supposed to be in Michigan this weekend, but that did not happen.  Some family stuff came up and the trip was cancelled.  Luckily, that allowed me to get into some other shenanigans!  
Friday
On Friday night, my friend Meighan and I went to Food Truck Friday in South End.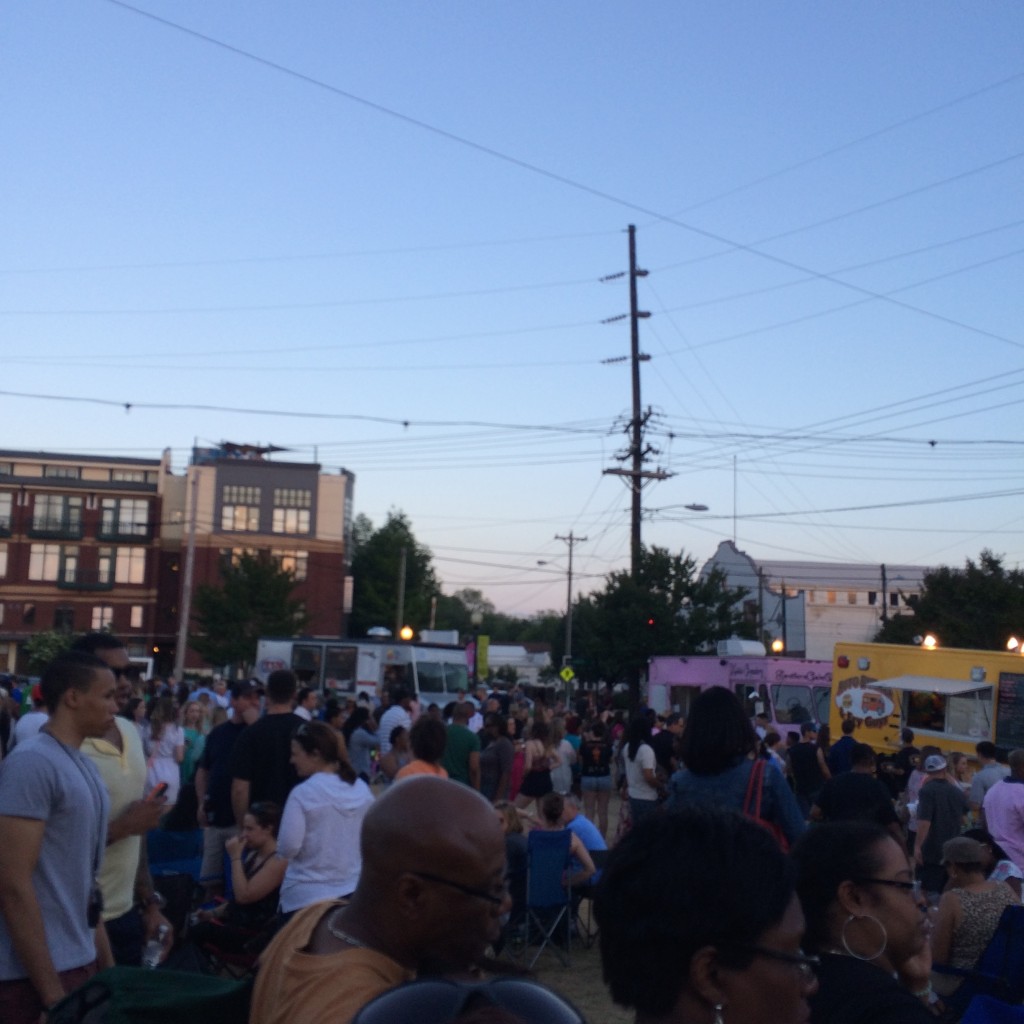 Food Truck Friday is an event held every Friday night (incase the name didn't give it away) where a bunch of food trucks park and people eat and drink and hang out.  Next to the lot is The Common Market, where you are able to buy beer and wine and drink it at the food trucks.  This time, we brought our own wine and cups and just came for the food.
Granted, this was my second time attending Food Truck Friday, but it was PACKED.  Way more packed than the last time I was there.  Each line was longer than the next, but it was never a bother because you are just hanging out and drinking with everyone around you while you wait.
Out of all the food trucks, Meig and I had no problem quickly deciding on which food truck we would go to….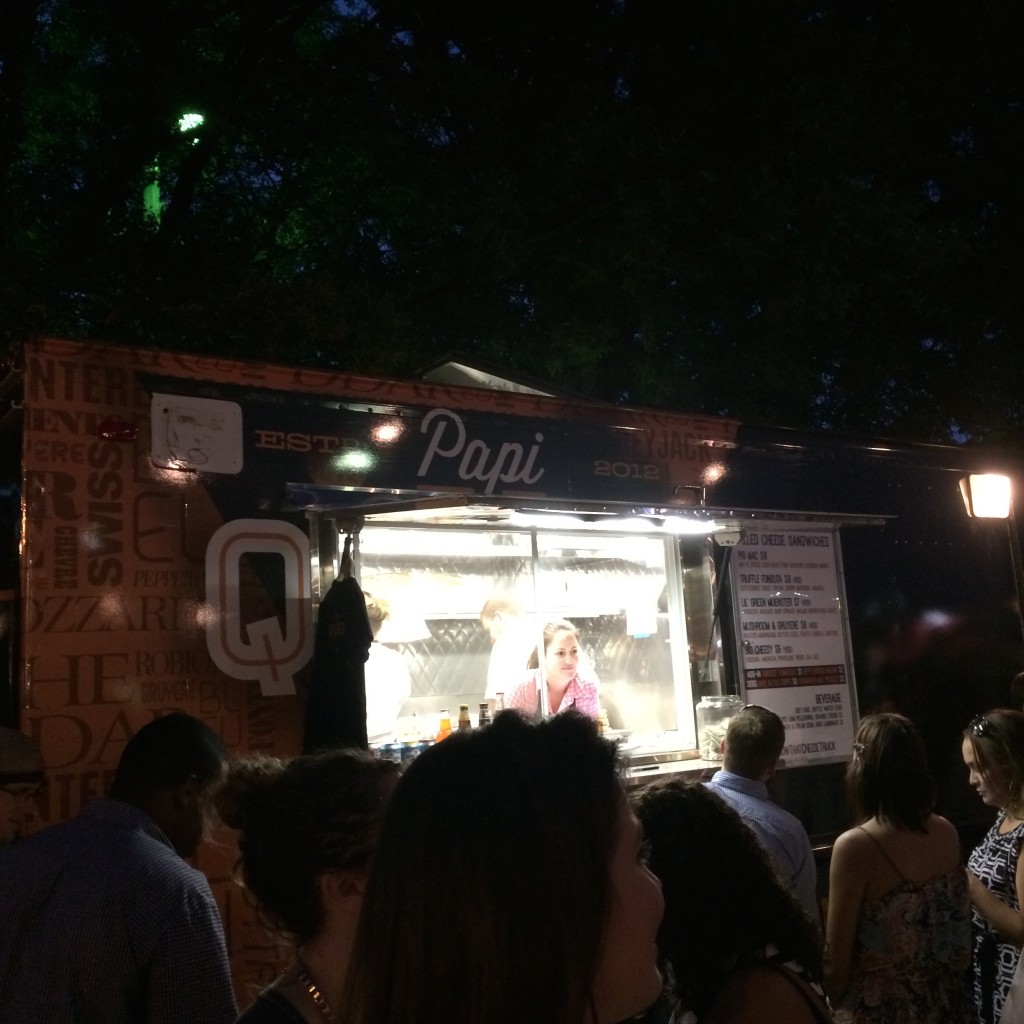 PAPI QUESO!
Papi Queso is the greatest thing on this planet.  Besides margaritas.  They serve gourmet grilled cheeses which leave you dreaming about the next time you'll get your hands on another one.  I'm not lying.

Meig and I both went with the Pig Mac and added bacon.  Go big or go home, am I right??
Meig and I enjoyed our Pig Macs over talks of our trip to Colorado!  We both are attending Blend Retreat in Boulder and are staying a few extra days in Denver.  We've had this trip planned for months, and it's safe to say we are more than ready to be there with everyone!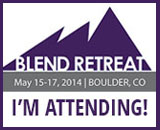 Saturday
On Saturday, I did some stuff around my place before heading to Greensboro.  My friend Jackie and her boyfriend, Tee, (spoiler…now fiancé) live there and Tee was graduating with his MBA.  They have been dating for about 6 years now are in the process of moving to Colorado.  Tee called me a couple months ago and told me he was going to propose to Jackie graduation weekend and wanted to see if I could be in on the surprise and celebrate with them after.  At the time, I already had my flight to Michigan to see family but since the trip didn't end up working out, I was THRILLED to be able to go and support my very dear friends on this huge milestone.
Some of my other close friends came from out of town so we all met up in High Point at my friend's parents' house to eat lunch, drop off our things, and catch up a little before heading to the surprise.  They let me bring Winston which was so, SO nice since it is a hassle to find someone to watch him and boarding him is never fun.  Luckily, my friend Katie brought her dog who Winston LOVES so it was cute to see them reunite.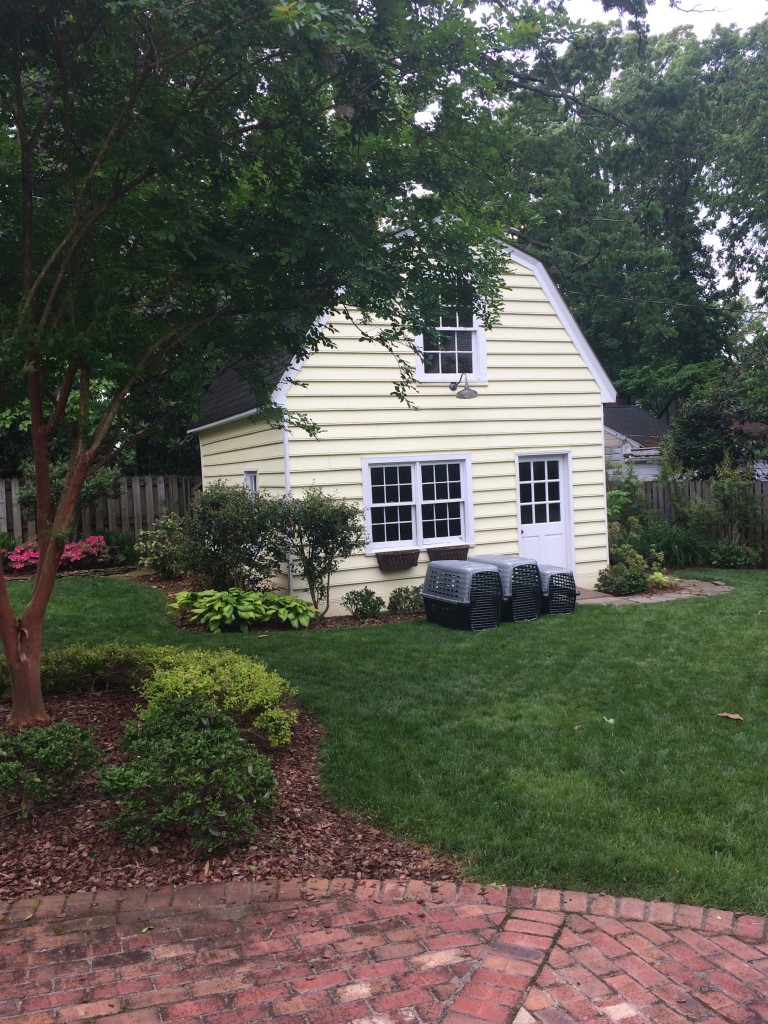 How cute is her backyard??  The house in the picture serves as their garage/shed, but it looks like the main house but miniature.  I just love yellow houses.
Once 5pm rolled around, we all hopped in the car and headed to the Proximity Hotel in Greensboro.  Tee's plan was to have everyone meet in the lobby of the hotel to watch him propose to Jackie outside.  The lobby of the hotel overlooks the lower level of the hotel and the back patio.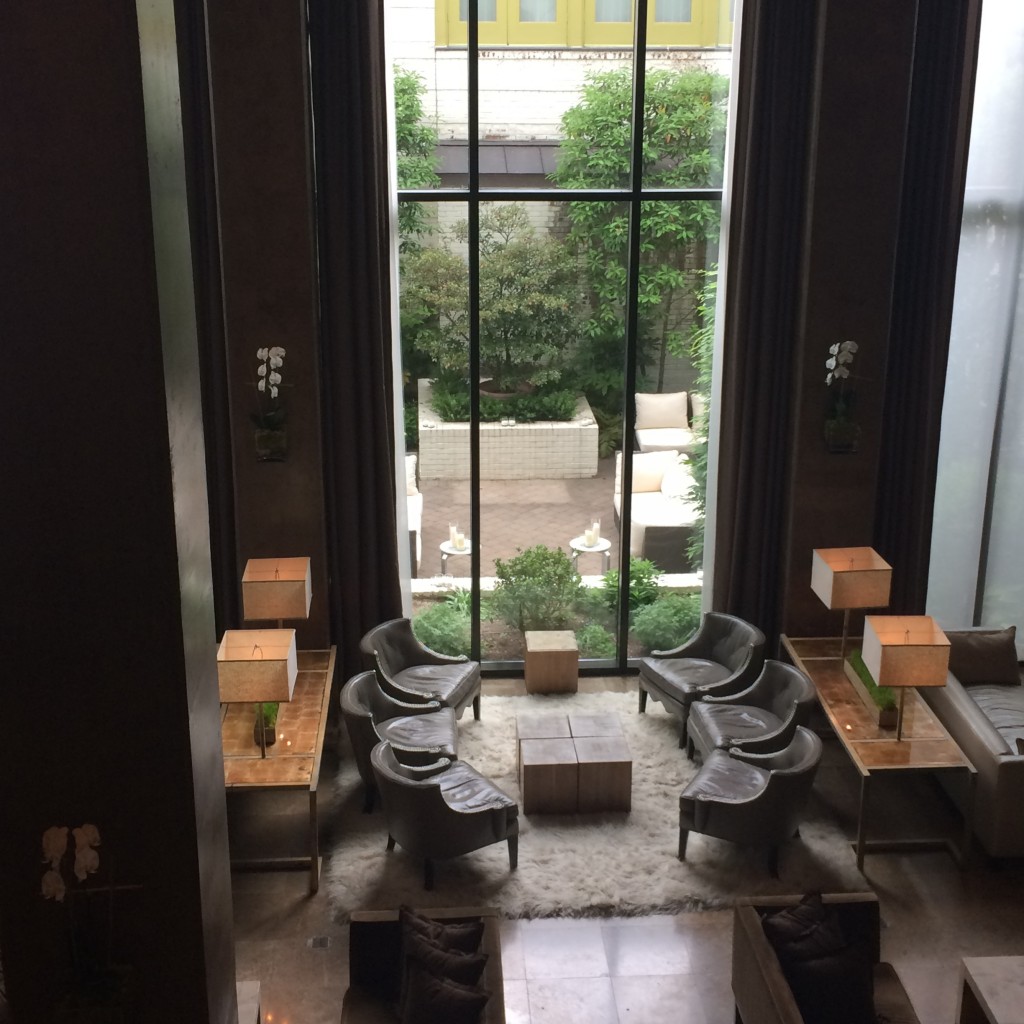 We all waited anxiously for their arrival onto the back patio, but once we did, you could feel everyone's excitement and happiness for them it made me tear up just seeing them walk towards the window.  Jackie, of course, had NO idea all of us were in town.  She knew about her cousins and Tee's family because of all of the graduations, but not about her parents, siblings, and friends.
What felt like an eternity, they walked up and watch it all unfold 🙂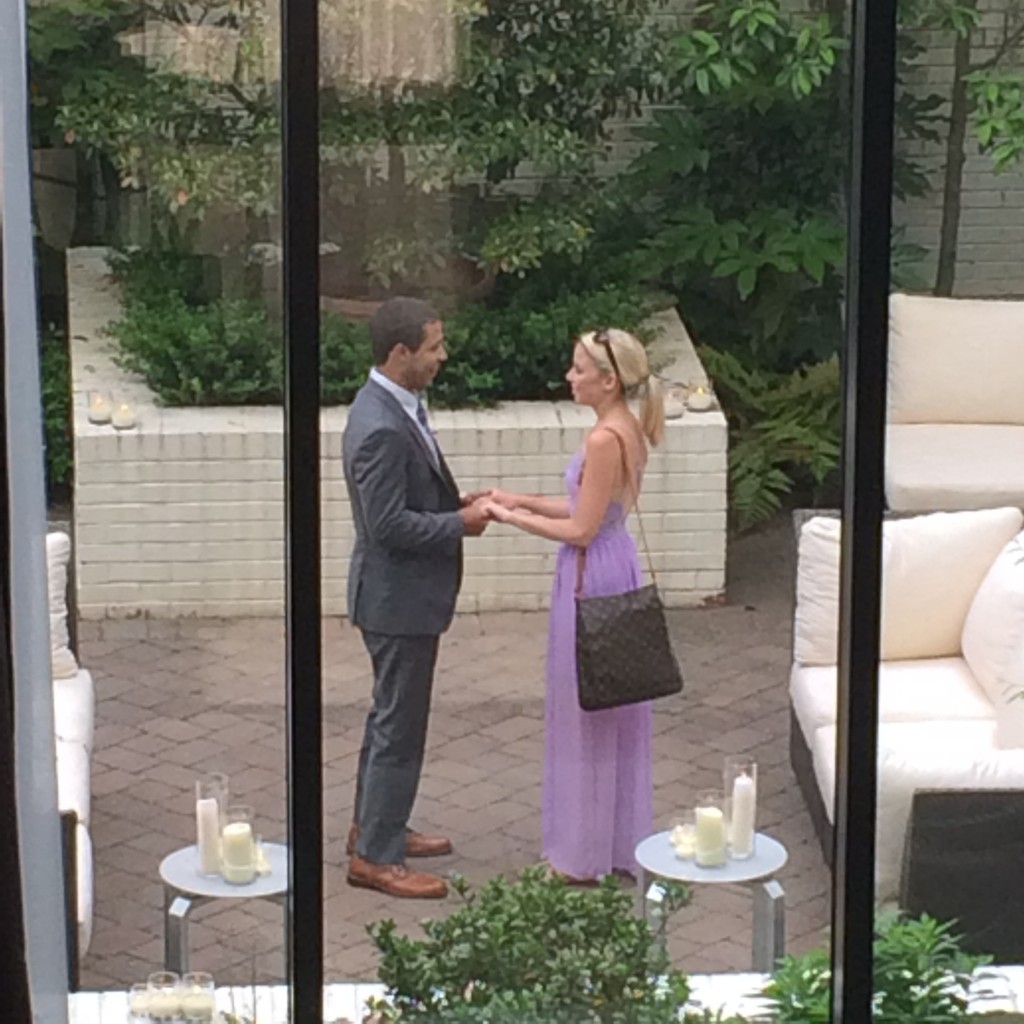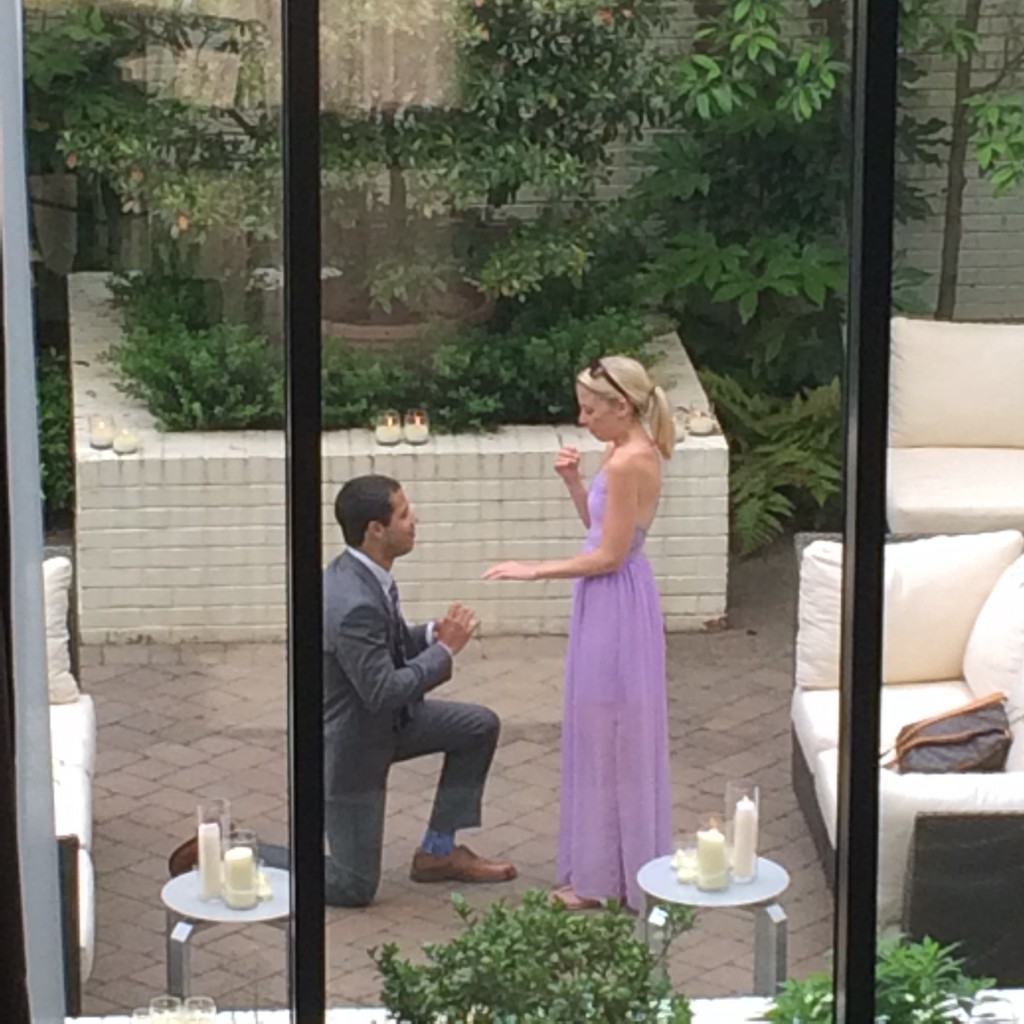 ( don't worry…he put it on the right hand 😉  )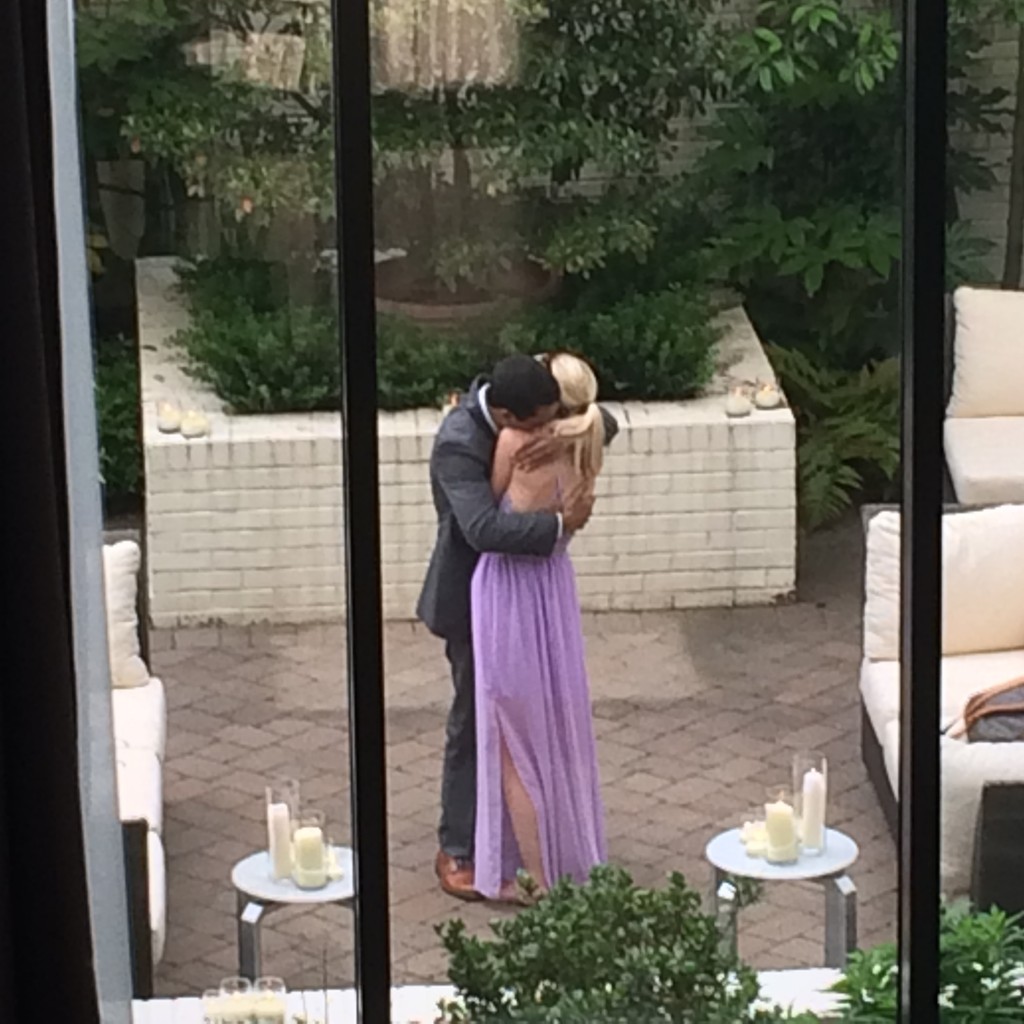 Now, her expression when she walked in was priceless: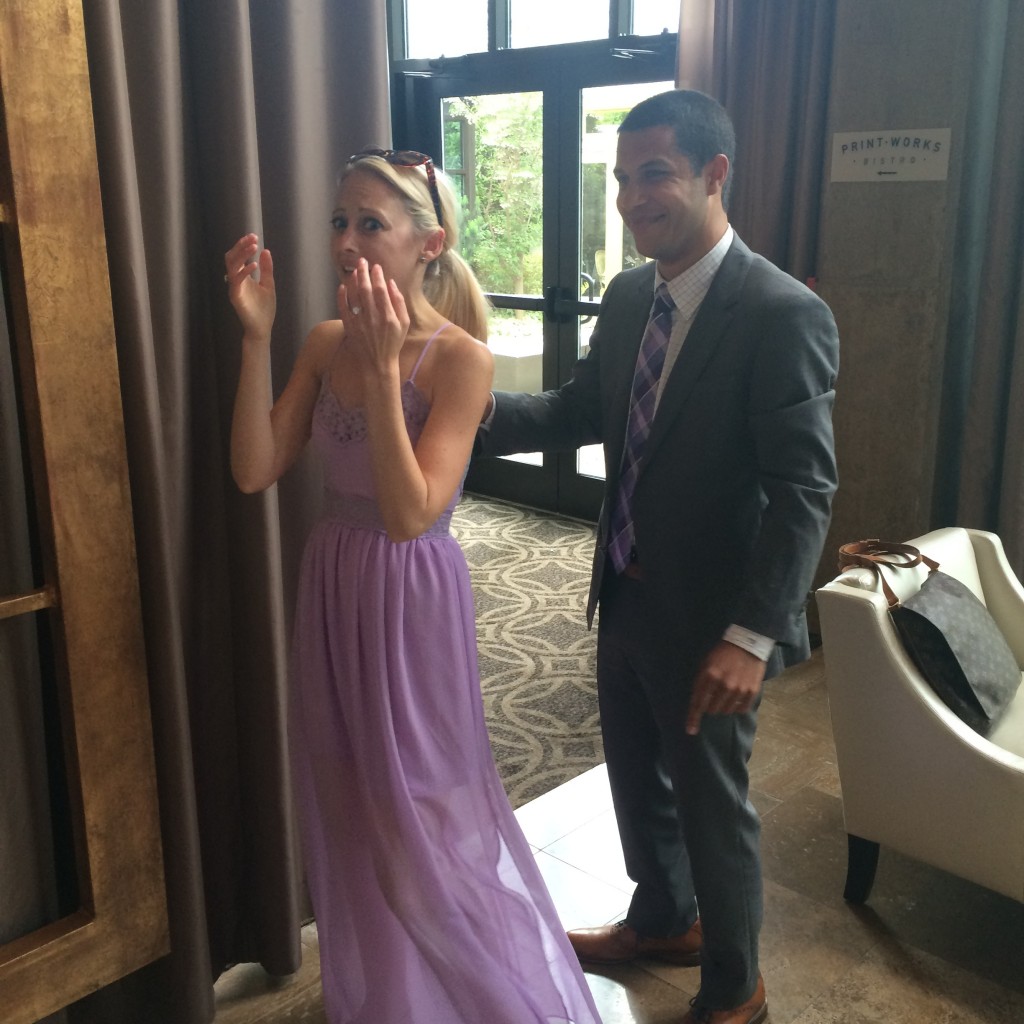 I can't tell you how happy I am for the both of them.  They are some of the greatest people I know and I can't wait to watch them take on life together.  <3
The remainder of the party consisted of great food and lots of laughs.  We all had such a great time!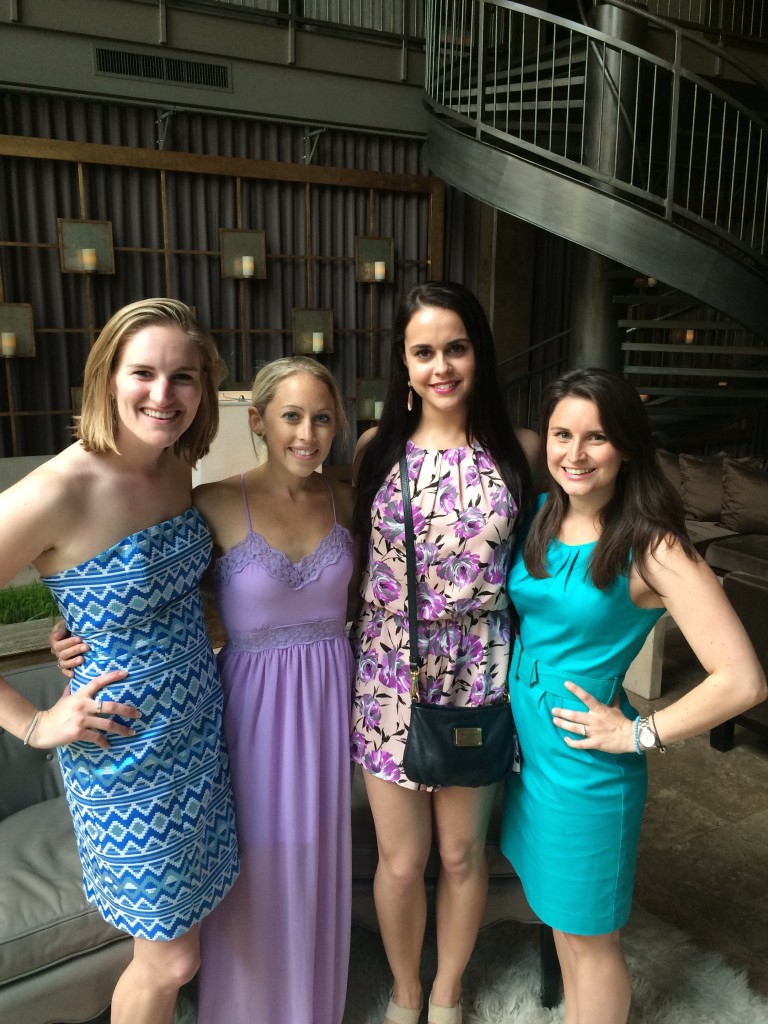 We headed out around 9 to get back and feed the dogs and rally before heading out in High Point.  All of us (except Katie's fiancé) graduated from HPU and hadn't been back in a very long time.  We all agreed on hitting up an old favorite, Liberty Steakhouse and Brewery.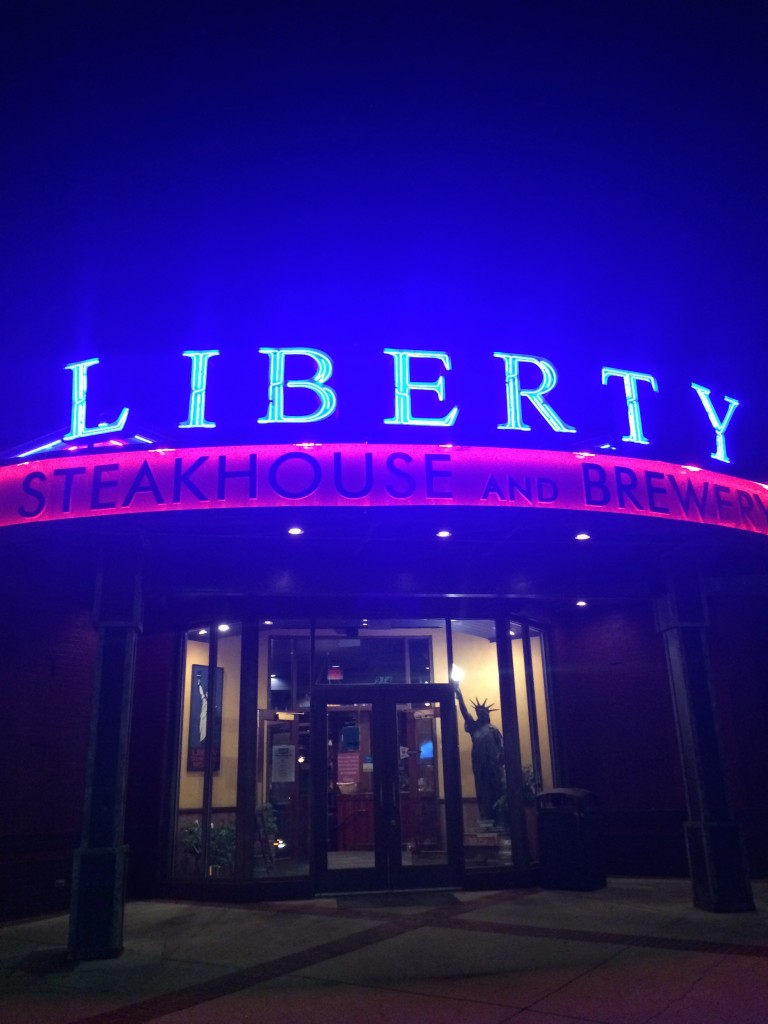 That night was the night of HPU's graduation so we were expecting it to be packed.  And boy, was it NOT.  We all were so confused because all of our graduation nights ended at Liberty with the rest of everybody still in town.  Guess things have changed since we were there!
We managed to snag a table in the main bar room and order ourselves some of our old favorite beers.  I went with the Blackberry wheat, which tasted ten times better than I remembered.  SO GOOD.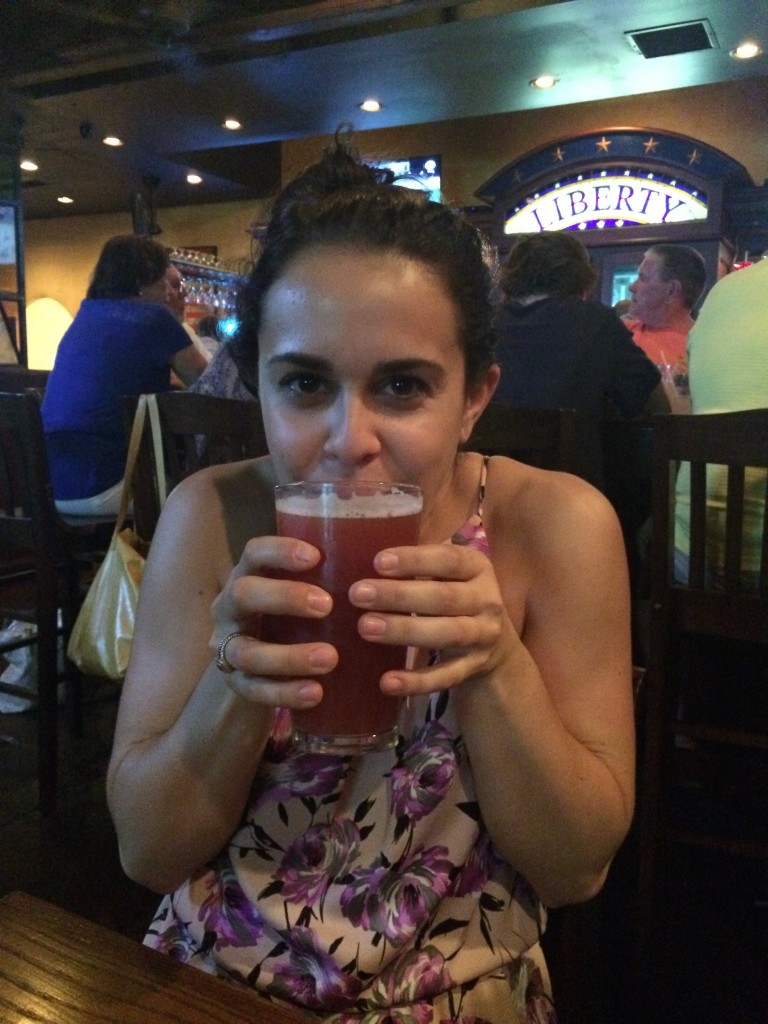 Sunday
We all woke up that morning and managed to make our way the back porch to enjoy the weather before the rain kicked in.  We ate at a local diner, Alex's House, and then drove through campus since HPU has made some major changes since we all were enrolled there.
Once we finished driving around, we went back to Paige's for the last time and said our goodbyes.  It was so good to see everyone, but I know we will be reunited soon…I'm hoping before Katie's wedding!
The drive back to Charlotte was a breeze.  I had started the podcast, Serial, and was totally enthralled by it.  Don't judge me!- I know I am probably the last person on the Serial bandwagon, but I just LOVE murder mysteries like this.  There was also no traffic which is a major plus.
When I got back, the late night I had was catching up to me and all I wanted to do was lay in bed and watch Netflix.  So that is exactly what I did 🙂  My roommate and I have been watching Blood Line and it is so good.  It goes by really slowly in the beginning but it picks up a few episodes in.
Question:  What did you do this weekend?  What are you watching on Netflix?  Tell me!