Over the past couple of years, I've tried my fair share of protein powders.  I've used whey, rice, plant-based and have tried a toooon of flavors- chocolate, vanilla, strawberry, mocha, berry- you name it.  After experimenting with different flavors and powders and smoothie combinations, I always find myself buying chocolate and vanilla again and again.  These basic flavors have allowed me to create a wide range of smoothies, bars, oatmeals, etc, so I can justify buying the big tubs of these powders.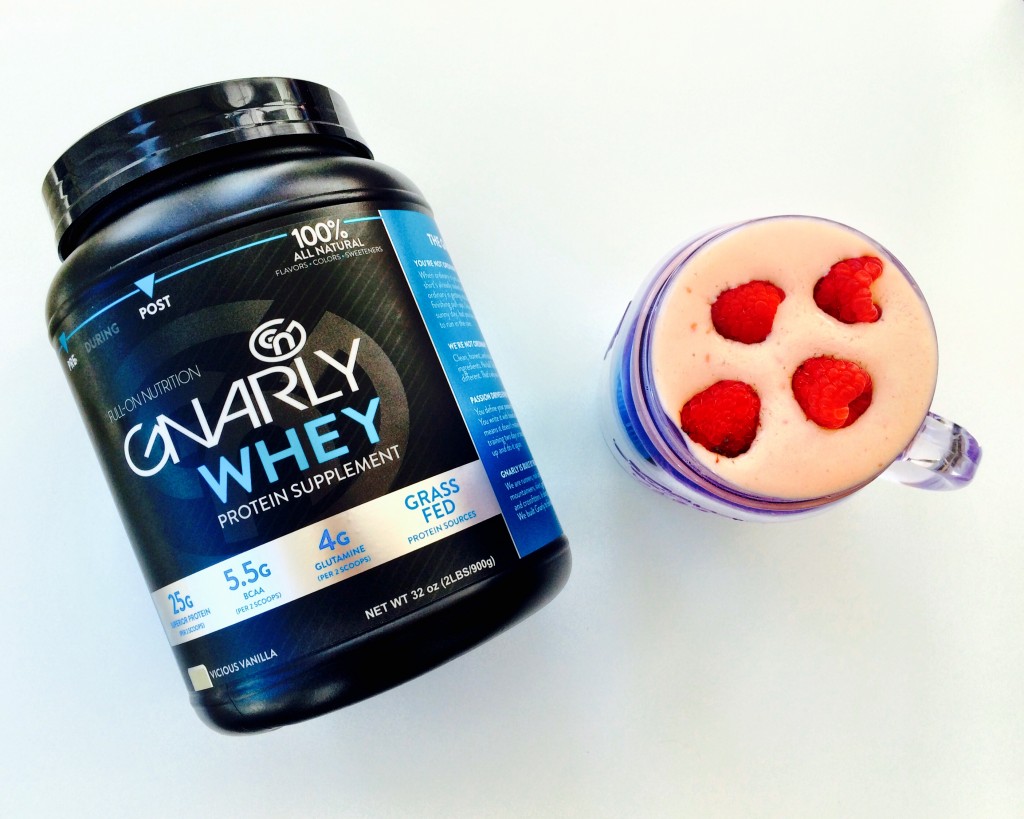 Something that I've always had trouble with is finding a really delicious vanilla flavored powder.  There have been so many that I've tried that just taste way too artificial and sugary.  To be honest, most times when using a vanilla protein powder, I put in extra flavorings into my smoothies just to hide the taste.
But at Blend Retreat, I was able to try a new whey protein powder brand I have never tried (or heard of) before:  Gnarly Nutrition.  Gnarly Nutrition sponsored our Saturday morning Boot Camp and everyone received some protein powder samples.  It wasn't until I got back to Charlotte when I tried the samples to help with post-exercise muscle recovery, and absolutely loved it. Gnarly was kind enough to send me their Gnarly Whey protein in the Vicious Vanilla flavor to try out.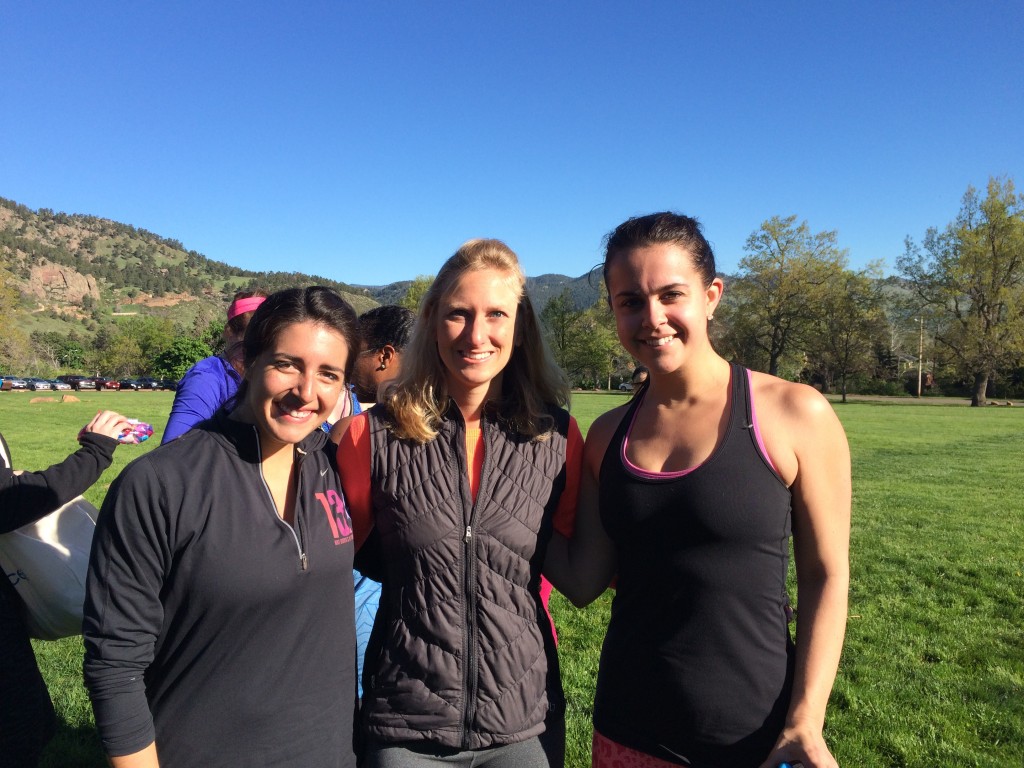 (Meig, Taylor, and me after the Gnarly Bootcamp at Blend!)
Gnarly's protein powders come from grass-fed cows in New Zealand and are free of hormones, pesticides, and GMOs, which I give two thumbs up.  The Vicious Vanilla is delicious and is naturally sweetened (no artificial sweeteners).  This made me and my taste buds super happy.  I am used to covering up the vanilla flavoring with other protein powders, and this one I did not have to;  it tastes that good.  This powder was easy to digest and gentle on my stomach.  I've had issues in the past with dairy upsetting my stomach, but when using Gnarly, I had no issues.
Overall, this powder tastes delicious, easy to digest (for me at least), and is an excellent clean pre- and post-workout fuel.  Interested in trying some Gnarly for yourself?  Use the code OATSANDROWS15 at checkout to receive 25% off your order!
Now, onto the smoothie!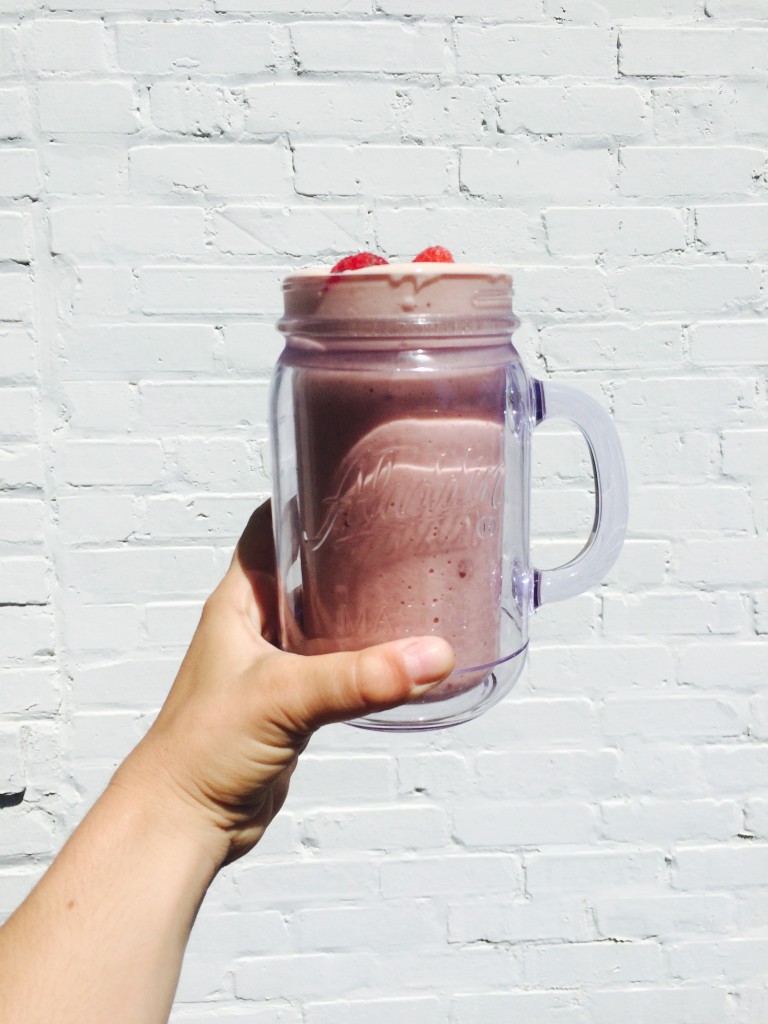 This may be my most favorite smoothie creation I've come up with.  With the temperatures here in Charlotte being well into the high 90s, smoothies have been my go-to to keep me cool, refreshed, and full…especially this one!  The consistency of this smoothie is just like a creamy milkshake.  I recommend this smoothie in a cold glass with a big straw or a smoothie bowl sprinkled with your favorite toppings.  I'm loving this mango-raspberry-coconut-peanut butter combo.  
Enjoy! 🙂
Coconut Mango Raspberry Smoothie
Recipe Type
:
smoothie, breakfast, protein, gluten free, vegan-friendly
Cuisine:
smoothie, breakfast
Author:
Prep time:
Cook time:
Total time:
Ingredients
1 cup frozen mango chunks
1/2 cup frozen raspberries
1 or 2 scoops of Gnarly Nutrition's Vicious Vanilla protein powder
1 TBSP coconut peanut butter
~4 oz. fat free Greek Yogurt (I used Trader Joe's coconut flavored)
About 5 ice cubes
1 1/4 cup almond milk
Instructions
Place all ingredients in blender and combine until desired consistency is reached.
Notes
Note: makes one large smoothie/smoothie bowl, or 2 smaller size smoothies
3.3.3077