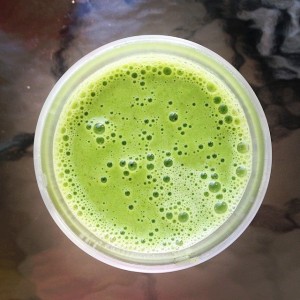 I am one of those people that gets hooked on the same few foods/meals and eats them everyday for WEEKS on end, which then leads to me never wanting to eat them again.  Or at least for a little while.  For example, I think for 2 months straight I ate apples with almond butter.  Apples + almond butter is delicious, no question,  but I definitely overdid it and my body just did not want it anymore.
(*GASP*  I know right, the horror!  I never thought it was possible to want to temporarily break up with almond butter).  But this "method" of mine just makes grocery shopping easier and enables me to be lazy which I am okay with.
However, I've had this smoothie roughly 5 days a week for I can't even tell you HOW long and I don't see myself stopping in the future.  This smoothie is inspired by one I got at my local Whole Foods and it changed my life.  No joke, I took one sip and I was in heaven.
Personally, I am not into super fruity smoothies.  Growing up, I never drank juice.  No apple juice, no grapefruit juice, nada.  I had orange juice here and there but it was only a little bit at a time.  I think because of this I can't hop on the juicing bandwagon and I don't dig smoothies made with fruit and fruit juices.
This smoothie is creamy, decadent, and nutritious. Something about the flavors of dates, cinnamon, banana, and vanilla is divine.  Leave a comment if you try it!
The Best Damn Green Smoothie (GF, vegan, dairy free)
Recipe Type
:
Smoothie, drink, vegan, gluten free, dairy free
Cuisine:
Breakfast, snack, smoothie
Author:
Prep time:
Cook time:
Total time:
This smoothie is my go-to. It's filled with healthy fats, protein, and greens.
Ingredients
2 pitted Medjool dates, chopped*
1 medium frozen banana
2 large handfuls of frozen spinach
1/2 – 1 scoop Vanilla Protein Powder (I use Vega Sport)
1 tablespoon creamy almond butter
1 tsp cinnamon
1 tablespoon honey
1 1/2 cups unsweetened almond milk
Instructions
Place all ingredients in a high speed blender and blend until combined.
Notes
*I chop the dates prior to blending just to help break them down. If you have a Vitamix or other high speed blender, I am sure you would not need to do so.[br]*Honestly, I have never exactly measured each ingredient for this smoothie; I have always eyeballed it. The measurements are close estimates.